Public invited to Swinburne Ramadan Bazaar from 21 to 23 May
May 16, 2018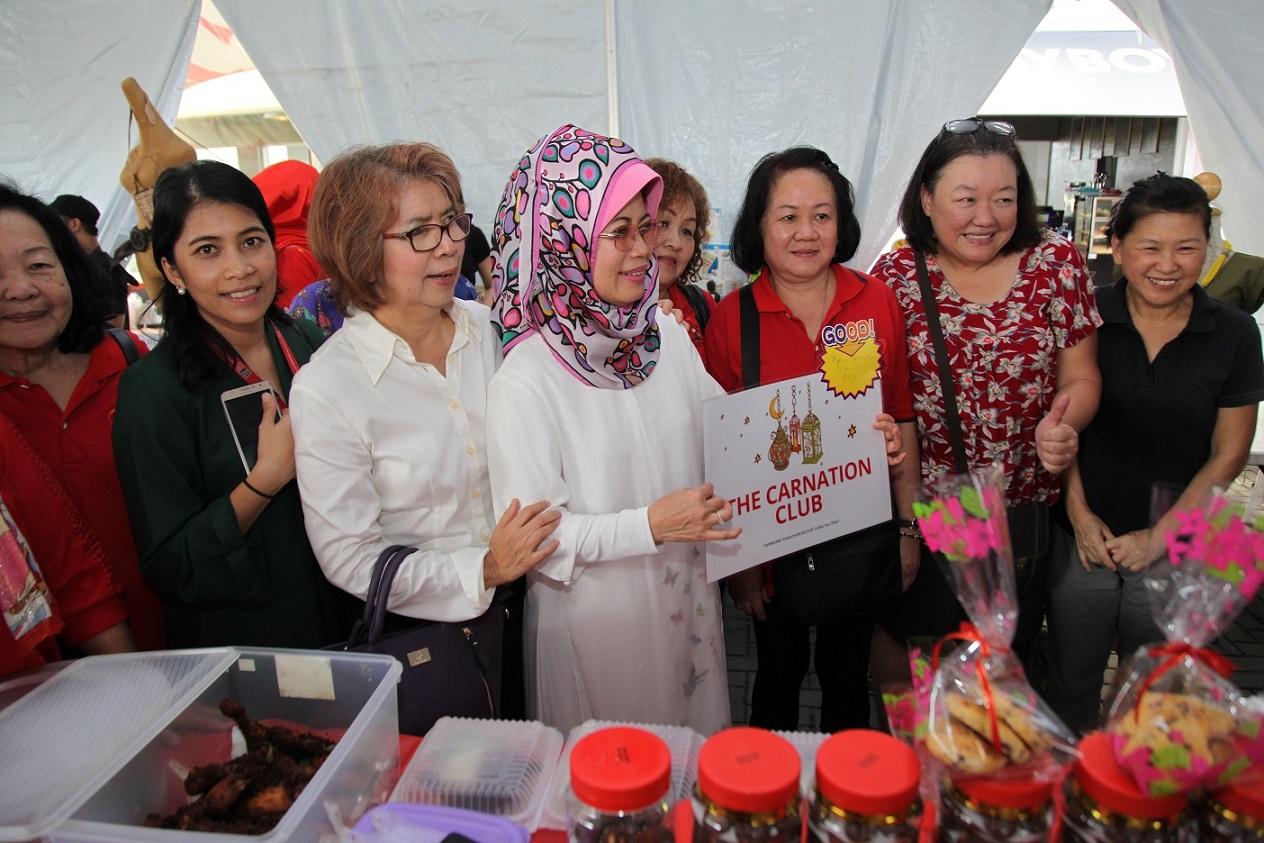 YB Datuk Hajah Fatimah Abdullah with the ladies of The Carnation Club at last year's event.
KUCHING – Following the success of its inaugural Swinburne Ramadan Bazaar last year, Swinburne University of Technology Sarawak Campus will once again be organising the Swinburne Ramadan Bazaar from 21 to 23 May at the university's campus.
Open from 4pm to 8pm daily, staff and students of the university as well as members of the public can look forward to savouring local and international food and beverages at discounted prices in addition to supporting local businesses selling items such as handicrafts and jewellery. Over 20 vendors and food trucks are expected to participate in the event including Thirst Company, B.Z.M.Z. Siblings, Hombre Burger, Rosa Dayut Enterprise, Hanie Makes & Bakes, Marik by Entayang, ERV's Milk Tea, Digi Telecommunication and Flint & Steel.
The bazaar will be officiated by Guest of Honour, Minister of Welfare, Community Wellbeing, Women, Family and Childhood Development Sarawak YB Datuk Hajah Fatimah Abdullah on 21 May. Thereafter, YB Datuk Hajah Fatimah will be joined by the university's Council, Board of Directors and Executive Group members for iftar, or the breaking of fast. Residents and staff from Pertubuhan Kebajikan Baiturrahmah have also been invited to join in the iftar.
Last year, the bazaar attracted over 1,500 people throughout the three-day event. It successfully raised and donated RM3,000 to three charitable bodies. A community service project, the bazaar aims to support local businesses including single mothers and raise funds for three charitable bodies.
Vendors' participation is free-of-charge although a refundable deposit of RM100 is required as a commitment fee. Vendors are encouraged to pledge a minimal amount from their total sales to the fund raising.
According to Director of Marketing and Student Recruitment Jagdish Singh, the university is pleased to host the event for the second time this year after receiving tremendous support from the community and partners last year.
"As a city-campus with large open spaces suitable for events, our aim is to open our doors to the public for shared experiences and this Ramadan Bazaar is a platform for us to bring people together during the holy month of Ramadan. With the continued support from everyone, we hope to grow this into an annual event which attracts not only Kuchingites, but tourists too," said Jagdish.
Visitors coming to the campus will get a complimentary parking as well as specially packaged kurma. A prayer room is available on campus for those who wish to pray before or after the breaking of fast. Vendors who are interested to operate a booth can email Abdul Rahim Mohamad at abmohamad@swinburne.edu.my or contact him at 014-694 4906.
For more information about Swinburne's Sarawak campus, visit the university's website (www.swinburne.edu.my), Facebook page (@swinburnesarawak), Instagram (@swinburnesarawak), Twitter page (@Swinburne_Swk) or YouTube channel (Swinburne Sarawak).