Puteri Gunung Ledang musical returns to delight audiences
June 12, 2018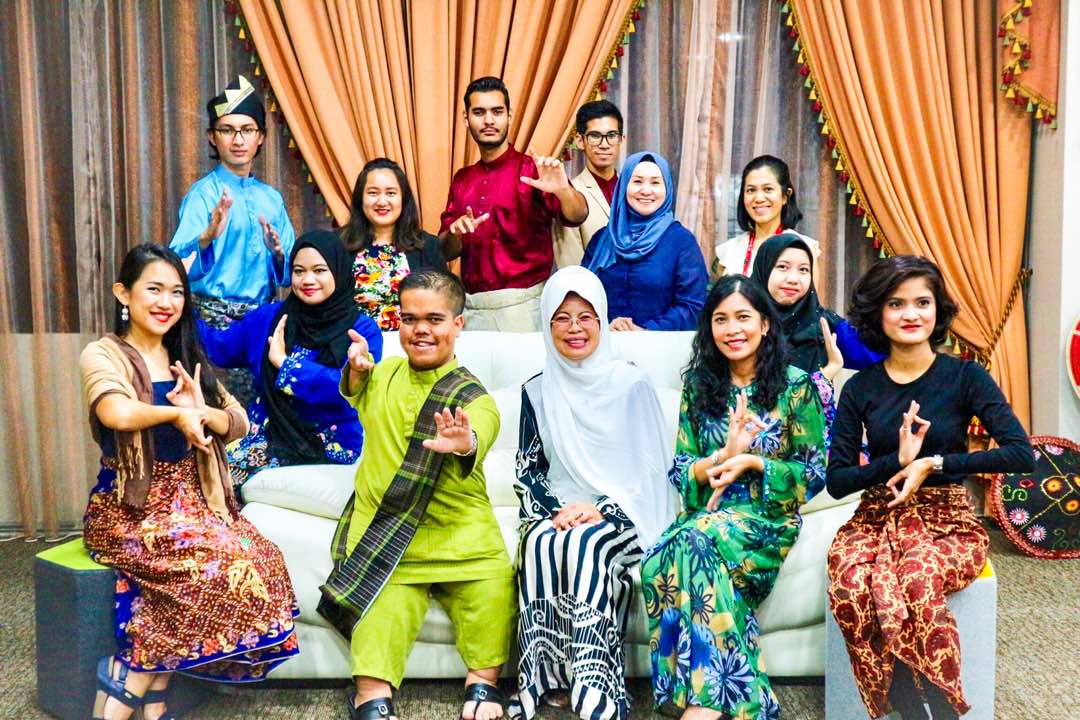 Cast of Puteri Gunung Ledang with YB Dato Sri Hajjah Fatimah Abdullah at the latter's office after a press conference held yesterday.
KUCHING – The production 'Puteri Gunung Ledang: A Swinburne Musical' is back with its second edition to thrill theatre lovers in the city, in addition to reaching out to the community particularly women and family institution through the appreciation of arts and culture in Sarawak.
Jointly organised by Swinburne Theatre Club of Swinburne University of Technology Sarawak Campus and Women and Family Department Sarawak, the production will be staged on 23 June 2018 at Auditorium Tun Ahmad Zaidi Adruce (TAZA), Institut Pendidikan Guru Kampus Batu Lintang from 7.30 to 9.30pm.
Admission is open to members of the public and tickets are sold at RM80, RM60 and RM30. A portion of the proceeds will be channelled to Dyslexia Association of Sarawak as part of the organisers' aim to raise awareness and understanding of children and adults with learning disabilities.
The performance promises to bring the stage to life with plenty of witty lines and interesting plots, weaved with traditional and contemporary dances and songs such as the popular 'Asmaradana' and 'Bagaikan Sakti'. Showcasing the university's local and international student talents, the show will highlight the misadventure of Hang Tuah and his loyal friend Hang Jebat who seek the Princess' hand on behalf of the Sultan while battling the evil schemes of the cunning Bendahara and his slick henchman.
The first Puteri Gunung Ledang musical was staged in November last year featuring Alicia Itat Jabing as Puteri Gunung Ledang and Caillian Tyler van Piggelen as Hang Tuah. Both are set to play their respective character again this year. The show is produced and directed by student Joan Yong and Norizan Tan, who is also the Swinburne Theatre Club advisor and School of Foundation Studies lecturer.
Established in 2007, the Swinburne Theatre Club has successfully staged several in-house productions for the university's community in recent years. Meanwhile, the Women and Family Department Sarawak under the Ministry of Welfare, Community Wellbeing, Women, Family and Childhood Development plays a role in identifying and handling issues related to women and family development in the State, as well as engaging with other NGOs to organise training, entrepreneurship and leadership activities.
Those who are interested to purchase the Puteri Gunung Ledang tickets can contact Joan Yong at 012-893 8538 or email to joandhing@gmail.com. Alternatively, tickets can be purchased online via pgl2018-stc.peatix.com.
For more information about Swinburne Sarawak, visit the university's website (www.swinburne.edu.my), Facebook page (@swinburnesarawak), Instagram (@swinburnesarawak), Twitter page (@Swinburne_Swk) or YouTube channel (Swinburne Sarawak).