Swinburne graduates pack cinema in first event by alumni body
July 8, 2019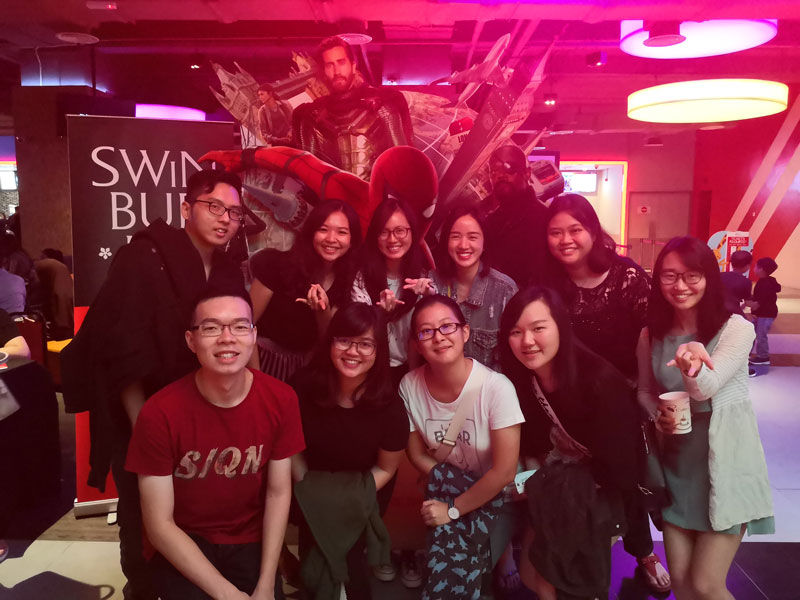 The movie night was a chance for Swinburne Sarawak alumni to catch up since graduating from the university.
KUCHING – More than a hundred Swinburne University of Technology Sarawak Campus alumni filled a cinema hall to maximum capacity for a private movie screening at Vivacity Megamall on 6 July.
Tickets for the premier of "Spiderman: Far From Home" were sold out on the day the Swinburne Alumni Association Malaysia (SAAM) Kuching chapter sent out invitations, making the alumni body's inaugural event since its setting up early this year a huge success.
The gathering at TGV Cinemas was a chance for the Swinburne graduates, who are now in various stages of their career, to reconnect with old friends since completing their studies at the Australian university branch campus.
"We decided on the movie night as we wanted something casual and unintimidating for our alumni to enjoy a weekend night out," said president of SAAM Kuching Diana Choo, adding that the event was a joint effort by the main SAAM committee in Kuala Lumpur, the University Advancement Office at Swinburne University in Melbourne, and her local team.
"The overwhelming and enthusiastic response to the movie screening, booked out the day the invites were sent out, assures us that a Kuching chapter is the way to go. More events will be organized.
"This is also a huge step forward as it is the first event for SAAM Kuching which was formed only earlier this year."
Choo added that the decision for SAAM Kuching was mooted as Swinburne Sarawak is the only international campus of the Melbourne based university and that most of the 6,000 graduates the campus has produced are located in the State.
Outside Australia, the Sarawak campus generates the highest number of Swinburne graduates.
Choo encourages more alumni from the university to get involved with activities it organises.
"If you would like to be part of our core committee which enjoys organizing beneficial events for alumni, please feel free to approach us," she said, adding that suggestions for activities such as educational, technical, social and community projects are welcome.
In October, SAAM Kuching will be working with Swinburne Sarawak on the alumni dinner, an annual event that includes the presentation of awards by industry.
There are advantages in associating with the alumni chapter, said the PhD candidate.
"Membership has benefited the current core group. We have attended a networking event in Kuching organized by the Australian High Commission, allowing us to meet various people from industry. We have also been invited to various events in Kuala Lumpur. It has been a learning journey ever since I joined SAAM and I am looking forward to where this will bring us."
Swinburne Sarawak alumni who are interested to get involved with the SAAM Kuching chapter may email Choo at dcychoo@swinburne.edu.my