Swinburne International Festival promises a showcase of vibrant cultural scene
October 8, 2018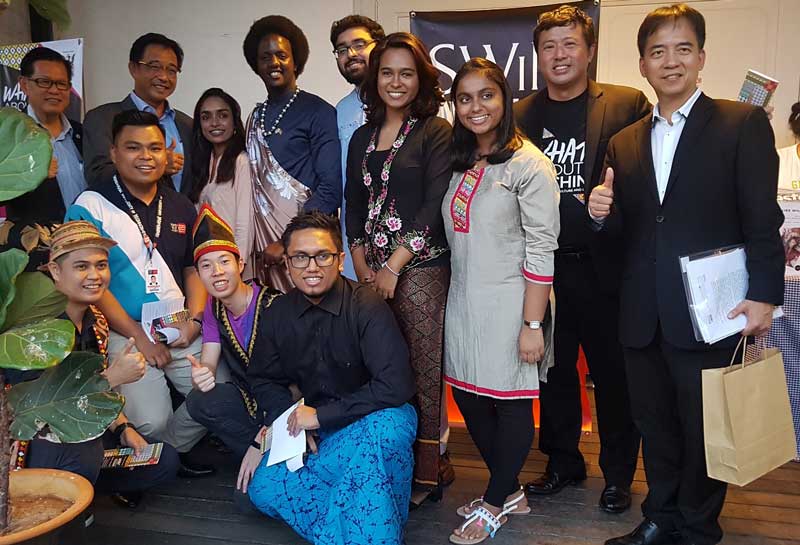 Staff and students of Swinburne Sarawak in a group photo with Datuk Lee Kim Shin (left), Datuk Abdul Karim Rahman Hamzah (2nd left) and others during the WAK calendar launch event earlier last month.
KUCHING – A five-day festival to celebrate the diverse arts, culture and music of various countries will be organised by Swinburne University of Technology Sarawak Campus in conjunction with What About Kuching 2018 (WAK 2018), a month-long festival organised by the Ministry of Tourism, Arts, Culture, Youth and Sports Sarawak.
The Swinburne International Festival Week 2018 event will run from 8 to 12 October from 10.00am to 4.00pm daily at the university campus. It is open to staff and students of the university as well as members of the public.
The event is jointly organised by Swinburne's Student Central through its International Student Services and Student Life units, and student-run organisations AIESEC in Kuching, Swinburne International Students Club, and Swinburne Sarawak Student Council.
According to Manager of Student Central Ruhazlina Syam Abdol Hazis, the event aims to increase awareness on Sarawak's diverse population and its local and international culture, celebrating the unifying component of being a global citizen at Swinburne and Sarawak at large.
"We also hope that this event can provide a platform for students to be more involved in activities organised by the university where it encourages interaction among a culturally mixed group of people," she said.
Meanwhile, President of Swinburne International Students Club Mohamed Akram Azeerdeen remarked that the club believes in being global and therefore, strives to share the wonder of embracing diversity through such events.
The highlights of the International Festival Week are the Global Village and Cultural Night events. Global Village is a student showcase of cultural performances, food stalls and traditional lifestyle featuring 14 countries namely Sri Lanka, India, Pakistan, Bangladesh, Vietnam, Indonesia, Egypt, Yemen, New Zealand, Nigeria, Romania, Turkey, Czech Republic and Germany.
The three main components of Global Village are the Global Exhibition, an interactive mini expo showcasing culture and tradition of various countries; Global Stage, showing snippets of performances by countries performing at the Cultural Night event; and Global Kitchen, a display of traditional food from the participating countries.
To conclude the festival week, a Cultural Night show will be staged on 12 October from 6.00 to 11.00pm at Swinburne's Multi-Purpose Hall. Tickets are sold at RM15 per person. For enquiry on how to purchase the tickets or for other details, contact Jordan Anthony Layan at 082-260 737 or email to jalayan@swinburne.edu.my.
Swinburne Sarawak is home to approximately 3,500 students from more than 45 countries. This makes for a culturally diverse and colourful campus community where students gain rich learning experience with an international flavour.
Swinburne offers top-notch Australian education in foundation, undergraduate and postgraduate levels. At the Sarawak campus, its professionally accredited and industry-applicable courses in business, design, engineering, computing and science are identical to those offered at the Melbourne campus. As a result, graduates are awarded the same Australian qualification that allows for broader recognition and better employment opportunities around the world. 
For more information about Swinburne, visit the university's website (www.swinburne.edu.my), Facebook page (@swinburnesarawak), Instagram (@swinburnesarawak), Twitter page (@Swinburne_Swk) or YouTube channel (Swinburne Sarawak).