Swinburne Sarawak launches CIDB myBIM Satellite Centre
June 11, 2018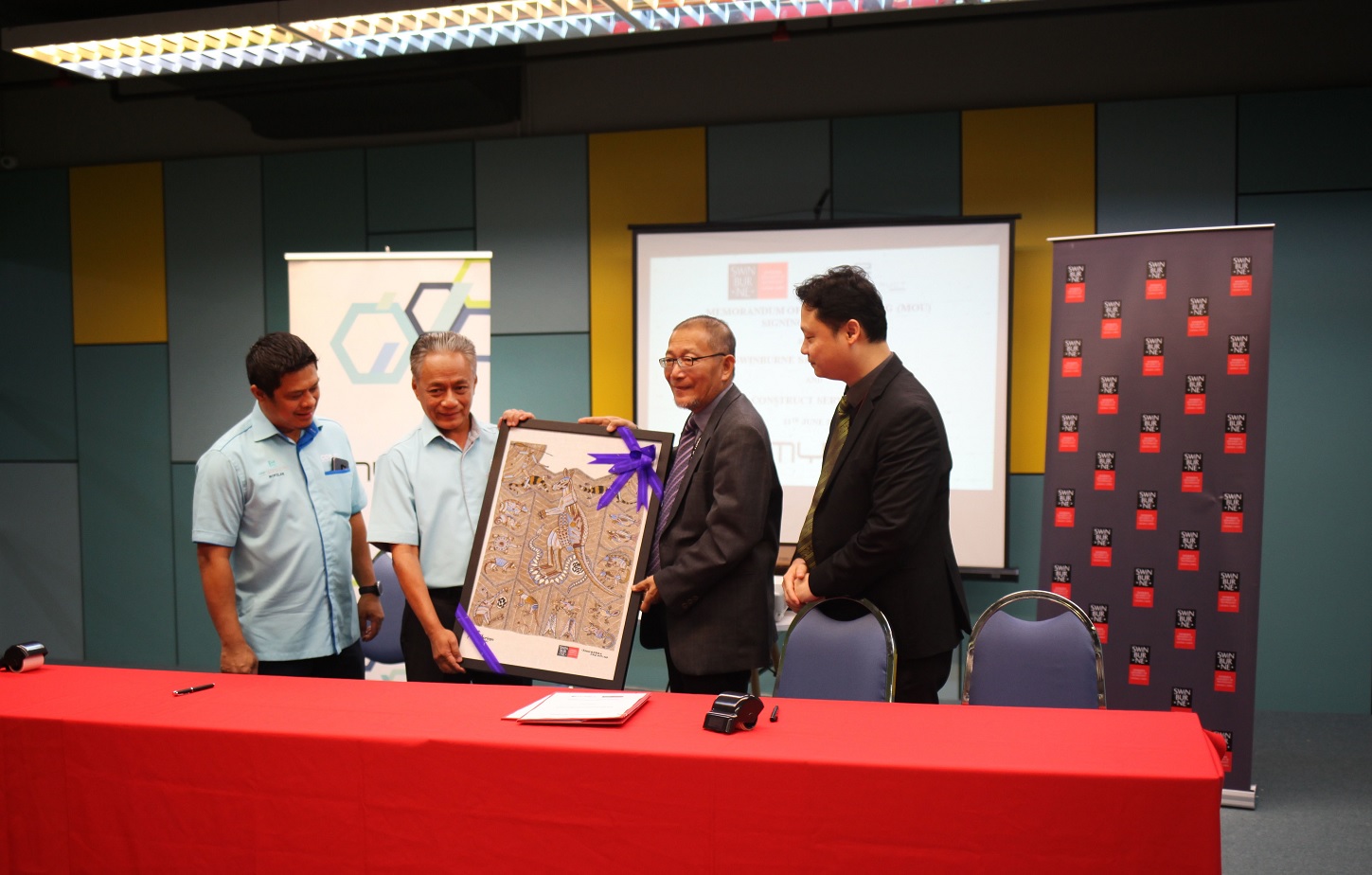 Haji Hussain (2nd right) presenting a souvenir to Datuk Ir. Elias at the end of the signing ceremony.
KUCHING – Swinburne University of Technology Sarawak Campus (Swinburne Sarawak) in collaboration with the Construction Industry Development Board (CIDB) today launched the first myBIM (Building Information Modelling) satellite centre in Sarawak.
The centre was launched by Haji Hussain Taiban, Registrar and Director of Student Engagement, Swinburne Sarawak in the presence of Datuk Ir. Elias Ismail, Deputy Chairman of CIDB Malaysia.
Led by Swinburne Sarawak's Director of Research, Consultancy and Future Projects Associate Professor Dr. Wallace Wong, myBIM satellite centre in Swinburne Sarawak will provide facilities for practitioners to accommodate BIM training programmes. It currently consists of a sophisticated computer laboratory well equipped with the latest software for BIM implementation, which will also form the base to the current industry-driven BIM research team in the university consisting of Ir. Dr. Angelia Liew San Chuin, Dr. Victor Bong Nee Shin, PhD candidate Ghazaleh Khoshdelnezamiha and Siti Nurfarahin.
This centre aims to promote better implementation of BIM in the construction industry, in line with the target for broad adoption of BIM in Malaysia by the year 2020.  As the most recent technology used in construction industry, BIM will not only assist construction players in digitalising the representation of building, but also facilitate better collaboration and efficient information exchange between construction parties. 
At the launching event, Swinburne Sarawak also signed a Memorandum of Understanding (MoU) with CIDB to provide BIM training programmes.  Under this MoU, Swinburne Sarawak will be hosting various BIM training programmes for construction practitioners in Sarawak, which is set to start on the last week of August 2018.
For more information about Swinburne Sarawak, visit the university's website (www.swinburne.edu.my), Facebook page (@swinburnesarawak), Instagram (@swinburnesarawak), Twitter page (@Swinburne_Swk) or YouTube channel (Swinburne Sarawak).