Swinburne Sarawak is runner-up in inaugural IT security competition
April 19, 2017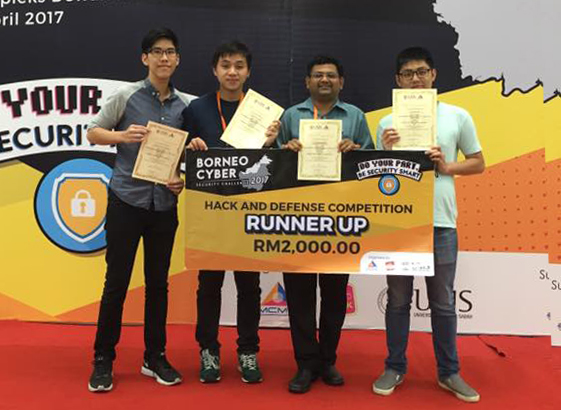 (from left) Yong, Son, Dr. Valliappan and Tan with their prize money and certificates of participation.
KUCHING – A computer science team from Swinburne University of Technology Sarawak Campus stepped up to the awards podium when they won second place in the Borneo Cyber Security Challenge.
Students Jonathan Yong Yung Shan, Nguyen Thanh Son, and Tan Zhong Yan competed against teams from Sabah, Sarawak, Brunei and Kalimantan at the inaugural Borneo Cyber Security Challenge held at Universiti Malaysia Sabah.
Swinburne's team – aptly called Mr Robot 3.0, participated in the Attack and Defence-Capture The Flag (CTF) competition.
"Our participation exposed the team members to different types of cyber-attacks, and are made more aware of the risks involved in computer networking," said Dr. Valliappan Raman, senior lecturer computing, Faculty of Engineering, Computing and Science.
Dr. Valliappan, who was also the advisor for the team, commended the team for their commitment and preparation for the competition.
Prior to event day, Swinburne's team prepared shell codes for a variety of architecture and different platforms. This preparation enabled them to fully understand the network environment on competition day and effectively applied their network security skills during the 12-hour competition.
"I was nervous about joining the competition as my knowledge in network security is still lacking. But by putting myself in such an uncomfortable position, I in turn have learned so much," said Jonathan Yong.
The first year Computer Science student said the presence of knowledgeable competitors was rather intimidating.
"In the end, that feeling became a worthwhile experience especially when we were announced as the runner-up."
For Vietnamese student Nguyen Thanh Son, the opportunity to meet peers in a competitive yet friendly environment was a valuable life experience.
"It inspired me to keep on learning," said 26year old Nguyen. "And of course it was fun, undeniably."
Hopefully there will be more competitions such as this for us to participate in and to challenge ourselves, to grow and to unlock our potential, he added.
According to Dr. Valliappan, there is high demand for highly skilled experts in the area of network security in IT companies worldwide.
"This is because cyber threats are on the rise worldwide so new methodologies, cyber security products and tools are needed to protect infrastructures, businesses and organizations."
Jointly organised by Malaysian Communications and Multimedia Commission (MCMC) and Faculty of Computing and Informatics, University Malaysia Sabah (UMS), the competition was open to students from public and private institutions of higher learning in Borneo.
About 600 participants took part in the various competitions, workshops, forum and talks held during the two-day event.