Swinburne Sarawak's new Indonesian recruitment and pathway partner Globaljaya Edukasi Indonesia organizes school talks on entrepreneurship
June 14, 2017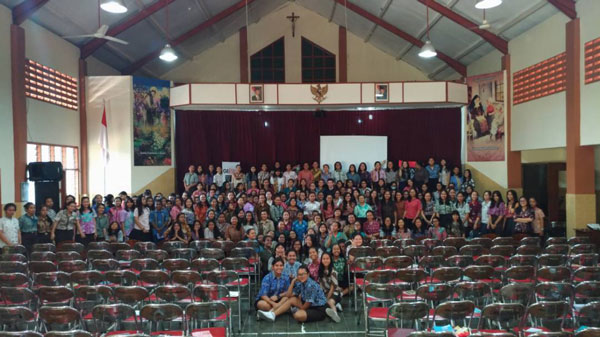 Swinburne Sarawak's delegation with local students at an Indonesian school in Yogyakarta to promote the newly established Globaljaya Edukasi Indonesia campus.
Yogyakarta, Indonesia – Swinburne University of Technology Sarawak's recruitment and pathway partner in Indonesia, Globaljaya Edukasi Indonesia (GEI) has launched an extensive campaign to boost public awareness about the institution's offerings, as well as its partnerships with Swinburne Sarawak.
Dr. Jerome Donovan, a visiting academic to Swinburne Sarawak from Swinburne's Melbourne Campus and Swinburne PhD candidate Agnes Pranugrahaning, have been an integral part of the campaign activities all around Yogyakarta supported by a delegation of academics from Swinburne Sarawak led by Dr. Yakub Sebastian.
Alongside the CEO of GEI, Mr. Yanto Laurensius, they visited schools across Yogyakarta where Dr. Donovan presented talks on global entrepreneurships and Agnes shared her exciting experience pursuing her PhD in Swinburne Sarawak.  They and the delegation from Swinburne Sarawak then facilitated workshops on prototyping ideas and bringing them quickly into market.
The schools visited were SMA Negeri 1 Yogyakarta, SMA Santa Maria, and SMA Sang Timur and approximately 400 students from the three schools participated in the activities.
Dr. Donovan and Agnes also made appearances on a number of radio interviews on various radio stations in and around the city and neighbouring provinces to promote international education and the GEI-Swinburne partnership. The live interviews at Radio Sonora Yogyakarta, Solo Radio FM, Smart FM Yogyakarta, and Trax FM in Semarang have made it possible for listeners nationwide to learn about international education, GEI and their courses, and the Swinburne experience.
Dr. Donovan said, "It's been a great experience sharing important challenges facing young people in Indonesia and around the world. Students in Indonesia are very bright and understand already about the changing role of education and the importance of technology in changing their futures".
He added, "When we conducted our 'launch wars' entrepreneurship sessions, students were able to see these future challenges as opportunities, and find way to be better prepared themselves. It was incredible seeing their innovative design thinking, and ability to adapt and think quickly to respond to changes. The future is looking very bright in Indonesia with such talents coming through!"
GEI is a newly established education provider and recruitment partner that offers foundation programmes in Business and Information Technology. Upon finishing these foundation courses, students will be better prepared to further their studies to Swinburne Sarawak.
More information can be found at GEI's official website gjeindonesia.com and on Facebook and Instagram @gjeindonesia.