Swinburne Sarawak's pathway provider Globaljaya Edukasi Indonesia holds its Open Day
June 22, 2017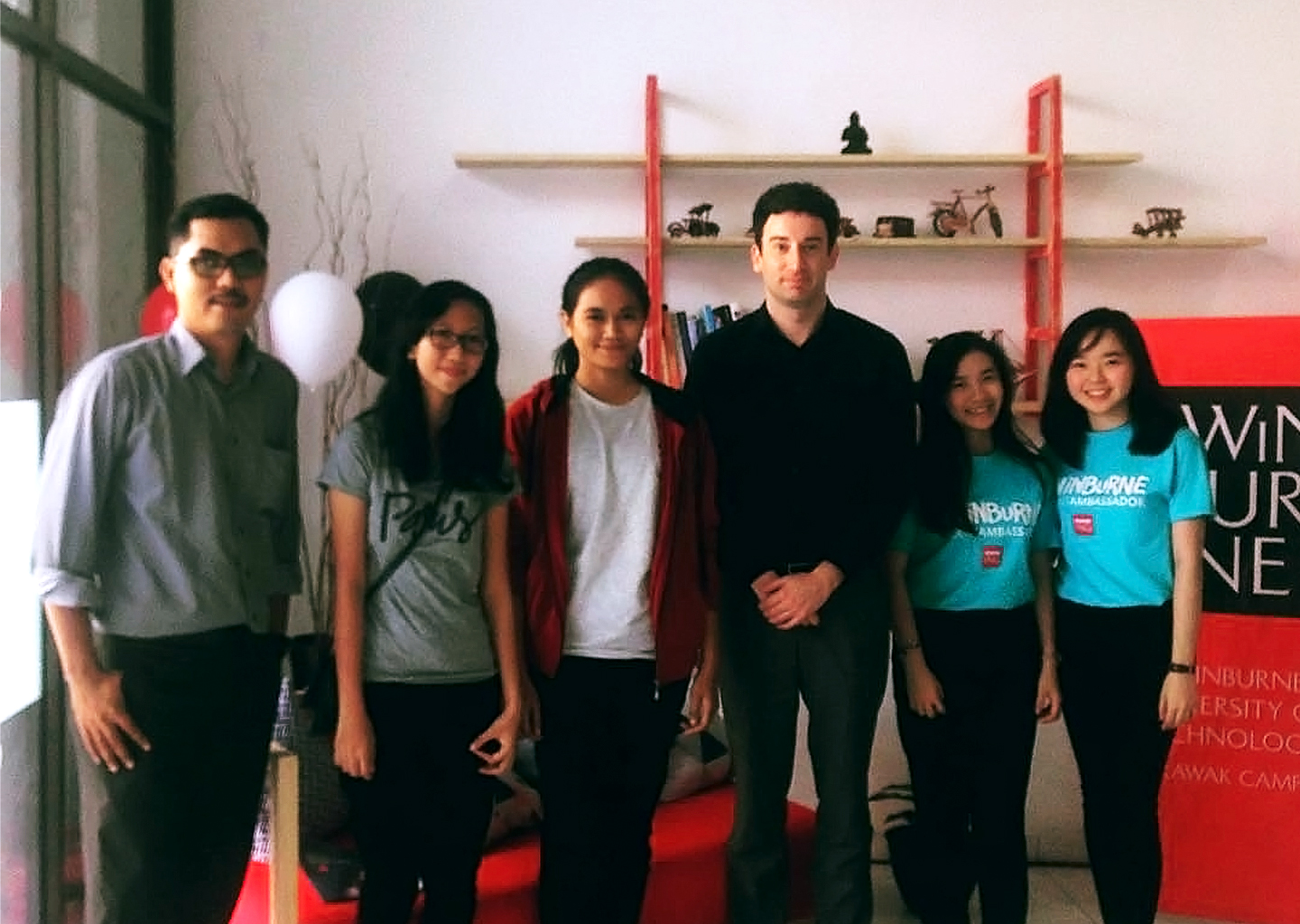 Swinburne's delegation… Third from right, Dr Jerome Donovan from Swinburne Melbourne's, with Swinburne Sarawak students Felicia Andayani and Bella Cengiani and Mr Yanto Laurensius (extreme left) CEO of GEI
Yogyakarta, Indonesia – Swinburne University of Technology Sarawak's pathway partner in Indonesia, Globaljaya Edukasi Indonesia (GEI) held its inaugural Open Day last week on Saturday, 17th of June, 2017 at its newly opened campus.
Dr Jerome Donovan from Swinburne's Melbourne campus and Swinburne PhD candidate Agnes Pranugrahaning, who have been part of GEI's campaign activities all around Yogyakarta, were present during the Open Day leading the day's activities. Joining them were Dr Eryadi Masli from Swinburne Melbourne, as well as a delegation from Swinburne Sarawak comprised of students and staff.
The Open Day started at 10am and consisted of various activities including "drop-in" discussion sessions with Dr Donovan and Dr Masli to find out more about GEI's foundation programs and links with Swinburne's degree programs. Representatives from Swinburne Sarawak also played an active part in the experience sharing sessions and open discussions to provide student with a glimpse of campus life at the Kuching campus.
Coinciding with the fasting month of Ramadan, attendees also took part in the "buka puasa" session held following the Opening Ceremony of the campus towards the end of the day.
According to Dr Donovan, "The Open Day at GlobalJaya Edukasi Indonesia (GEI) marked an important landmark for providing pathways to Indonesian students hoping to acquire an international education. Indonesia is an exciting country with huge growth potential and a creative and technologically savvy youth."
He added, "Offering more pathways to Swinburne Sarawak and Swinburne University of Technology will foster the entrepreneurial and innovative spirit of these young people, offering them the tools to transform their creativity into being the next generation of entrepreneurs and business people! We are excited to see GEI supporting more Indonesian students to come to Swinburne."
Approximately 60 students and parents attended the day-long event which ended at 10pm. These included students who had participated in GEI's extensive marketing campaign prior to the event where Swinburne delegates visited schools all over Yogyakarta and neighbouring townships.