Swinburne staff awarded Adobe Innovation Grants for new approaches to learning and teaching
October 6, 2020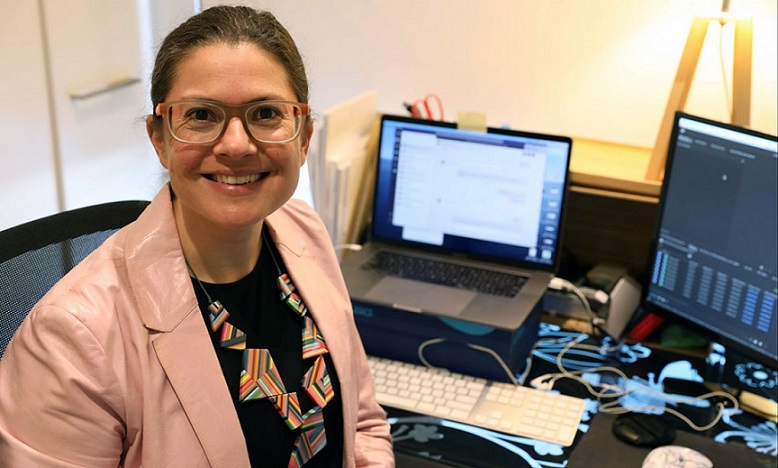 Video journalism lecturer Denby Weller (pictured) will work with broadcast lecturer Peter Marcato on Swinburne Digital Bootcamp for journalism students.
Digital storytelling to communicate the relevance of mathematics to society, a journalism bootcamp and a project to spark creativity in business students.
These three projects are among 10 developed by Swinburne staff to receive grants supporting new approaches to learning and teaching as part of our Adobe Creative Campus partnership.
"As the first and only Adobe Creative Campus in Australia, Swinburne's partnership ensures our graduates are digitally fluent and able to access and use technology and data, as well as collaborate, manage and create digital content," says Interim Deputy Vice-Chancellor (Academic) Professor Chris Pilgrim.
The Adobe Innovation Grant recipients are focusing on innovations in digital literacies using the Adobe Creative Cloud suite to embed technology literacy, critical literacy or information literacy into learning and teaching.
"These innovation grants, which are fully funded by Adobe, support academics who are leading digital transformation in their teaching practice," says Professor Pilgrim.
The successful Swinburne applicants are:
| | |
| --- | --- |
| Paul Hernandez Martinez, Therese Keane | Digital storytelling to communicate the relevance of mathematics |
| Kate Bissett-Johnson | Let me tell you a story; something more than a technical narrative, the 2-minute movie |
| Bita Zaferanloo | Empowering science students' communication skills with economic impact |
| Denby Weller, Peter Marcato | Swinburne Journalism's Digital Bootcamp |
| Peter Holland, Julian Vieceli | Improving digital literacy in a workplace simulator project |
| Ryan Jopp | Sparking creativity in second year business students. |
| Peter Marcato | Media content creation – online teaching innovation |
| Thomas Luke, Elliot Henkel | ProtoSOURCE- An integration of physical, analogue and digital prototyping in the remote learning environment |
| Glenda Ballantyne | Making a Difference: Embedding digital literacy in the Bachelor of Arts core capstone unit, Grand Challenges. |
| Sylvia Mackie | Developing rhetorical and ethical awareness for dynamic data visualisation – self-paced online training for higher degree by research students in the Faculty of Science, Engineering and Technology. |

Recipients have been awarded $2000 for individuals and $5000 for cross-unit teams. They are required to attend workshops and training to support the communication of their findings in new formats.
They will also be able to share their projects in sessions facilitated by Senior Strategic Development Manager for Higher Education at Adobe, Todd Taylor and guests from other Adobe partner institutions across the world.
Swinburne's Learning Transformations Unit will support innovation through these grants, the products of which will create opportunities for all students.