Swinburne's nationwide forum provides insights into future of work
March 6, 2020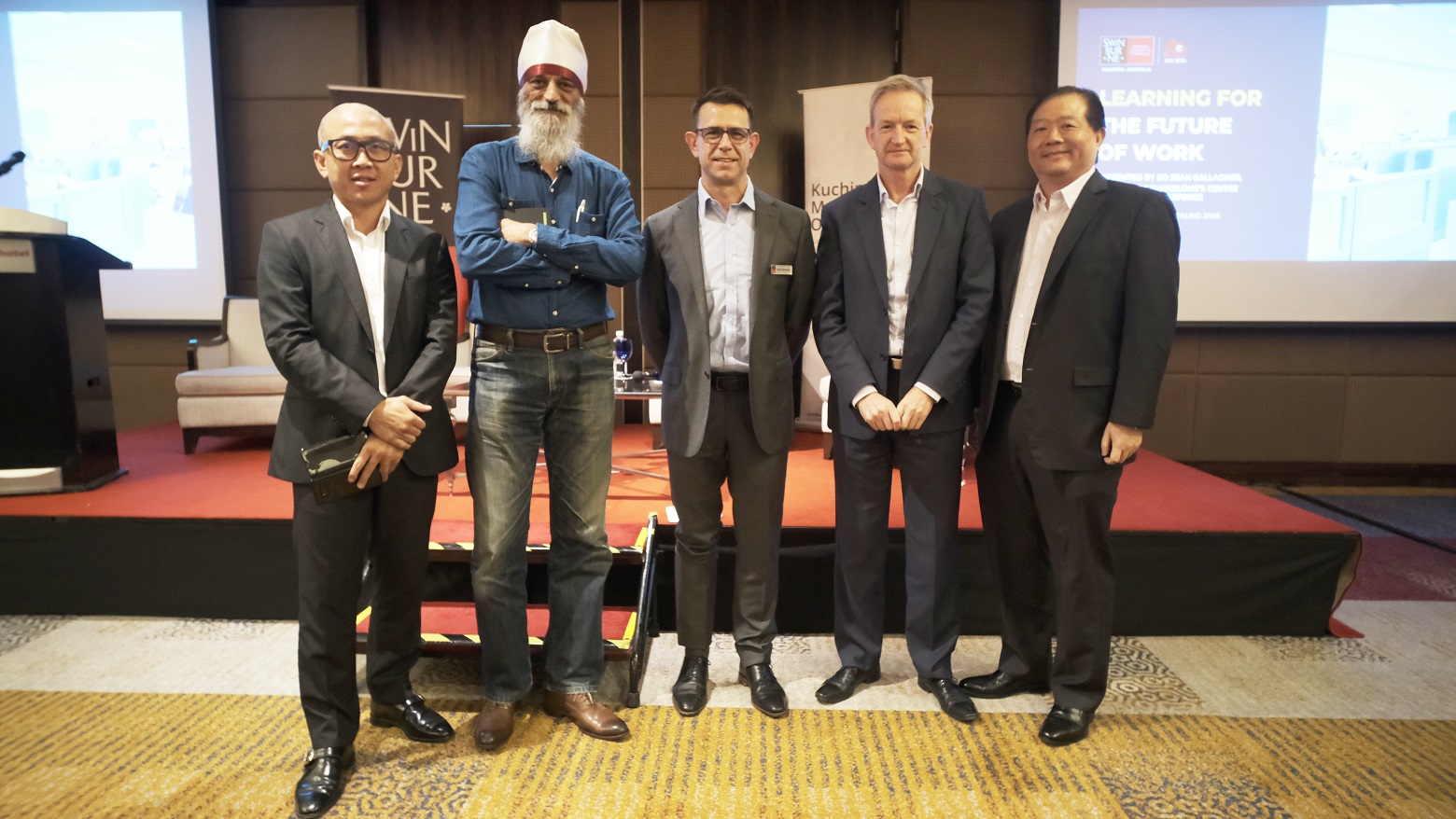 (L-R) Khoo, Karamjit, Dr Gallagher, Professor Wilson and Gan at the end of the forum in KL.
KUCHING – The need to reimagine learning and possess a combinatorial skillset that merges expertise and social is more profound than ever as humans move into the increasingly challenging digital age.
According to the Director of Swinburne's Centre for the New Workforce Dr Sean Gallagher, expertise is the skills needed to do tasks, for examples, functional and digital skills, while social are the skills needed to work with people and understand humans, for examples, emotional and entrepreneurial skills.
Speaking at the inaugural 'Learning for the Future of Work' forum series that kicked off on 22 February in Kuala Lumpur, Dr Gallagher's presentation delved into an array of topics including how humans understand complexity; the fundamental dynamics of the digital age; the impact of artificial intelligence (AI) and digital technologies on task-based work; and the need to continually reskill and upskill.
He also touched on creating value in learning for the future workplace; Swinburne's work-integrated learning programme; as well as how students can prepare for the future of work.
"The dynamics of the digital age can be summarised as the pace of change in digital technology, interdependencies related to digital hyperconnectivity, and continuous evolution in the digital ecosystems. As most work are routine and predictable tasks, the impact of digital technologies will see the displacement and reorganisation of tasks. This is why it is of great importance for workers to constantly reskill and upskill to be on par with future workplace," said Dr Gallagher.



In November 2018, the Centre for the New Workforce and its research partner YouGov carried out a study with 1,000 Australian workers about their attitudes to work, their perceptions about how work is changing, and how they are preparing for the future. From the study, Dr Gallagher said that 56% of working Australians expect the work in five years' time will require skills they currently do not have, and only 44% is completely confident that their current skillset will be relevant in five years' time.
Where university students are concerned, he said students need to ask themselves where do they find the future of work and how can they immerse themselves in it.
"What makes you curious? What fuels your passion? What scares you? This is all about the individuals. As for work, we need to think about what new forms of work are emerging? Where are they?"
"And when it comes to digital technology, identify what are these new technologies. What do they do? What can we do with these new technologies?" remarked Dr Gallagher.
Learning for the future of work also means creating value where one creates new knowledge, focuses on unforeseen challenges and new opportunities, and enhances their competitive advantage. Citing Swinburne's associate degree of applied technology students as an example, Dr Gallagher said the students work side-by-side with Siemens to help create new value through developing and co-creating new technologies and work practices. He added that in this context, the students act as the change agents.
Over 600 professionals from various public and private agencies, secondary and university students, as well as educationists and professionals in education attended the series of forum. After Kuala Lumpur, the forum continued in Kota Kinabalu (23 February), Kuching (24 February), Sibu (26 February), Miri (27 February) and Penang (29 February).

The forum in KL, Kuching and Penang featured moderators Khoo Hsu Chuang, Presenter-Producer of BFM Media Sdn Bhd; and Freda Liu, Lead Producer/Presenter of BFM 89.9; as well as panellists Professor John Wilson of Swinburne Sarawak, Karamjit Singh of Digital News Asia, and Gan Bock Herm and Chua Kuang Eu of JobStreet.com.
The event was jointly organised by Swinburne University of Technology Melbourne and Sarawak campuses. As the only full-fledged international branch campus of Swinburne, the Sarawak campus offers a range of industry-applicable and professionally accredited courses in business, computing, design, engineering and science at diploma, foundation, degree, masters and PhD levels.
The course curriculum and assessments are equivalent and aligned to identical learning outcomes at the Melbourne campus. Swinburne's work-integrated learning opportunities comprising industry and accreditation placements; industry-linked projects; internship; industry study tour; as well as other immersive learning experience such as community service and guest lectures help prepare its students for the future of work. Upon graduation, students earn an Australian qualification that is recognised worldwide.
Swinburne 2020 Foundation and Diploma intakes are now open for application and classes will commence on 13 April 2020. Late enrolment for Degree programmes is also open for application until 13 March 2020.
For more information, visit www.swinburne.edu.my, or follow its Facebook page (@swinburnesarawak), Instagram (@swinburnesarawak), Twitter (@Swinburne_Swk) and YouTube channel (Swinburne Sarawak).