Swinburne's Sarawak campus conducts talk on ACCA Accelerate Programme
March 16, 2018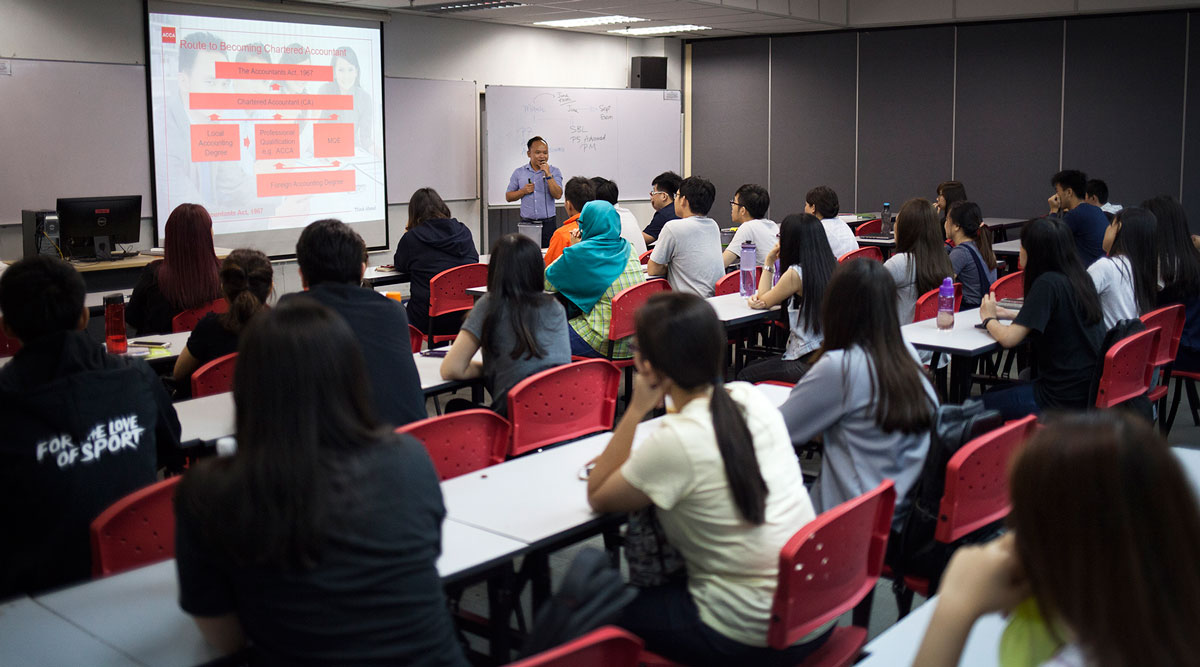 Peter addressing the business degree students.
KUCHING – 80 business degree students of Swinburne University of Technology, Sarawak Campus (Swinburne's Sarawak campus) attended a talk on ACCA (Association of Chartered Certified Accountants) Accelerate Programme held recently on campus.
The talk was delivered by Peter Gabriel, Manager (Business Development) from the ACCA Kuala Lumpur office. All students are currently pursuing their business degree majoring in Accounting or Accounting and Finance double major.
The ACCA Accelerate Programme allows eligible students to sit for the last four ACCA Professional Level examination papers after completing their first year of study. It provides a fast track for students to complete their professional accounting examinations before graduating from their course.
Swinburne's Sarawak campus is the only university in Kuching that offers the ACCA Accelerate Programme. At present, Swinburne's Sarawak campus has approximately 100 students who are registered under the programme. Among the many benefits of taking the ACCA Accelerate Programme at Swinburne's Sarawak campus include reduction and postponement of exemptions fee, waiver of yearly subscription fees up to the year of graduation and reduction of initial registration fee.
Since July 2017, Swinburne's Sarawak campus degree students have done exceptionally well in their ACCA examinations. Their pass rates in September and December examinations for Paper P1 Governance, Risk and Ethics, and P3 Business Analysis had exceeded the ACCA world pass rates. The success is attributed to a team of experienced and dedicated full-time lecturers and effective learning systems applied by the university.
Swinburne's Sarawak campus Faculty of Business, Design and Arts offers business courses that are carefully monitored for their academic quality, career relevance, and compliance with Malaysian and Australian qualifications standards. The courses are accredited and recognised by CPA Australia, Chartered Accountants Australia and New Zealand (CAANZ), the Chartered Institute of Management Accountants (CIMA) and the Association of Chartered Certified Accountants (ACCA).
Undergraduate students may mix and match subjects from different streams to suit their interests and employment preferences. Students can opt to pursue a Bachelor of Business (single major) in Accounting, Finance, Human Resource Management, International Business, Management, or Marketing, or double major in Accounting and Finance or Management and Digital Media.
Swinburne scholarships are available for deserving students in addition to other external scholarships and financial assistance options such as EPF withdrawals and PTPTN loans. The April Foundation intake is now open for applications and classes will commence on 9 April 2018.
For more information about Swinburne's Sarawak campus, visit the university's website (www.swinburne.edu.my), Facebook page (@swinburnesarawak), Instagram (@swinburnesarawak), Twitter page (@Swinburne_Swk) or YouTube channel (Swinburne Sarawak).