Uggah, Swinburne Sarawak discuss smart farming, research
February 12, 2018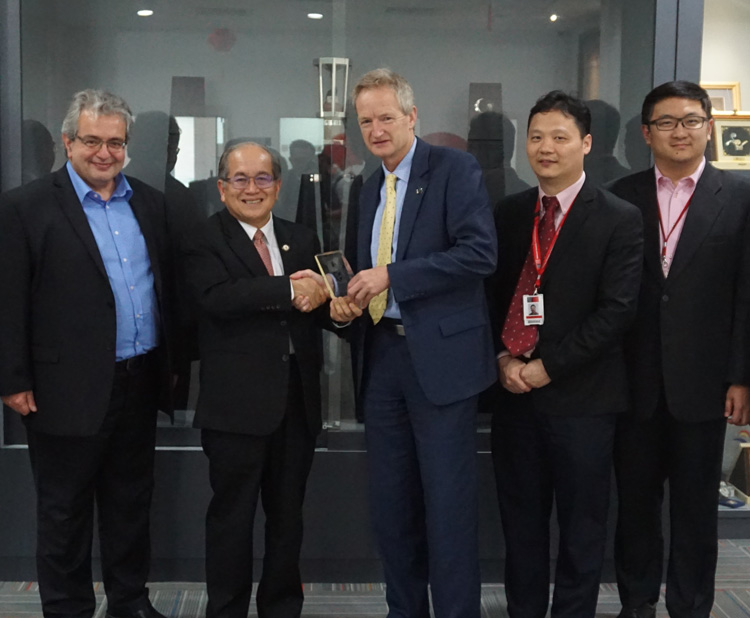 Professor Wilson presents Datuk Amar Douglas Uggah with a memento. They are flanked by Professor Georgakopoulos (left) and Dr Wallace Wong (second from right). At right is Dr Patrick Then, Head of the School of Information and Communication Technologies.
KUCHING – Deputy Chief Minister of Sarawak Datuk Amar Douglas Uggah Embas was recently at Swinburne University of Technology Sarawak Campus to discuss smart farming, agricultural projects and research with senior officers of the university.
He was welcomed on arrival at the campus by Professor John Wilson, Deputy Vice-Chancellor and Chief Executive Officer, and members of senior management.
After a presentation on Swinburne Sarawak by Professor Wilson, Datuk Amar Douglas Uggah, who is also Minister of Modernisation of Agriculture, Native Land and Regional Development, was briefed on the university's oil palm harvesting mechanization projects and its proposed Co-Innovation Eco-system by Associate Professor Wallace Wong, Director for Research and Future Projects.
Swinburne Sarawak has developed an automated picker, which makes the process of collecting oil palm fruit much easier. Operable via a tablet, it uses a combination of mechanical engineering and vision sensors to detect and collect ripe palm oil fruit.
The deployment of the picker in plantations could cut human labour requirement by 66 per cent, according to its developer, Dr Hudyjaya Siswoyo Jo from the Faculty of Engineering, Computing and Science.
Swinburne Sarawak is currently in talks with industry partners to market the machine.
Datuk Amar Douglas Uggah had the opportunity to see the machine in action during a tour of the university.
Professor Dimitrios Georgakopoulos, who is Professor and Director of the Key Internet of Things (IoT) Laboratory at Swinburne's home campus in Melbourne, gave a presentation on smart farming.
Professor Georgakopoulos was at Swinburne Sarawak to conduct a workshop on IoT for Sarawak government officials involved in the fields of smart farming and smart cities.