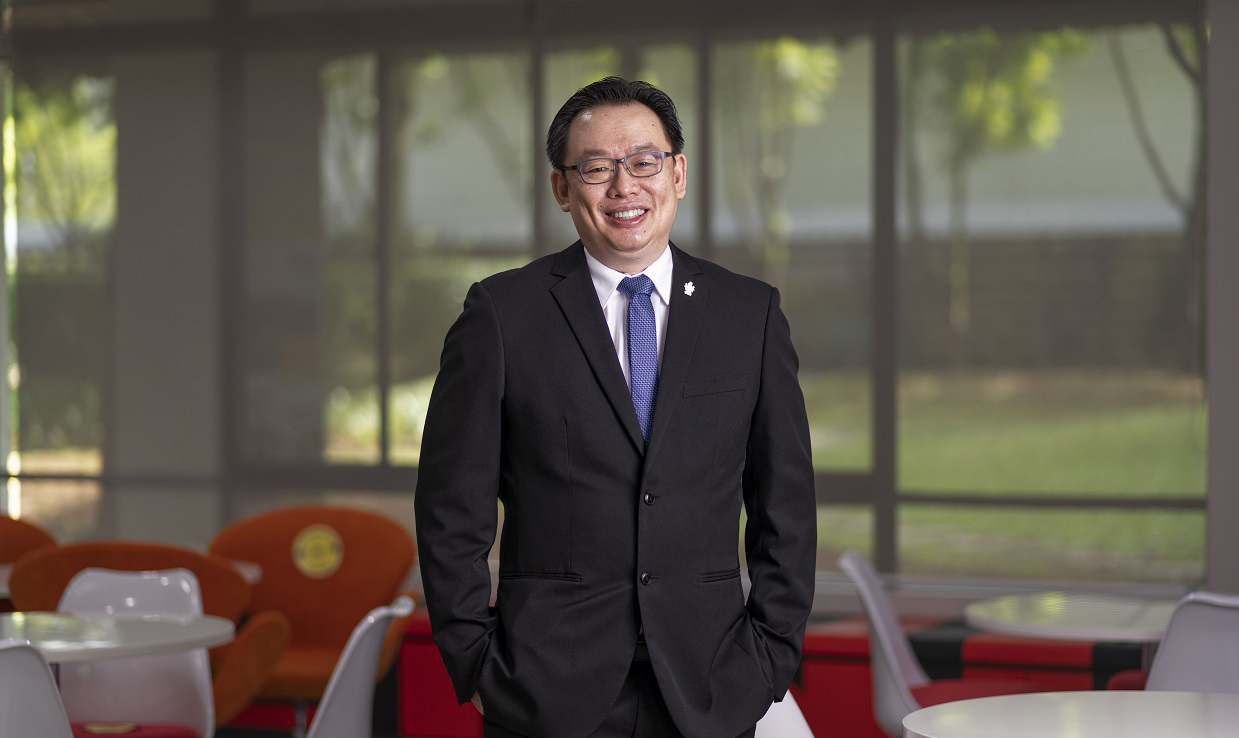 Warmest greetings to all!

It is my pleasure to welcome you to Swinburne University of Technology Sarawak Campus (Swinburne Sarawak), the only full-fledged international branch campus of Swinburne University of Technology in Melbourne, Australia.

Swinburne University of Technology is an outstanding university with an extraordinary community. We take pride in our innovative contributions to the world and the unique learning and teaching experiences we offer our students. Our high-quality work-integrated programmes are taught by distinguished faculty members who are experts in their fields, and our students earn internationally recognised degrees at an affordable cost. Swinburne Sarawak's programmes are undifferentiated from the Melbourne campus in terms of curriculum and learning outcomes, earning our students the same testamurs and qualifications as their Australian peers.

But we're not stopping there. We are continuously striving toward our 2025 Vision of bringing people and technology together to build a better world. Swinburne is committed to providing an unparalleled and dynamic student experience, offering innovative tech solutions for industry, and being the prototype of global best practices.
As a Swinburne student, you will undergo programmes that prepare you for future jobs. Our undergraduate programmes are designed so that you get to experience hands-on industry practice through our Work Integrated Learning (WIL), while employers will have the opportunity to witness the skills and knowledge that a Swinburne graduate can add value to the workplace. Our programmes are also recognised by professional bodies and with industrial certification. Swinburne Sarawak's strong partnerships and collaborations with the industry ensure that you can gain valuable workplace experience.

Here at Swinburne Sarawak, the opportunities are endless. We can help you achieve your education and career goals through our wide range of pathways and study modes. In addition, students who are interested in gaining exposure abroad can explore transfer or exchange options at any semester. These exciting experiences equip you with the confidence and skills that empower you towards a greater chance of employment and an essence of entrepreneurship, even before you graduate.

At Swinburne Sarawak, we take immense pride and joy in the diversity and inclusivity of our community across the entire university. Our campus is home to a diverse range of students representing over 50 countries. This is an invaluable advantage for interacting with a global cohort where you will feel engaged and stimulated. Immersing yourself in a multi-ethnic community also allows you to discover, understand, and appreciate different cultures worldwide. Upon graduating, you will be a part of a growing community of over 200,000 Swinburne alumni from more than 140 countries.

While your studies are undeniably important, university life isn't just about classes – it's also about the student experience. We encourage our students to participate in clubs, societies, and events on campus. We also have our Swinburne Sarawak Student Council and Student Life Volunteering Program, both of which enhance student involvement and development. By participating in such activities, students can broaden their horizons, build networks, and gain practical skills and experience. Through this holistic approach, we can develop well-rounded graduates who are more than ready to take on the real world.

We are always looking for ways to grow and improve ourselves as a university, including our 16.5-acre campus located in Kuching, the capital city of Sarawak in Malaysia. The university has invested over RM60 million in an infrastructure upgrade project since 2019, in line with its long-term commitment to enhancing the campus experience for students. This is also consistent with Swinburne Sarawak's vision of becoming a leading private university in Malaysia and a world-class campus by 2025. The reconstruction and extension of the teaching and learning spaces, the library, student village dining halls, Student Hub, and the creation of the Borneo Atrium in the heart of the campus will benefit students and the community as a whole.

Swinburne represents the next gen_uni, where we draw lessons from the past to design the future, all the while staying committed to building a world-class institution of higher learning that is truly of technology, of innovation, and of entrepreneurship. Being a proud Swinburne graduate means becoming the talent required to address the challenges and possibilities that a digital, tech-rich future has to offer. It also means bringing to life the vision of people and technology working together to build a better world.

It is a common saying that university is the best time of your life. As such, do make the most of your time at Swinburne Sarawak – gain knowledge and experience, explore new things, make lifelong friends, and thoroughly enjoy your Swinburne journey.

I invite you to become part of the next-generation talent through all the opportunities available to you at Swinburne Sarawak. The future is yours.

Join Swinburne, the Next Generation University now !
Ir. Professor Lau Hieng Ho
Pro Vice-Chancellor and Chief Executive Officer