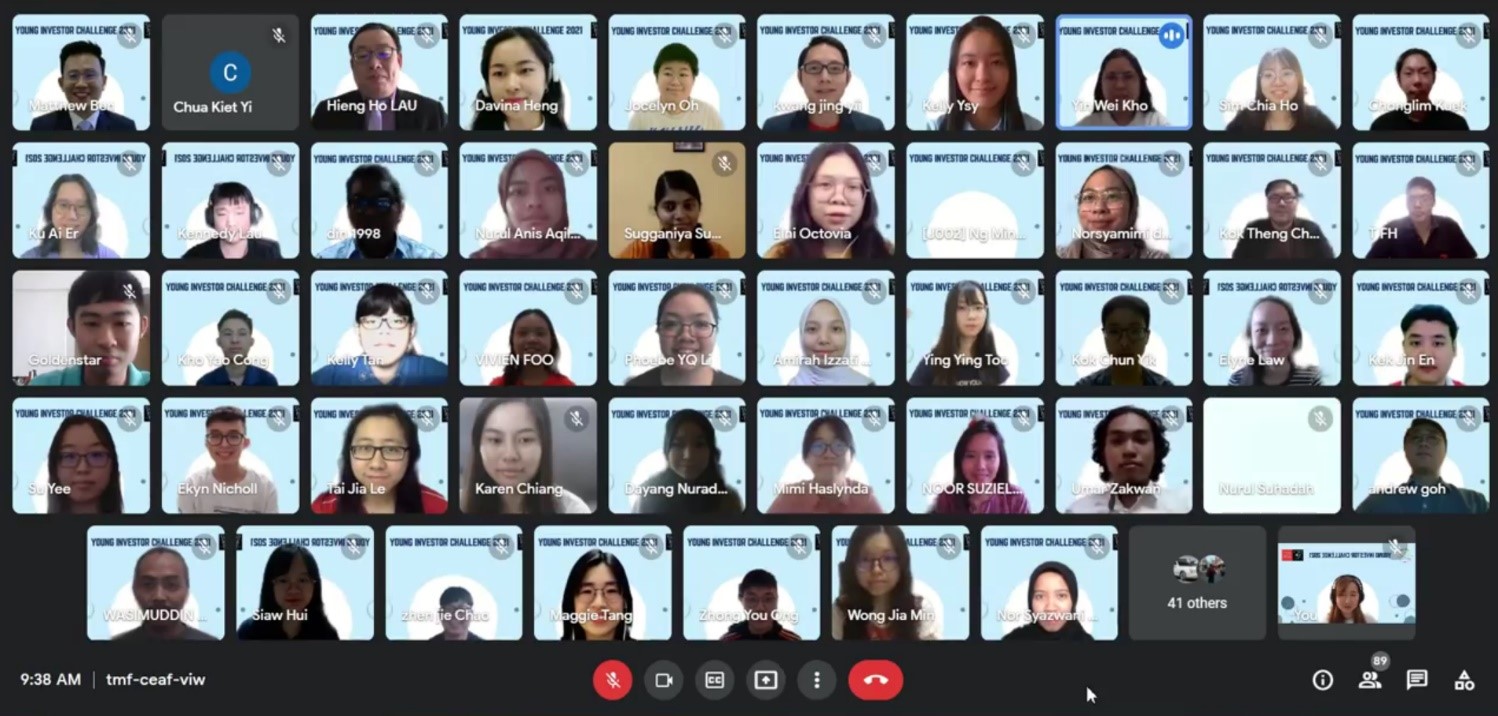 Students from multiple universities and colleges across the country recently competed in the Young Investor Challenge (YIC) 2021, an online quiz competition with the objective to advance and challenge young investors' investment literacy in Malaysia.

Organised by Swinburne Sarawak's Bursa Young Investor Club (BYIC), YIC is an individual-based and digital quiz competition aimed to improve participants' perceptions of the capital market and its financial products, as well as to provide participants with fundamental investing knowledge.

The competition attracted 86 undergraduate students from 21 higher education institutions nationwide and was held virtually over the course of two weeks in two stages: preliminary and final rounds.

The scope of topics covered an overview of stock markets, stock valuation theories, and stock portfolio management. Other topics included risk and financial management, and financial statement analysis.

Virtually present to initiate the opening of the YIC award ceremony was Swinburne Pro Vice Chancellor and Chief Executive Officer Ir. Professor Lau Hieng Ho, while Acting Dean of Faculty of Business, Design and Arts Professor Lim Weng Marc encouraged the challenge to continue in the future year in his closing remark.

First place was awarded to Ng Yi Han from University of Malaya (UM) who took home a cash prize of RM500. Followed by first runner-up, Kenny Lim Yong Hui also from UM and second runner-up, Yong Foo Hon from Universiti Malaysia Sarawak, both of whom bagged RM300 and RM200 respectively.

The event's award ceremony featured four guest speakers namely Mark Chan Kok Theng, Vice President of Product Research, Securities Market Bursa Malaysia; Shane Choo Choon Sian, Director of LifeChamp; as well as Yuan Ting Jing and Warren Mak, Head of Operations and Chief Empowerment Officer of TED Optimus respectively. Each speaker shared their knowledge with the participants on investment-related topics.

For members of Swinburne's BYIC and organising committee, students Kelly Yeo Sin Yee and Phoebe Li Yun Qin expressed their appreciation of the process in developing the framework for the challenge and bringing it to fruition, while engaging with other industries and universities for the event.

"The event was an opportunity for all participants to enhance their financial literacy and to learn new skills such as the ability to make better financial decisions and effectively organise money and debt management as young adults," said Yeo, who went on to remark that it also helped students build competencies in self-financing and gain an understanding of the financial market.

The BYIC's advisors, Swinburne's School of Business' Discipline Leader for Accounting and Finance Dr Yii Kwang Jing and lecturer Dr Maggie Tang May Jean, along with School of Foundation Studies Coordinator Shella Georgina Beatrice, praised the organising team for their efforts over the six months in bringing the event to a success.

"Besides YIC, Swinburne Sarawak's BYIC also organised a series of investment and financial webinars in collaboration with Bursa Malaysia, and other financial institutions and banks since its establishment in 2020. Through structured programmes, the club continues to enhance students' investing awareness and knowledge in the field," said Dr Yii.

This initiative is in line with Swinburne's Horizon 2025 strategic plan with its 'moon shot' mission in providing every Swinburne learner a work experience. The university's commitment on work integrated learning emphasised for all undergraduate courses includes industry placement, internship or industry-linked projects as a core component of the curriculum.