Faculty of Engineering, Computing and Science together with SUTS IChemE Student Chapter and Technological Association of Malaysia Swinburne Sarawak Student Section (TAM-SSSS) organised an invited talk of Marine Industries in Sarawak on 22 February 2021 (Monday) 10 – 11:30am through Microsoft Teams. The talk was delivered by Dr. Renco Yong King Hwa, the President of Sarawak Association of Marine Industries (SAMIN). Dr Renco Yong is also the Executive Director of GIMHWAK Group, which has more than 20 years of experience in the industry, from repairing, designing, and building to the operations of various types of ship and vessel, marine engine, generator sets and cranes. The talk was attended by approximately 30 Swinburne University students from various programmes, such as Chemical, Mechanical, R&M, E&E and Civil Engineering.
The topics covered in this sharing session are as follows:
History of Sarawak maritime industries
Shipbuilding & Ship Repairing (SBSR)
Introduction of Sarawak Association of Marine Industries (SAMIN)
SHIPBUILDING – Type of Vessel (including Tugboat, Landing Craft, Ferry, Anchor Handler, Tanker, Barge, Patrol Boat, Rescue Tug)
General Plan Arrangement
SHIP REPAIR – Docking facilities (including Graving yard, Floating Dock, Slipway, Air Bag System)
The sharing session is followed by Q&A session. The session is ended with presenting the certificate of appreciation to Dr Renco Yong.  It is an insightful sharing session, and the talk was a real eye-opener.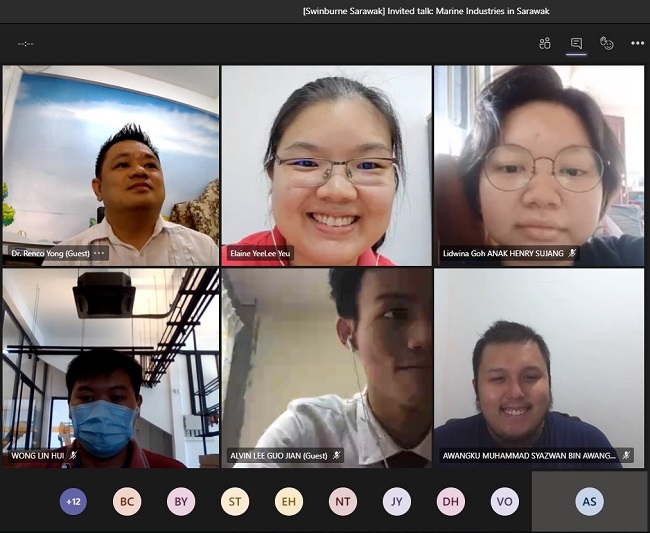 Photo was taken at the end of the session.