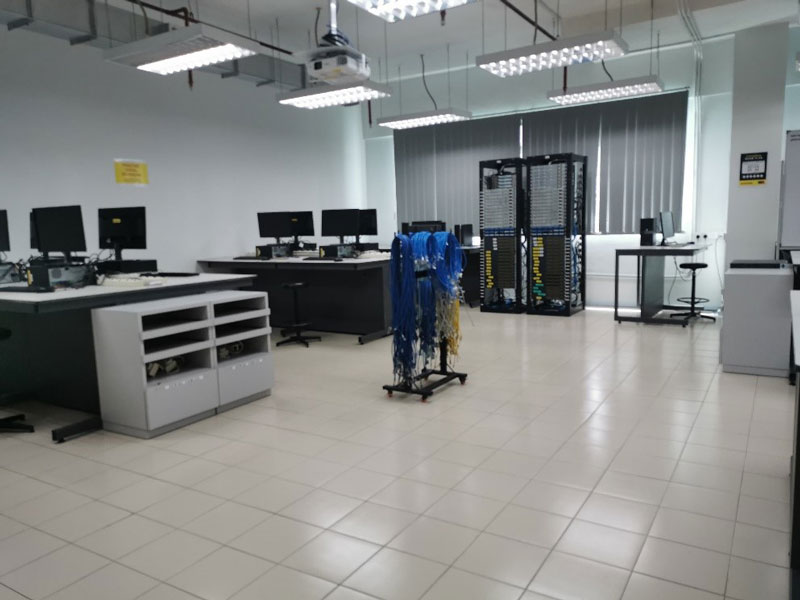 The Cisco Networking Laboratory here at Swinburne Sarawak is used to prepare future graduates for an aspiring career in computer networking. Our labs are equipped with 2 networking racks comprising of industry standard Cisco routers and switches to provide students with hands-on learning experiences. Students will learn to set up and troubleshoot LAN and WAN, configure devices for local and remote access and implement best security practices in a real-world networking environment.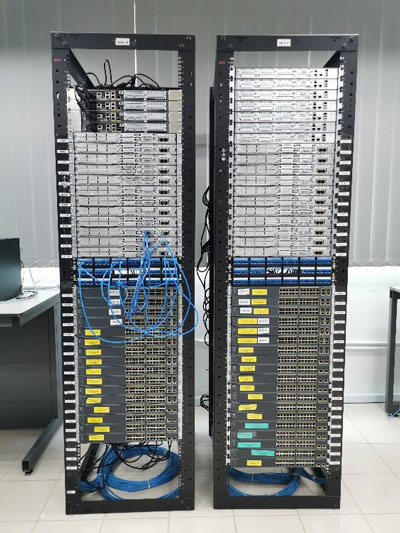 As part of the Cisco Networking Academy, Swinburne Sarawak has invested more than RM500k for the Cisco Networking Laboratory. The facility in our lab provides our students access to networking equipment and the use of Cisco Packet Tracer network simulation and visualization tool not only allows students to develop extremely large and complex networks but also supports distant learning. Our team of educators are certified Cisco Networking Academy Instructors qualified to teach Cisco Certified Network Associate (CCNA) courses and provide industry-accredited Cisco training. The course offered are tied to CCNA certifications - among the most in-demand in the industry, according to the International Data Corporation (IDC)*. Students gain essential 21st-century employment skills such as problem solving, cooperation, and critical thinking while developing core ICT abilities. Whether it's routing, switching, or getting the basics on CCNA certifications, our Networking course from Swinburne Sarawak offers the experience you need to prepare you for a professional career as telecommunications engineers and data networking specialists.
* https://www.linkedin.com/pulse/10-reasons-you-should-get-your-team-ccna-certified-elena-stafford/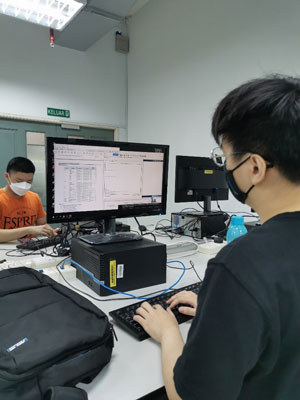 The cybersecurity lab at Swinburne Sarawak houses the ELITE Cybersecurity platform by Tecforte. Tecforte is an award-winning company that specialises in Cybersecurity Information and Threats Management, where they are the pioneer and expert in cybersecurity research and development since 2003. The platform is enriched with practical training and industry-like live Security Operations Centre (SOC) Experience on Cyber-security Operation and Management, which is embedded into the cybersecurity education in Swinburne Sarawak.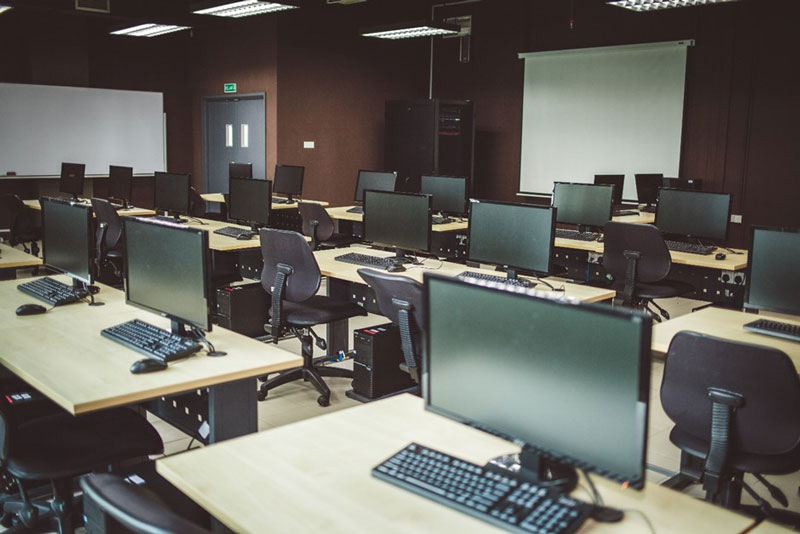 To aid the teaching and learning, the platform is supported with:
WatchGuard UTM to provide real-time monitoring and defence of the network traffic to monitor intrusion attacks
Cybersecurity Virtual Simulation module that could simulate attack scenarios in realistic environment
Cybersecurity Sandbox Server for digital forensic, penetration testing and malware analysis
A collection of Windows and Linux distros to support digital forensic, penetration testing and malware analysis.
Coupling with theoretical knowledge, the platform provides real-world and hands-on experience to our cybersecurity students, exposing them to technologies and systems similar to the ones used in the industry. With the cutting edge facilities, students will be able to develop the right competencies and skills necessary to fulfil the cybersecurity talent demands.
The Internet of Things (IoT) Lab is a specialized locale for practical demonstration, hands-on tutorials, and team-based prototyping of IoT projects. Aside from standard classroom provisions, the lab is equipped with two widescreen TVs for real-time feeds from dashboards and direct desktop microcomputer views. The workspaces are designed for collaborating student teams to work on electronics and PCs side-by-side, fully utilizing the wireless network infrastructure around the lab.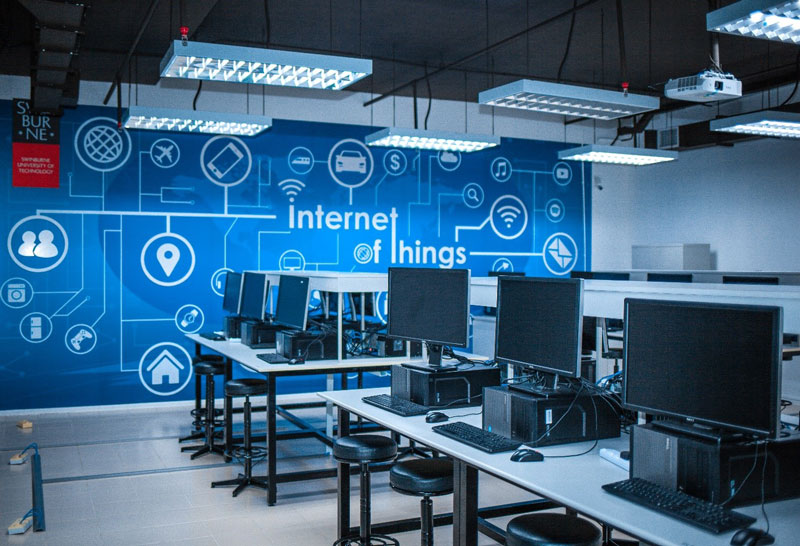 On the forefront of industry-grade equipment, this lab is equipped with 8 EDUX1002G digital oscilloscopes, 8 Signal Generators, and 14 U3800A IoT Training Kits from Keysight Technologies (Figure 1). This equipment serves as the core instructional and educational platforms for facilitating official training in Keysight's IoT System Design and Validation Fundamentals professional certification programme.
The bulk of the lab's inventory consists of 70 standard IoT Lab Kits: a standalone box containing a Raspberry Pi microcomputer set, Arduino microcontroller board, and electronics prototyping kit containing various basic sensors and actuators (Figure 2).
The IoT lab is also equipped with auxiliary learning platforms such as the robotics and electronics extension kit (Figure 3), allowing students to experiment with more varieties of sensor modules, simple robot platforms and battery power supplies for untethered operation.
The Artificial Intelligence Laboratory at Swinburne Sarawak is a centre of excellence for research, teaching, theory and practice of artificial intelligence for an effective learning experience. The state-of-the-art lab is equipped with:
High performance computers with GPUs
AI hardware devices and developer kits
Extended cloud platform support
Intelligent storage network devices
To enable students to make optimal use of the latest deep learning framework, gaining immediate access to faster training and better deep learning performance, lab computers are equipped with a high-end Graphical Processing Units (GPU). With GPUs optimised for training artificial intelligence and deep learning models, especially with complex network architectures and big data, GPUs are proven 4-5 times faster than CPUs, as reported by Buber E, Banu DI.
In addition, to enable students to integrate the AI solution built and apply it in practice, Swinburne Sarawak will provide AI hardware devices and development kits for students to work on. With these tools, students will be able to learn how to deliver their AI models on a small, easy-to-use platform for AI applications such as image classification, object detection, segmentation and speech processing. The knowledge gained from the hands-on training on AI devices allows students to pursue a specialized certification from NVIDIA.
In furtherance of providing greater flexibility for students to work on deep learning related projects, the extended support of the cloud platform has also been equipped to enrich the learning facilities. It allows students to focus on programming in their comfort zone with ease, without having to set up the environment on their own computer. In addition, students can host their AI models in the cloud and perform inferences to test the performance of their models. With such convenient networked services, students can work closely with the industry partner on the design of the AI model to be integrated into mobile devices, web applications and etc.
With the growing volume of unstructured data requiring smarter and more efficient methods of storage, access and collaboration, Swinburne Sarawak also offers an intelligent storage network devices that allows students and researchers to store their critical data, such as datasets used for model training, weights and model architectures. Importantly, the stored data can be accessed from anywhere, allowing students to easily retrieve their data or share it with their project members or industry partners, thus increasing the efficiency of collaboration and learning.
With such a leading intellectual centre for students and researchers, Swinburne Sarawak strives to produce future-ready learners, transforming the future of education and giving students the knowledge, adaptability, experience and global perspective they will need to succeed in their future careers.