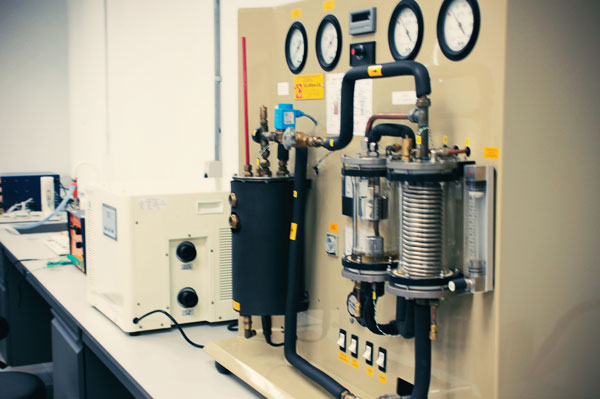 The Thermal Science laboratory is facilitated with equipment such as the plate-tube heat-exchanger and thermal conduction heat transfer unit, to allow students to perform experiments on the different mechanisms of heat transfer and to further understand and appreciate the theories learnt in lecture and tutorial sessions. The students can also obtain a "real-world" viewpoint as all the connected valves and piping are of industrial standard. Therefore, the students will be able to demonstrate appropriate levels of familiarity with the equipment when they graduate and venture into the engineering industry, whether local or overseas.
In units such as Thermofluid Systems, students can also carry out hands-on practical sessions using the Pipe-Flow Friction equipment. Students can perform experiments to identify the effects different pipe-diameters have on the respective pressure. Readings can be obtained using either the analogue method (manometer) or the digital method (digital meter). Observation on pressure-change due to friction can also be achieved using the different in-built pipes containing rough-surfaces.
New equipment are also being added to this laboratory, with expected arrival of an engine test-bed, gas-turbines, free and forced convection and et cetera.