22 students awarded at Swinburne alumni and partners appreciation dinner
October 31, 2019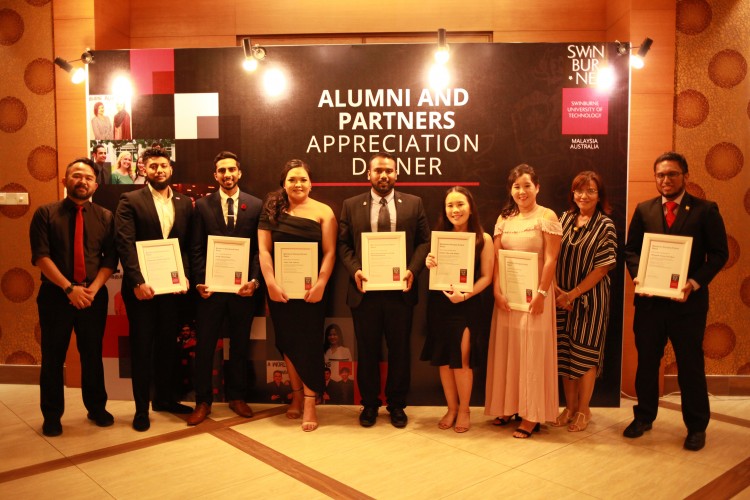 SELA recipients with members of Swinburne Student Engagement staff.
KUCHING – 22 students were honoured in recognition of their merit accomplishments by Swinburne and the university's industry partners at the Swinburne Alumni and Partners Appreciation Dinner held at The Waterfront Hotel recently.
Over 500 people attended the event including the university's alumni, students and ten industry partners namely Board of Engineers Malaysia, CPA Australia, Crowe Malaysia, EY, KPMG PLT, Hock Seng Lee Berhad, Pansar Company Sdn Bhd, Sarawak Energy Berhad, Sarawak Information Systems Sdn Bhd (SAINS), and Yayasan Sarawak.
Among the recipients recognised for their exemplary academic and non-academic achievements were eight graduates who were conferred the Swinburne Emerging Leaders Award (SELA).
The SELA programme acknowledges the students' outstanding leadership skills acquired during the course of their studies. Successful students who complete the leadership categories of the programme will have their skills formally recognised on their final academic transcript, thus, enhancing their career employability.
In her welcoming speech, Vice-Chancellor of Swinburne University of Technology Professor Linda Kristjanson AO remarked on the university's commitment to create social and economic impact across all facets of society through science, technology, and innovation.

"Swinburne is at the forefront of preparations for the fourth industrial revolution. We see Industry 4.0 as an opportunity to embrace learning transformation, and to teach our students the skills they need to discover their professional purpose and succeed in the workplaces of the future," said Kristjanson.
Elisabet Min anak Jimbau who was one of the award recipients, said that the honour of receiving the SELA has made the culmination of her university life a meaningful one.
"Through this experience I've learnt to be more holistic, meet people from all walks of life, and was blessed with the chance to empower others around me, especially the youth," said Elisabet who graduated from the Bachelor of Business (Accounting) programme.
Also present at the event were Swinburne's Deputy Vice-Chancellor and Chief Executive Officer Professor John Wilson, Yayasan Sarawak Director Tuan Haji Azmi bin Haji Bujang, and senior officers of the university's industry partners.
Swinburne offers an exceptional education experience that is enhanced by accreditation placements and professional internships in the industry. The university's longstanding collaborations with industry partners offers students the chance to work with leading employers while receiving academic credit towards their degree.
Swinburne students are valued for their high graduate employability where the university's six-month Graduate Employability Rate has consistently topped 92%. As a result, the university is currently ranked in the top 10 list of Preferred Private Universities in Malaysia by JobStreet.com under the 2019 Preferred Programme.
For more information about Swinburne, visit its website www.swinburne.edu.my, Facebook page (@swinburnesarawak), Instagram (@swinburnesarawak), Twitter page (@Swinburne_Swk) or YouTube channel (Swinburne Sarawak).