292 Swinburne Sarawak students graduate
October 7, 2010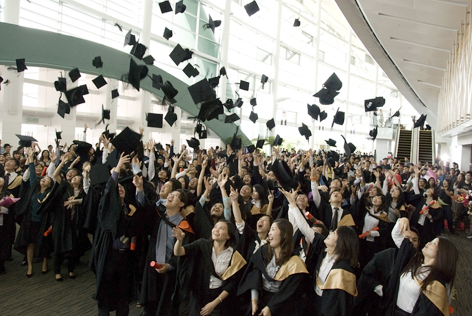 KUCHING – A total of 292 graduates were presented with their scrolls at the seventh graduation and award presentation ceremony of Swinburne University of Technology Sarawak Campus at the Borneo Convention Centre Kuching, on 5 October, 2010.
The Chief Minister of Sarawak Pehin Sri Haji Abdul Taib Mahmud, who is also the Pro Chancellor of Swinburne Sarawak, presented the scrolls to graduates in engineering, science, business, ICT and multimedia.
Dato Sri Empiang Jabu, wife of Datuk Patinggi Tan Sri (Dr) Alfred Jabu Numpang, Deputy Chief Minister of Sarawak, delivered the occasional address. The first Iban woman graduate, Dato Sri Empiang has devoted many years to the public school system and had served in various parts of Sarawak. She has also served as a board member of several institutions of higher learning in the State.
At the ceremony, several awards were also presented to top students and graduates. The Yayasan Sarawak Anugerah Graduan Cemerlang Sarawak was awarded to Rata Shalom Pyng-Eing Muda, a Mechanical engineering graduate.
Wendy Chan Wang Ping took the Year 1 Ernst and Young Best Accounting Graduate Awards while Luna Chin Su Kim and Evelyn Gan received the Year 2 and Year 3 awards, respectively.
The CPA Australia Book Prize for Third Year Financial Accounting in 2010 was awarded to Kong Keh Jiun and Angela Lee Sik Fai.
Angela Lee Sik Fai was also awarded the KPMG Tax Services Sdn Bhd Prize for Academic Excellence in Taxation 2010.
Meanwhile, Choo Chung Siung received the Cahya Mata Sarawak Berhad Awards for the Best Engineering Graduate in Civil Engineering while Sim Kwang Young took the award for Best Engineering Graduate in Mechanical Engineering.
The Sarawak Information Systems Sdn Bhd (SAINS) Awards was presented to Yee Yin Kit for Information Technology Best Graduate Award in Computer Science and Software Engineering, and Tiong Sie Liik for Electronic and Computer Systems.
Kelvin Awe received the Sarawak Energy Berhad Award for Best Engineering Graduate in Electrical and Electronic Engineering.
Also present at the ceremony were Tan Sri Datuk Amar (Dr) Haji Adenan Bin Haji Satem, Chairman of the Council of Swinburne University of Technology Sarawak Campus; Datuk Amar Haji Mohamad Morshidi Bin Abdul Ghani, Chairman of Swinburne Sarawak Sdn Bhd; Professor Ian Young, Vice-Chancellor and President of Swinburne University of Technology; Professor Helmut Lueckenhausen, Pro Vice-Chancellor and Chief Executive of Swinburne's Sarawak Campus; state dignitaries and distinguished guests from the private as well as the public sector.