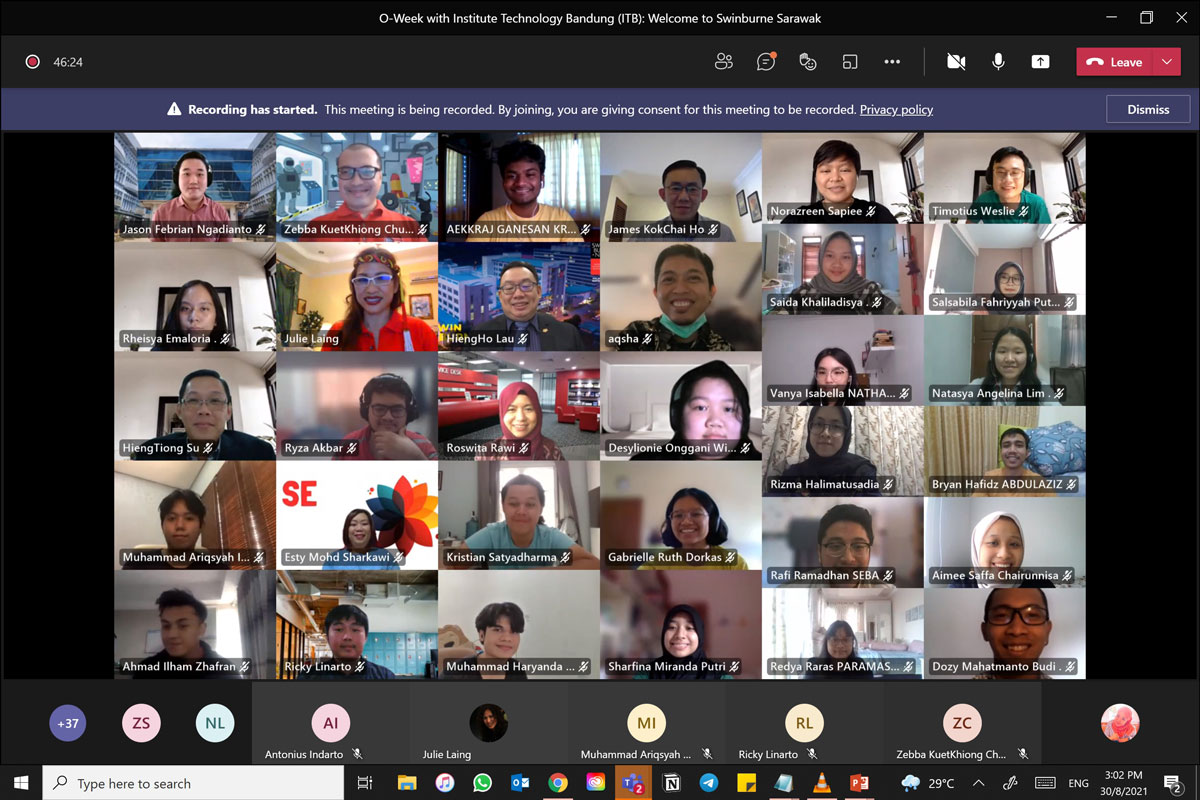 KUCHING
– The recent commencement of Swinburne University of Technology Sarawak Campus' second semester saw the first batch of study abroad students from Indonesia starting their university experience.
The 30 undergraduate chemical engineering students from Bandung Institute of Technology (ITB) in West Java are currently enrolled in the one-semester program with the Australian university branch campus.
The second semester for degree programs started on 30 August and is conducted entirely online in compliance with the Covid-19 guidelines implemented by the Ministry of Higher Education and Sarawak Disaster Management Committee.
Welcoming the students sponsored by Indonesia's Ministry of Education, Culture, Research and Technology under its "Merdeka Belajar Kampus Merdeka" program during the recent orientation was Swinburne Sarawak Pro Vice-Chancellor and CEO, Ir Professor Lau Hieng Ho.
"We extend our heartfelt appreciation to Bandung Institute of Technology for choosing Swinburne Sarawak as the destination for your 'International Virtual Course'.
"This is our first study abroad program partnership for Indonesian students and we hope to see more students from Bandung Institute of Technology come on board our programs, particularly for a study abroad semester or our postgraduate programs after completing their undergraduate study," he said.
Ir Professor Lau said that the students will be adequately supported by Swinburne Sarawak's academic and professional staff, and also welcomed them to participate in the many online activities organized by the student council to enrich their experience with the university.
"ITB is looking for long-term collaboration and we feel that Swinburne Sarawak is a suitable partner. It has a good reputation among private universities in Malaysia as well as in Australia and it has a number of programs that cater to our needs in terms of providing our students with international experience," said Assistant Professor Dr Aqsha from the ITB chemical engineering department.
"This study abroad program can help enhance our students' experience in terms of their language, in addition to providing them with a high quality education," he said, adding that it also provides ITB with curriculum benchmarking and an understanding on how reputable universities conduct teaching and learning activities.
Dr Aqsha said that through this program, ITB hopes that its students could expand their network and options for their postgraduate education.
"ITB will definitely will look into more collaboration with Swinburne Sarawak, whether it is in undergraduate or postgraduate level. We would also like to explore other opportunities for research collaboration, community projects and product development, he said.
"We look forward welcoming Swinburne Sarawak faculty staff for guest lectures, host visiting researchers and professors, and conduct student exchange and virtual courses."