Over 50 Swinburne students attend talk in collaboration with EY
May 28, 2021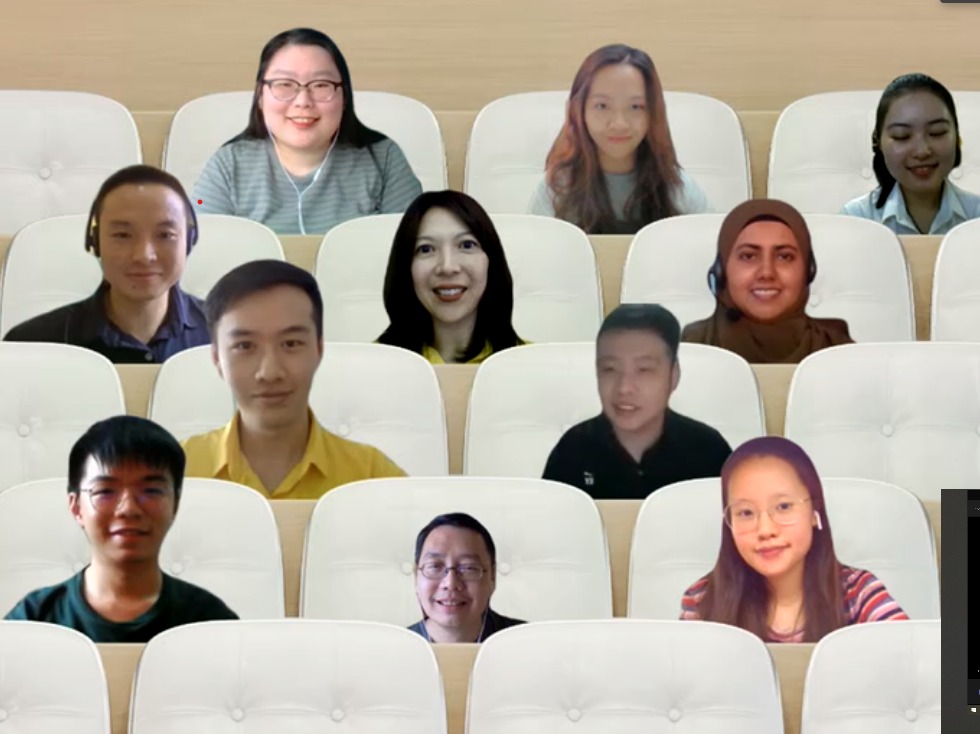 Screenshot photo of the students and speakers participating in the virtual talk.
KUCHING – The Swinburne Sarawak Young Accountants' Club (YAC) recently organised a virtual talk titled 'Your Career as a Professional and Your Paths in EY' in collaboration with Ernst and Young (EY).
The talk was organised to better prepare students for the workplace upon their graduation in near future. It was delivered by Assurance Manager of EY Kuching Karen Wei, and assisted by three others from EY who are also Swinburne alumni namely Tax Manager Aaron Kong, Audit Assistant Ryan Kong, and Consulting Senior Marshall Wong.
54 students who are currently pursuing their Foundation programme and business degree majoring in accounting, and accounting and finance attended the talk.
During the talk, the speakers shared their working experience at the firm as well as insights into career paths as a professional. It provided opportunity for the students to obtain a good understanding of a professional's working life in an international firm, get to know the various career options, and most importantly, listen to alumni testimonials.
According to Course Director – Professional Courses and YAC advisor Dr Fung Chorng Yuan, one of Swinburne's strategic objectives is to produce career-ready graduates who can adapt to the workplace upon graduating from their courses.
"YAC is one of the channels where students can obtain information, tips and advice from the professionals in the field. Through such events, students can also relate the relevance of the subjects they study to the profession that they intend to pursue. Such a solid understanding is essential in fostering their motivation in their studies," Dr Fung said.
Upon completing their SPM or UEC examinations, school leavers can opt to pursue their higher education by enrolling into Swinburne's one-year Foundation in Business programme that leads to undergraduate majors in accounting, finance, accounting and finance (double major), human resource management, international business, marketing, management, or management and digital media (double major).
The business programmes are in compliance with Malaysian and Australian qualifications standards. They are accredited and recognised by professional bodies such as ACCA, CPA Australia, Chartered Accountants Australia and New Zealand (CAANZ), and the Chartered Institute of Management Accountants (CIMA).
Second and final-year students majoring in accounting or accounting and finance are eligible to join the ACCA Accelerate Programme that allows students to sit for the last four ACCA Professional Level examination papers after completing their first year of study. It provides a fast track for students to get their degree and a professional qualification at the same time.  
Meanwhile, the Fast Track Pathway, an arrangement between CPA Australia and Swinburne Sarawak, allows students majoring in accounting or accounting and finance to register as an associate member of CPA Australia and sit for three professional papers while pursuing their degree at the same time. Consequently, this helps to shorten students' time to complete the CPA Professional Examinations which translates to completing their CPA in one and a half year only upon graduating.
At Swinburne, the key feature of the professional examinations is the great study support provided by the academic staff. This is particularly crucial during a period where face-to-face classes are currently suspended and classes are mainly conducted via online learning platforms for course content delivery and live classroom sessions.
Swinburne is currently offering the Fast-Track Swinburne Foundation programme, a trimester intake commencing 14 June 2021. Students can apply with their forecast or school results and start their studies online immediately without any payment for the first two weeks with the Start With Zero Fees Programme. Upon successful completion of the programme in February 2022, they can directly progress to a degree programme of their choice in March 2022.
For more information about Swinburne course offerings, contact Swinburne's Education Counsellor via WhatsApp at 019-819 6353 or email to study@swinburne.edu.my.
For more information about Swinburne, visit its website www.swinburne.edu.my, Facebook page (@swinburnesarawak), Instagram (@swinburnesarawak), Twitter page (@Swinburne_Swk) or YouTube channel (Swinburne Sarawak).