Academic, research collaboration on the cards between Swinburne Sarawak and Indonesian university
July 16, 2019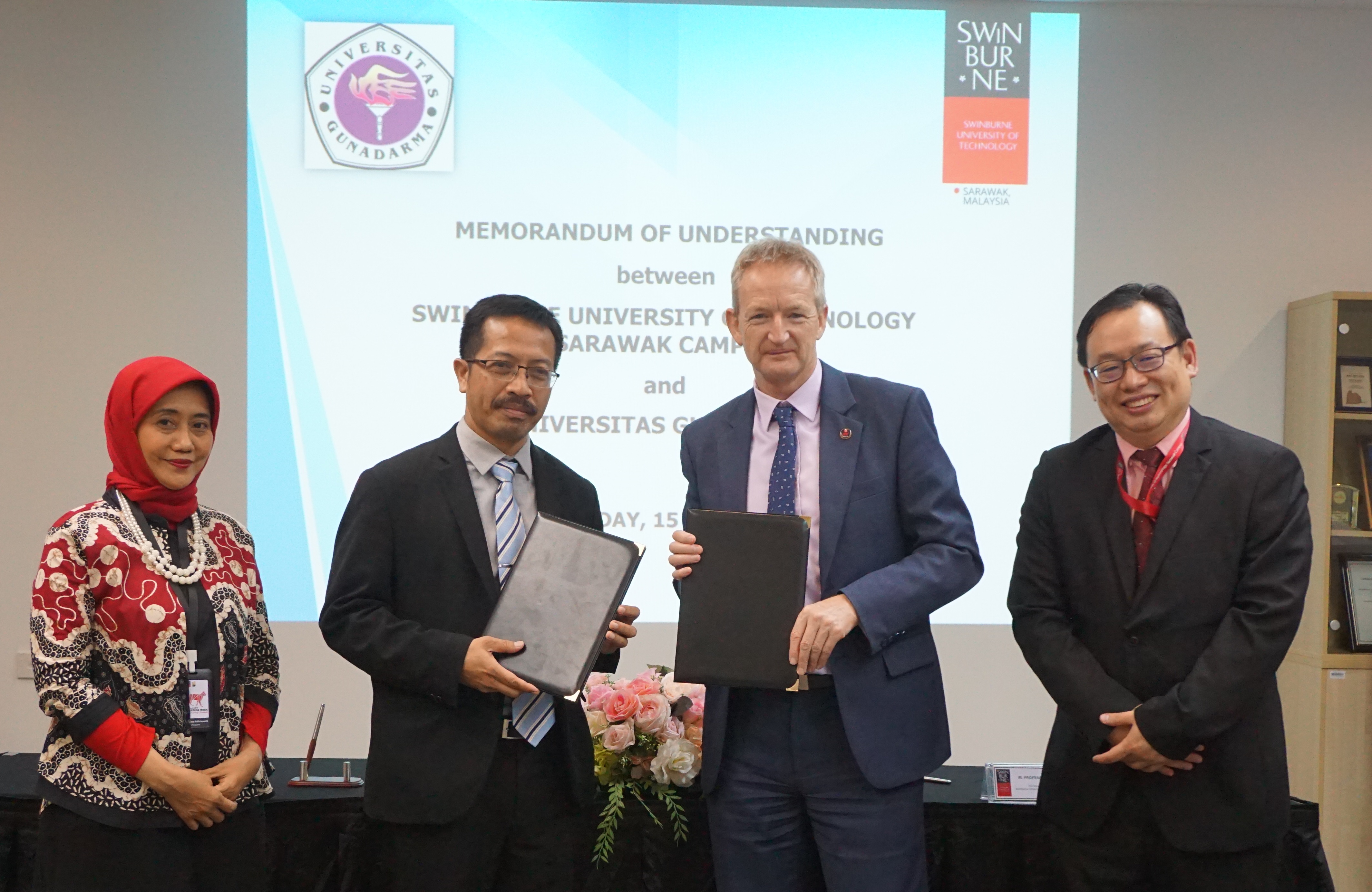 Professor John Wilson (second from right) and Dr I Made Wiryana hold up the MoU documents. At right is Ir. Professor Lau Hieng Ho, Pro Vice-Chancellor (Academic) of Swinburne Sarawak while at left is Ir. Irina Mildawani, from the Department of Architecture, Universitas Gunadarma.
KUCHING – Academic and research collaboration as well as staff and student mobility are among the focus of a memorandum of understanding (MoU) recently signed between Swinburne University of Technology Sarawak Campus and Universitas Gunadarma of Indonesia.
Swinburne Sarawak and Universitas Gunadarma, located in West Java, are to consider academic program collaborations including credit transfer arrangements for students.
"The MOU covers many different aspects. On the academic program collaboration, we'll start off with a case-by-case basis. As we have more success in some areas we'll come up with some sort of transfer arrangements. That's a lovely, pragmatic way to start," said Professor John Wilson, Deputy Vice-Chancellor and CEO of Swinburne Sarawak.
He said that students and staff coming from Gunadarma will certainly feel at home in Kuching as Sarawakians and Indonesians share similar language and culture. 
Indonesia has been one of Swinburne Sarawak's top five markets for a number of years, with students from the republic making up the third biggest international cohort on campus.
"We love the diversity and internationalization for our students. Kuching is a lovely, warm and inviting city. It is very inclusive, very safe and we think it's an excellent city for students to study – not too big or small. It is easy to get around and a very affordable location as well. It's truly a melting pot with people from all over the world."
In addition, under the MoU both institutions will identify opportunities for research, innovation and commercialization leading to the identification of key focus areas, development of joint research grant applications and joint PhD supervision.
"At Swinburne Sarawak we are growing our research efforts. We are fortunate to be related to Swinburne in Melbourne, which has been doing research since 1992. That research endeavor has actually come to the top 400 in the world and Swinburne is ranked 350," said Professor Wilson.
"Swinburne Melbourne has been in education for more than a hundred years and doing research for 25 years. It is a highly ranked university when it comes to research."
He said that the Sarawak campus has been active in research in the last five to six years and currently has about a hundred research higher degree students and it hopes to grow this number to 200.
Dr I Made Wiryana, Director of International Relation and Collaboration from Universitas Gunadarma, thanked Swinburne Sarawak for initiating the collaboration.
"For me personally and Gundarma University, Swinburne University is not new. Sometime in the 1990s, we sent our lecturers for master degrees and PhDs in Swinburne Melbourne. My brother and I were one of them, so this is like meeting an old friend," he said.
"Kuching is in a nice location and it can be a pathway for future collaboration to initiate program development, not only for the university but for the people of Kuching and those coming from the Indonesian side of the border," he added. 
He said that besides creating an avenue for academics to publish their papers, the collaboration should also produce beneficial outcomes for the public, and that Universitas Gunadarma looks forward to organise activities with Swinburne Sarawak.
Following the MoU, the two institutions will also team up in other areas of collaboration.
Universitas Gunadarma opened its doors in 1981 offering computing programs. Today, it has over 40,000 students, more than 1,300 lecturers and students enrolled in 40 study programs across its 12 campuses.