The Brooke Trust to provide bursary for Swinburne's TESOL programme
September 19, 2018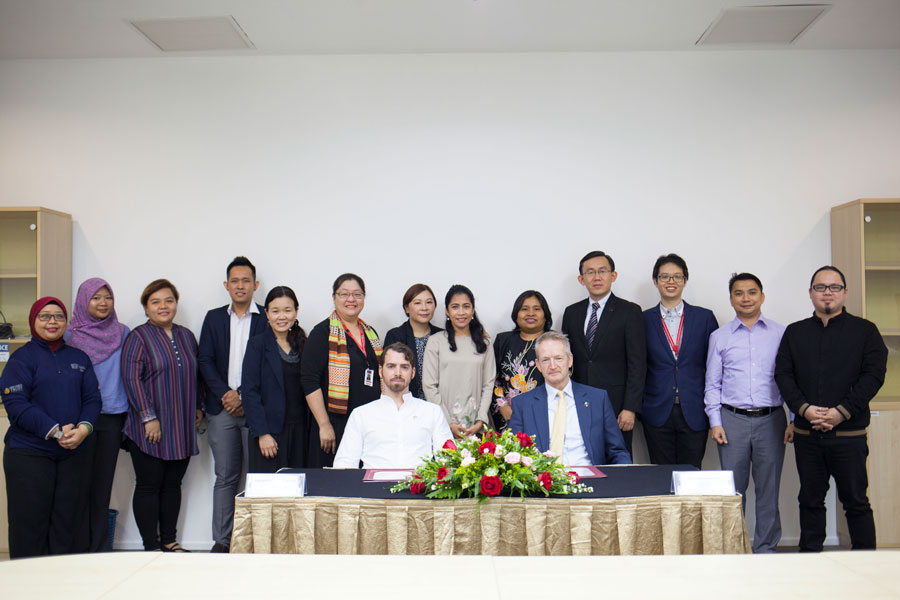 The signing of the Letter of Agreement were witnessed by the Deans of the faculties, staff members and representatives from the English Department of Ministry of Education, Science and Technological Research, and the English Department of Jabatan Pendidikan Negeri Sarawak.
KUCHING – The Brooke Trust and Swinburne University of Technology Sarawak Campus today signed a Letter of Agreement for the former to provide a Master of Arts (TESOL) education bursary award to Malaysian students pursuing the programme at Swinburne.
Signing on behalf of The Brooke Trust was Director Jason Desmond Anthony Brooke, while Deputy Vice-Chancellor and Chief Executive Officer Professor John Wilson signed on behalf of Swinburne.
Also present at the signing ceremony were Swinburne's Dean of Faculty of Business, Design and Arts Professor Lee Miin Huui, Executive Group members and students, as well as representatives from the English Department of Ministry of Education, Science and Technological Research and English Department of Jabatan Pendidikan Negeri Sarawak.
The three-year agreement beginning 2019 outlines the allocation of bursary worth 50% of the MA (TESOL) programme tuition fees which will be awarded to at least two students per year. The bursary is open to eligible Malaysian citizens, preferably Sarawakians who must satisfy the bursary award requirements of CGPA 3.33 as established by The Brooke Trust and Swinburne.
Meanwhile, Professor Wilson thanked The Brooke Trust for their foresight and investment in the prestigious scholarship award that will greatly benefit local Malaysians and Sarawakians to further develop their English language skills.
"The demand for English language teachers in Malaysia and the Asian region is growing rapidly to satisfy the needs of citizens to learn English which continues to be the dominant language of international trade and commerce in goods and services."
"Swinburne is delighted to partner with The Brooke Trust and we look forward to welcoming the first recipients of the award in 2019," said Professor Wilson.
Prospective students who are interested to apply for the bursary can submit their application through Swinburne. Detailed information can be found at www.swinburne.edu.my/study/study-options/scholarships.php.
The MA (TESOL) programme offered at Swinburne's Sarawak campus is designed for English teachers who are seeking to enhance their qualifications with a quality higher degree as well as degree holders who plan to make a career change to the exciting world of English language teaching.
Structured to advance from the basics to pre-PhD level, the programme comprises four semesters. Through classroom discussions, individual and group projects and micro-teaching tasks, students experience hands-on teaching, develop lesson plans and course design, and grapple with broader issues related to teaching English to speakers of other languages. A graduate certificate qualification comprising one semester is also available for those interested.
The Sarawak campus also offers professionally accredited and industry-applicable courses in business, design, engineering, computing and science at foundation, undergraduate and postgraduate levels. The courses are identical to those offered at the Melbourne campus and as a result, graduates are awarded the same Australian qualification that allows for broader recognition and better employment opportunities around the world.
For more information about Swinburne, visit the university's website (www.swinburne.edu.my), Facebook page (@swinburnesarawak), Instagram (@swinburnesarawak), Twitter page (@Swinburne_Swk) or YouTube channel (Swinburne Sarawak).