KUCHING – Eight chemical engineering students from Swinburne Sarawak participated in last month's National Chemical Engineering Symposium (NACES) 2021 organised virtually by University Teknologi Malaysia's (UTM) Student Chapter of Institution of Chemical Engineers (IChemE).
Carrying the theme 'Industrial Revolution 4.0: Transcending Process Industry Boundaries', the symposium comprised of eight competitions namely Plant Design Competition, Infographic Competition, Technical Presentation Competition, Technical Case Study Competition, Technical Debate Competition, Technical Essay Writing Competition, Technical Video Competition, and Chemical Engineering Challenge.
Participating individually in the Chemical Engineering Challenge category were Abdulqader Mohammed Alawi Bin Sahl, Bong Zhang Ying, and Chan Liang Wen who was also listed as one of the top 10 finalists in the category. Meanwhile, Sareena Lim, Gladys Tan Ru Qian, and Stephanie Wong Ying Ling formed a team named 'Prismane' to take on the Technical Presentation Competition.



Competing in the Technical Essay Writing category were Tiffany Ang Jia Ning, Warnakulasuriya Revera Anton Fernando, and Abdulqader who ultimately took home second place for his essay titled 'Supply Chain Resilience Through Industry 4.0: The Focus in The Post-Pandemic World'.
Expressing his motivation to participate in the event, final-year Bachelor of Chemical Engineering student Abdulqader shared his excitement on learning about NACES and its different chemical engineering competitions which provides a platform for undergraduate students to venture out of university curriculum to experience and learn new things.
"With the exciting theme focused on the role of industrial revolution (IR) 4.0 in chemical engineering, I was fortunate to win the silver medal for my essay which revolved around the role of IR 4.0 in enhancing the resilience of supply chains, especially in the post COVID-19 era," he said.
Abdulqader went on to thank UTM and the organisers for the great event, as well as share his gratitude towards Swinburne and his chemical engineering lecturers who supported him to partake in such events.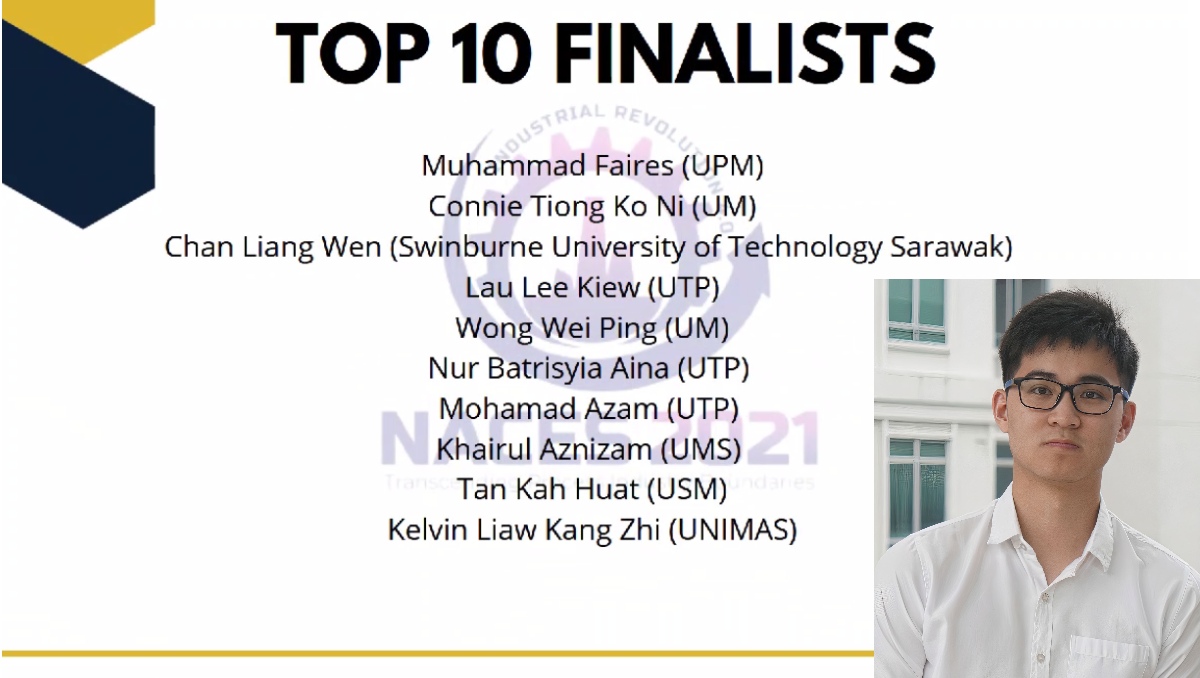 All eight students were led by Swinburne Sarawak lecturer Dr Elaine Yeu Yee Lee, who stated that although the competition was held during their final assessment period, the university managed to achieve seventh place for the competition's overall ranking.
"Despite their heavy work schedules, I am gratified by our students' success as we know exams can be quite stressful for many students," Dr Yeu said.
"NACES 2021 has provided a platform for students to share their knowledge, innovative ideas, critical thinking abilities, and soft skills with the community," she said, encouraging chemical engineering students to participate in future NACES.
NACES is hosted annually by different public and private universities in Malaysia which offer chemical engineering programmes. The symposium is organised by the Chemical Engineering Student Society of universities in Malaysia, in collaboration with IChemE Malaysia.
Serving as a platform for chemical engineering students to expand their creativity and innovation in their field in the form of competitions, NACES aims to encourage students' connections and teamwork spirit through competitive interaction by the sharing of ideas.
For more information about Swinburne, visit its website www.swinburne.edu.my, Facebook page (@swinburnesarawak), Instagram (@swinburnesarawak), Twitter page (@Swinburne_Swk) or YouTube channel (Swinburne Sarawak).