Explore the wonders of the universe in VR with Swinburne this 17 August
August 15, 2019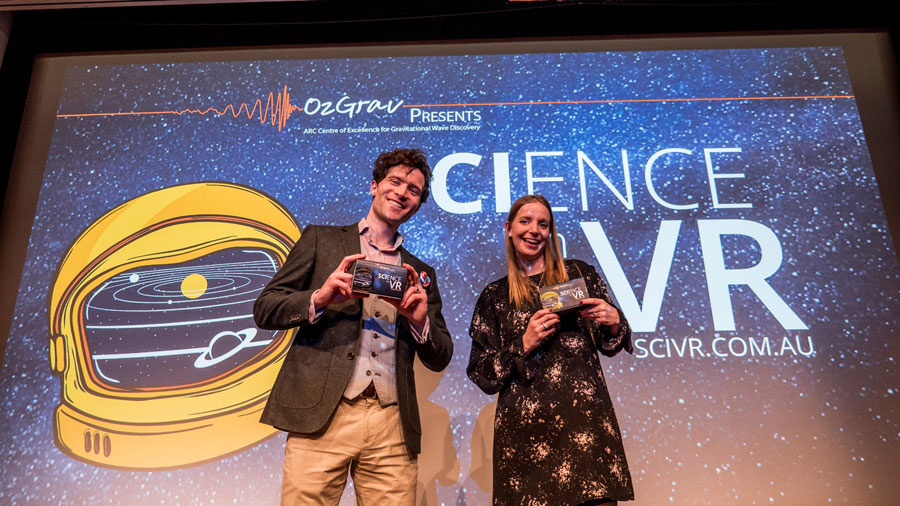 Astronomers, Associate Professor Alan Duffy and Dr Rebecca Allen will present the incredible science of astronomy via live broadcast during the SciVR event.
KUCHING – Swinburne's students and members of the public are invited to attend a Science in Virtual Reality (SciVR) App showcase this 17 August from 11.30am to 1.15pm at the university's Lecture Theatre.
Organised in conjunction with National Science Week Australia, this will be the second SciVR event organised by Swinburne together with TEGAS Digital Innovation Hub Kuching to introduce visitors to the astronomical world using virtual reality.
The event will feature a virtual tour of the Universe with a live stream broadcast from Melbourne. It will be guided by Swinburne Australia's computational astrophysicist Associate Professor Alan Duffy, and Dr Rebecca Allen who completed her PhD in astrophysics.
Visitors will be treated to an extraordinary immersive cyberspace encounter first-hand through the SciVR smartphone app and a complementary VR headset which they can take home to continue exploring after the event.
Developed by Swinburne and OzGrav (the ARC Centre of Excellence for Gravitational Wave Discovery), SciVR is a new, interactive way of discovering science which allows audience of all ages to experience a world of colliding black holes and planetary wonders.
The same event will be held concurrently with regional viewing parties in Sibu by Swinburne's collaborator Petrosains and 16 locations across Australia. Accompanied by a special close-captioned studio live stream, audiences will be able to interact with Associate Professor Duffy via social media Q&A which will be answered through the live stream.
Admission for the event is free but prior booking is necessary. Those interested can register via the event page http://bit.ly/SciVR2019 or email to tpatodia@swinburne.edu.my for details.
SciVR event is among the many outreach programmes of Swinburne in implementing the STEAM (Science, Technology, Engineering, Arts, and Mathematics) curriculum. Being a university focused on technology, Swinburne is no stranger to the likes of virtual reality (VR), extended reality (XR), augmented reality (AR), and mixed reality (MR) creative content development.
Swinburne's world renowned School of Design and Arts offers a three-year design programme majoring in Multimedia Design. As part of their course studies, students are taught to develop and deliver digital media applications as well as work on industry-linked projects in order to prepare them for the future of work in a digital-led environment.
For more information about Swinburne, visit its website www.swinburne.edu.my, Facebook page (@swinburnesarawak), Instagram (@swinburnesarawak), Twitter page (@Swinburne_Swk) or YouTube channel (Swinburne Sarawak).