Humanitarian projects by Swinburne aim to empower human-centred solutions
January 13, 2021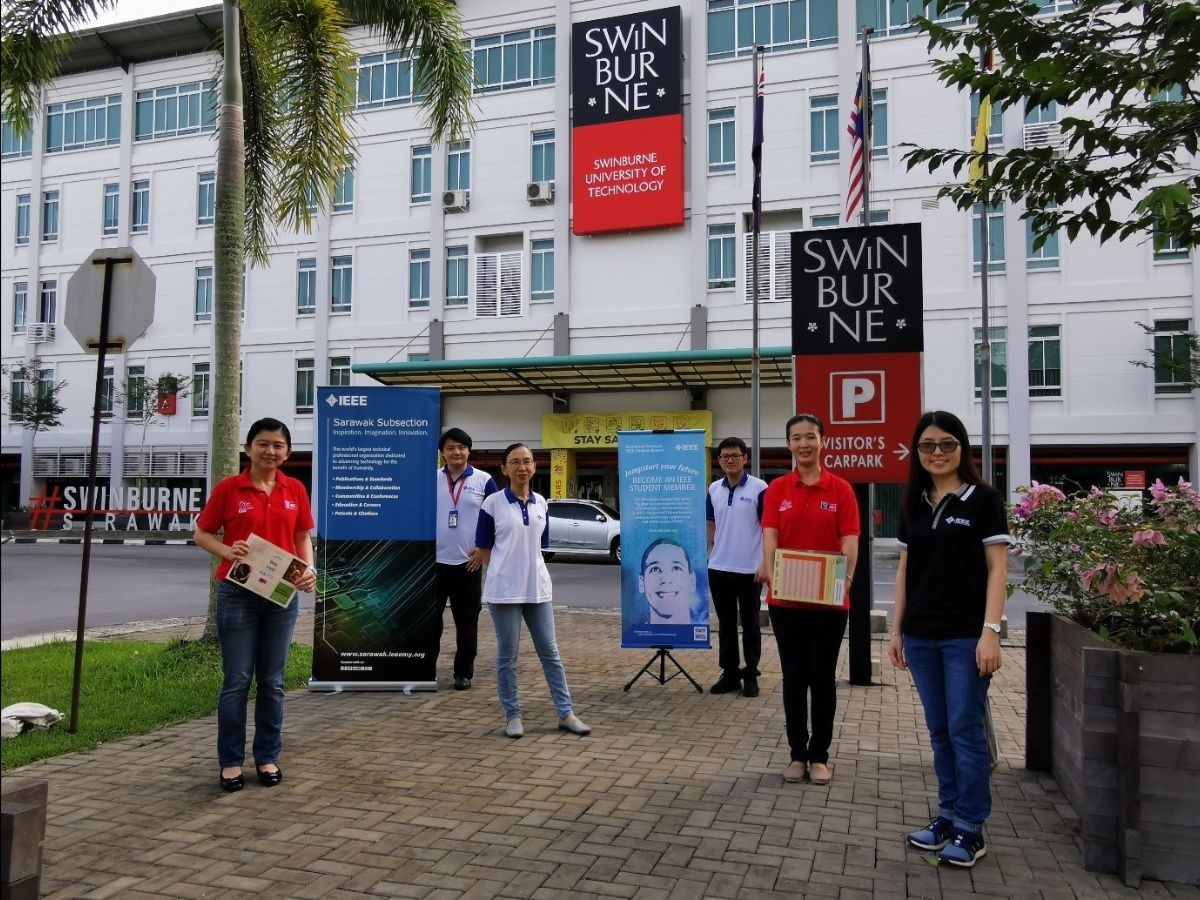 Making fertilizers out of kitchen waste.
KUCHING – Researchers at Swinburne are actively harnessing the power of engineering and technology to create sustainable human-centred solutions as evidenced by the successful completions of four projects in conjunction with the 8th IEEE Region 10 Humanitarian Technology Conference 2020 (8th IEEE R10 HTC 2020) held last month.
Led by its School of Research, the projects were the international conference of IEEE R10 HTC 2020 and three humanitarian technologies projects. It was sponsored by IEEE (US) Humanitarian Activities Committee, IEEE Region 10 TENHUMCH, IEEE Sarawak Subsection, and IEEE Malaysia Section.
The IEEE R10 HTC is the premier annual cross disciplinary conference that provides a common platform for engineers, technologists, scientists, investors, representatives from NGOs, governments, academia, and the industry to discuss recent advances in humanitarian technologies. It covers areas such as Electrical & Electronic Engineering, Artificial Intelligence, Computing & IT, Security, Disaster Management, Smart Cities & Villages, Industrial Revolution 4.0, Digital Commerce, Education, Healthcare, and other areas of research.
This year's conference theme 'Digital Ecosystem for Humanitarian' drew special attention to the societal expectations of humanitarian technologies' ability to provide practical and lasting solutions which is also vital during this pandemic. It featured papers from researchers in Malaysia, India, Bangladesh, Philippines, Sri Lanka, Indonesia, Japan, China, Australia, Mongolia, Singapore, Taiwan, United Kingdom, United States, and France. To date, IEEE Sarawak is the first subsection in the IEEE Region 10 that has successfully organised the Region 10 Flagship conference.
A number of Swinburne academic members served as the conference committee including General Chair of IEEE R10 HTC 2020 Associate Professor Ts. Lau Bee Theng, Professor Su Hieng Tiong, Dr Hudyjaya Siswoyo Jo, Dr Riady Siswoyo Jo, Dr Then Yi Lung, Dr Tay Fei Siang, Dr Siti Salwa Hashim, and Dr Mark Tee Kit Tsun. The conference closing address was delivered by Swinburne's Deputy Vice-Chancellor and Chief Executive Officer Professor John Wilson.
One of the three humanitarian technologies projects carried out were the establishment of family/kitchen gardens using compost as organic fertilizer to empower local communities with the capacity to boost their resilience of food supplies. The project that received a USD2000 grant from the IEEE Region 10 TENHUMCH Fund was led by Dr Chew Jiuan Jing and Lai Jia Chi. It was supported by Associate Professor Ts. Lau, students and professional volunteers.

The five-week project successfully reached out to over 50 local community members in the sub-urban areas of Kuching. Each participating household was provided with a set of composting kit and on-site guidance was given on the setting up of the composting system. They were also guided on the know-hows and technical challenges of the composting process through virtual workshops so they are well informed about home composting of kitchen waste.
Water scarcity and inferior water quality could significantly affect the health and well-being of children. 51 households comprising approximately 230 villagers including 61 children from a squatter village near Lorong Chawan Kuching regularly collect their drinking water from a standpipe.

To help bring basic clean water knowledge and Covid-19 pandemic awareness among the villagers, the Swinburne group conducted three workshops for 45 children on the importance of clean water and guided them on ways to build homemade water filter. Each child was given a set of water filtration kit to try at home. In addition, the team also distributed Pack of Hope stationaries and Pack of Love Christmas goodies to each child, as well as masks and sanitisers for each household.
The project was part of an initiative of a USD5000 fund awarded by IEEE Humanitarian Activities Committee Events Fund under the Humanitarian Technology and Sustainable Development Project. It was spearheaded by Ir. Dr Angelia Liew, Dr Hadi Nabipour, Dr Tay Fei Siang, Mohd Elfy Mersal, and Associate Professor Ts. Lau, and assisted by student volunteers from various engineering background.
Meanwhile, another project was implemented by the university to reach out to 45 students through a series of coding and electronics boot camps held in Kuching, Sibu and Miri. The project was jointly sponsored by IEEE US as part of the USD5000 IEEE HAC Fund and IEEE R10 HTC 2020 with the objective to introduce students to the challenges and future solutions in the water, energy and food sectors. The project was initiated by Associate Professor Ts. Lau and supported by biotechnology lecturer Dr Xavier Chee who developed the boot camp modules.
For more information, visit www.swinburne.edu.my or its Facebook page (@swinburnesarawak), Instagram (@swinburnesarawak), Twitter (@Swinburne_Swk) or YouTube channel (Swinburne Sarawak).