IEEE dives into the fascinating world of nanoscience in public seminar
August 1, 2019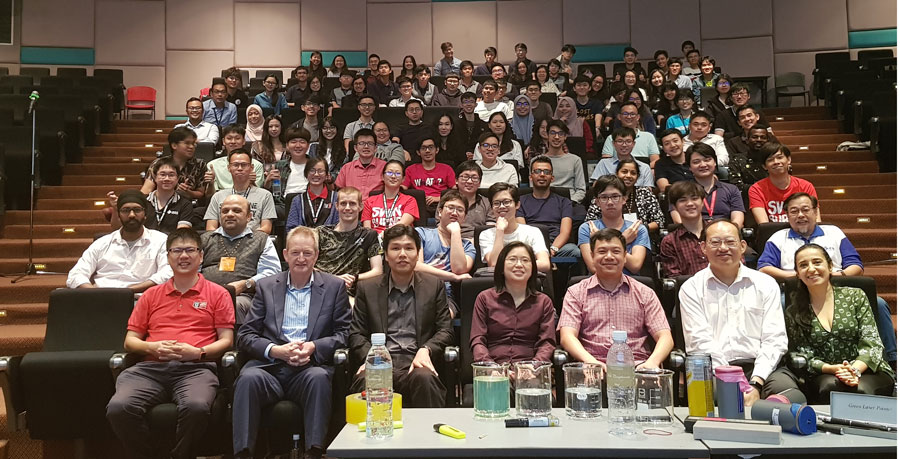 A group shot of 'The Fascinating Nanoworld!' seminar participants
KUCHING – The Institute of Electrical and Electronics Engineers (IEEE) Malaysia Sarawak Subsection and IEEE Swinburne Sarawak Student Chapter hosted a public seminar titled 'The Fascinating Nanoworld!' held recently at Swinburne's Sarawak Campus.
Approximately 100 participants attended the seminar from various secondary schools and universities including Universiti Malaysia Sarawak, Universiti Teknologi MARA, Swinburne University of Technology Sarawak Campus, Lodge International School, Borneo International School, Tunku Putra International School, and various others.
The aim of the seminar was to give the audience an appreciation of the nano-sized regime and scientists' fascination in the field of nanoscience and nanotechnology through talk and several fun-filled demonstrations by Professor Sow Chorng Haur from the National University of Singapore.
Nanoscience studies the world with objects that have extremely small dimensions, which are normally invisible to the naked eye. Many scientists strive to understand nanoscience in order to manipulate and understand matter at a molecular level, especially to create artificial structures. Despite making very small changes at the molecular level, these structures exhibit novel and surprisingly improved mechanical, chemical, electrical, optical and biological properties due to their nanoscopic size.
During his talk, Professor Sow piqued the curiosity of the audience through topics addressing five main questions namely "What is nanoscale?", "Why nanoscience?", "What are the applications of nanotechnology?", "How do you manipulate nanoscale objects?", and "How do you make structures of nanomaterials?".
Among the highlights of the seminar were several interesting demonstrations aimed to illustrate the concepts discussed. In one demonstration, Professor Sow presented a seemingly 'magic' trick by making matchsticks jump while merely holding them. He explained how it was achieved on the nanoscale level given the rough edges of the matchsticks.
In a separate presentation, he employed the use of a hammer to smash an ice block to demonstrate how brittle it was. Another similar frozen block was brought out but this time with tissue within it which withstood every blow thrown at it. He explained that this was possible due to the way the molecules interact with one another which can affect their mechanical attributes and strength.
Through this seminar, Professor Sow showed how research could be a very fun prospect with countless possibilities to try out. The participants were not only introduced to the concepts of nanoscience, but also recognised the significance of science and engineering in the world.
Swinburne is an Australian university based in Melbourne, Australia with an international campus in Kuching. Applications for its August (Foundation and Diploma) and September 2019 (Degree) intakes are now open. Those who are keen to find out more about the university's course offerings can visit the Swinburne's Open Day to be held at the Sarawak campus at Jalan Simpang Tiga, 3 August, from 10am to 5pm. For more information, visit www.swinburne.edu.my/openday or email to study@swinburne.edu.my.
To ease students' financial burden, Swinburne has created various scholarships and bursaries, as well as external study loans that may help students meet their financial needs. Upon being offered a study placement on the Sarawak campus, Swinburne is currently offering an instant rebate of RM2,000 valid for all its Foundation, Diploma and Undergraduate courses.
For more information about Swinburne, visit its website www.swinburne.edu.my, Facebook page (@swinburnesarawak), Instagram (@swinburnesarawak), Twitter page (@Swinburne_Swk) or YouTube channel (Swinburne Sarawak).