More Koreans may pursue studies with Swinburne Sarawak
October 15, 2019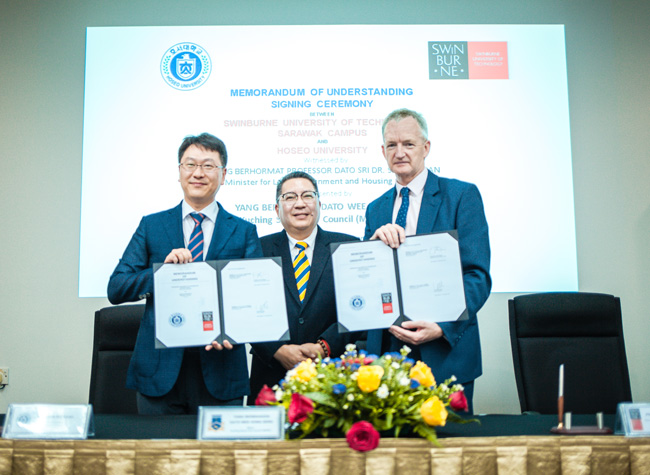 (From left) Mr Joon-Mo Kang, Dato Wee Hong Seng and Professor John Wilson, at the MOU event.
KUCHING – More Korean students could be expected to pursue their studies with Swinburne University of Technology Sarawak Campus following its signing of a memorandum of understanding (MOU) with South Korea's Hoseo University, recently.
"The MOU emphasizes collaborations in several fields, including staff and student mobility, research attachment opportunities, innovation and commercialization leading to the identification of key focus areas," said Swinburne Sarawak Deputy of Vice-Chancellor and Chief Executive Officer Professor John Wilson.
"We hope this collaboration will also pave the way to attract more prospective Korean students to study at Swinburne Sarawak."
Both institutions will jointly organise seminars, conferences and public lectures as well as exchange publications, academic materials and other information.
"I am confident that the signing of the MOU will contribute to high quality academic and research collaborations, as well as student and staff mobility between Hoseo and Swinburne Sarawak," said Hoseo University Vice-President Mr Joon-Mo Kong.
The South Korean university, which started in 1978 as an engineering school, has four campuses: one each in Seoul, Ahsan, Cheonan and Dangjin.
Present to witness the MOU signing was Mayor of Kuching South City Council (MBKS), Dato Wee Hong Seng. Dato Wee, who was representing Professor Dato Sri Dr Sim Kui Hian, Minister for Local Government and Housing Sarawak, said that the collaboration is testament to an improving bilateral relationship between the cities of Guro in Seoul and Kuching.
"This multi-level collaboration will also pave the way forward in our endeavour to achieve academic excellence, by availing our younger generation with more access to quality education.
"The MOU will see significant increase in cooperation between these two institutions in various fields such as scientific studies and scholarship, moving their academic vision and goal to a greater height," he said.
Established 41 years ago, Hoseo University is a reputable university in South Korea. Currently, it has 61, 009 graduates and 15, 926 students with international students numbering 1,000. Of its 504 full-time academics, 99% are PhD holders.
At the ceremony, Professor John Wilson presented a certificate of appointment to KORSAR Co Ltd. The company, which facilitated the collaboration between Hoseo University and Swinburne Sarawak, was recently appointed as an education agent by the Australian university branch campus.
"KORSAR was established to create and provide a platform to connect businesses in Korea and Sarawak. Sarawak is rich in agricultural products and natural resources while Korea is a leading technology country. KORSAR believes that there are many areas both entities can collaborate on in education and industry," said its director Mr Daniel Yoo.
He said that besides enabling Korean students to enhance their level of English through Swinburne Sarawak, they could also learn the unique and interesting cultures of Sarawak.
"This opportunity will enable us to promote Sarawak to Korea. KORSAR will engage more universities in Korea to collaborate with Swinburne Sarawak," he said.