MOU to benefit LONGi, Swinburne Sarawak students and graduates
November 5, 2019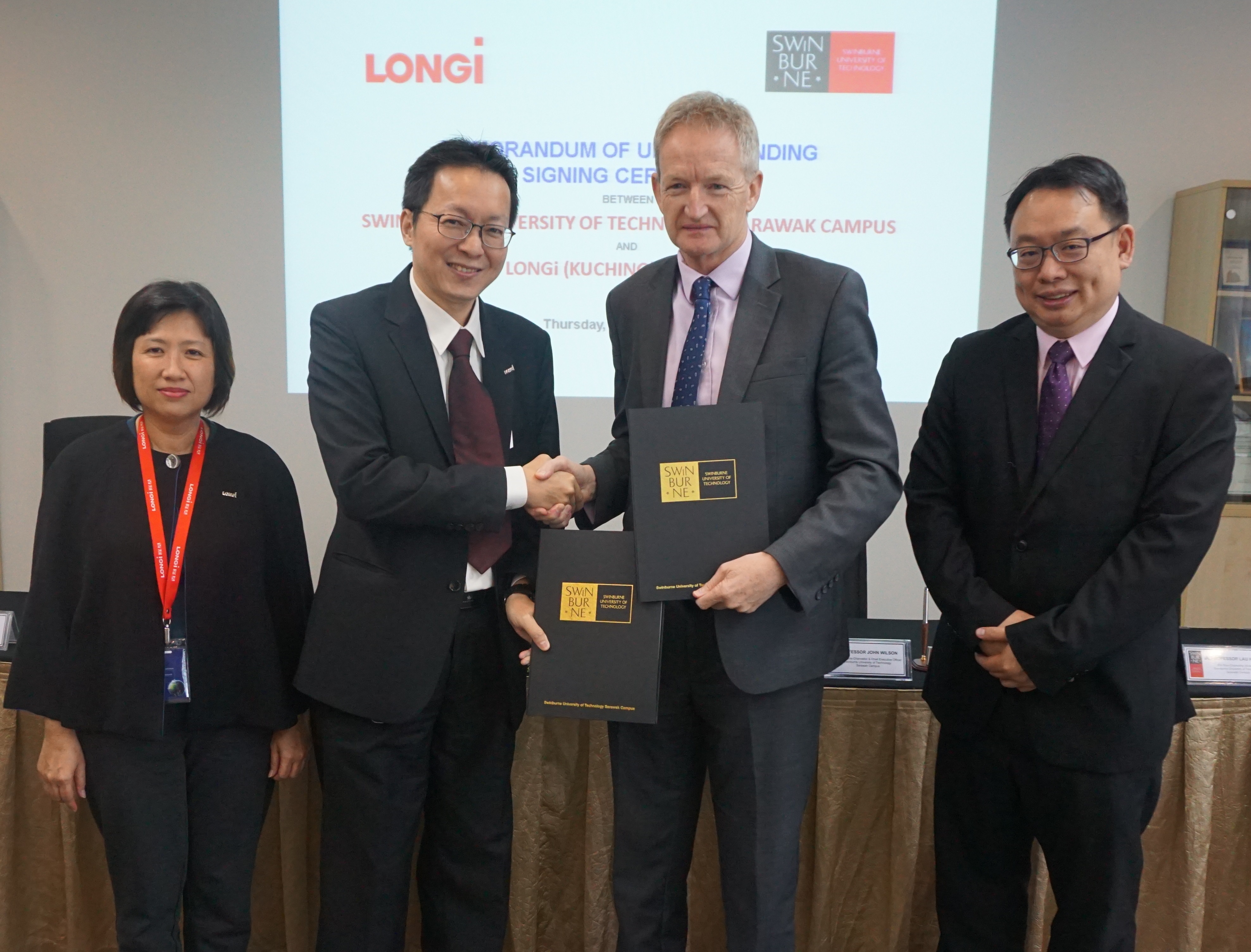 Mr Ngieng (second from left) and Professor Wilson exchange the MoU documents following the signing. They are flanked by their witnesses, LONGi Senior Human Resources Manager Ms Ting Siew Ling (left) and Swinburne Sarawak Pro Vice-Chancellor (Academic) Ir Professor Lau Hieng Ho.
KUCHING – A link for collaboration has been formally established between LONGi (Kuching) Sdn Bhd and Swinburne University of Technology Sarawak Campus after the two organizations recently signed a memorandum of understanding (MoU).
The signing of the MoU by LONGi Kuching Chief Executive Officer Mr Ngieng Sii Jing and Swinburne Sarawak Deputy Vice-Chancellor and CEO Professor John Wilson will promote cooperation that includes student internships, research and development, employment opportunities, and STEM outreach programs.
Professor John Wilson said that the partnership signifies the university's commitment to equip its students with industry knowhow so that they can transition to the working world seamlessly.
"Through this collaboration, LONGi Kuching will provide a wide array of career and internship opportunities for our students," he said, adding that both organizations will work closely on other relevant career development collaborations.
LONGi Kuching will support industry placements, internships and the undertaking of actual industry projects by the university's students pursuing a range of disciplines.
Those who excel in selected fields of study could also look forward to awards from the multinational company based in the Sama Jaya Free Industrial Zone.
Saying that both parties have been working together for a number of years mainly on engineering student internships, Mr Ngieng said that it was a privilege for LONGi Kuching to formalize the relationship.
"We are going to reach 4,000 staff by the end of this year and that is where Swinburne Sarawak can play an important role in producing more graduates for us," he said, adding that to date close to 40 Swinburne Sarawak graduates are on its payroll.
To support LONGi Kuching with the highly skilled workforce it needs, Swinburne Sarawak will facilitate connections between its alumni and the company.
The partnership could also see experts from the multinational company sit on the university's program advisory panel to provide professional advice on course delivery and content.
In addition, research and development opportunities are likely to get a boost following the formalized collaboration. An immediate project is the setting up of a solar farm as a living lab for students at Swinburne Sarawak.
"Recently, LONGi Kuching embarked on research collaboration project with Swinburne's Faculty Engineering, Computing and Science, and we hope to have more collaborations in the future.
"I am confident that through this effort and commitment, we are able to achieve more and continue to strengthen the relationship between LONGi Kuching and Swinburne Sarawak," he said.
Another area that will see the two organizations work on jointly is in Science, Technology, Engineering and Mathematics education. This includes STEM outreach and CSR activities, and the sponsorship of relevant events and activities.
Additionally, they will look into developing and conducting training or developmental programs based on the needs of LONGi Kuching that may include undertaking short courses offered by the university.
Also present at the MoU signing were LONGi Kuching Chief Operating Officer Ms Linda Tan, Senior Human Resource Manager Ms Ting Siew Ling, and Swinburne Sarawak Pro Vice-Chancellor (Academic), Ir Professor Lau Hieng Ho.