PCSS Consultancy and Swinburne ink MoU for development of educational activity
September 5, 2019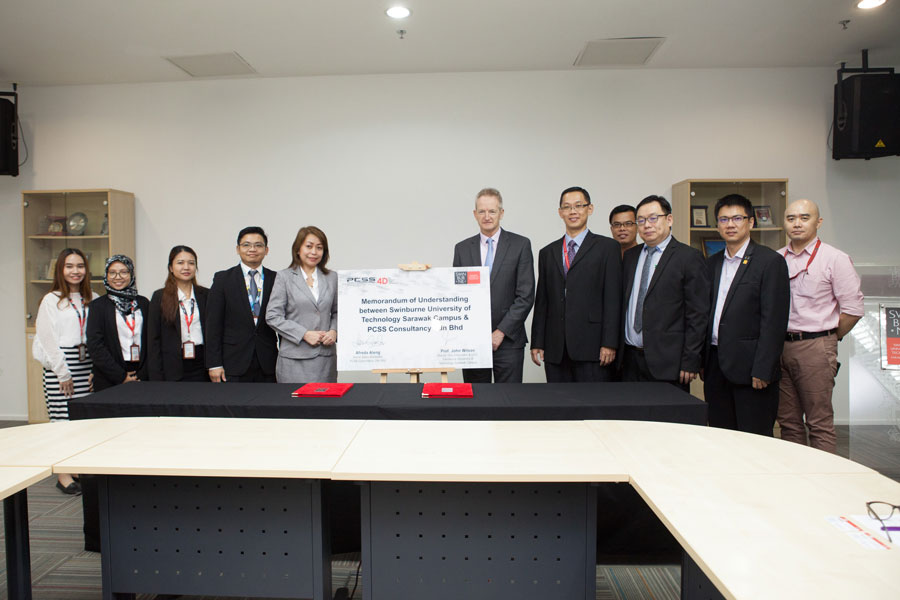 Afreda (5th left) and Professor Wilson (6th right) with other representatives from Swinburne and PCSS after the signing ceremony.
KUCHING – PCSS Consultancy Sdn. Bhd. (PCSS) and Swinburne University of Technology Sarawak Campus recently signed a Memorandum of Understanding (MoU) for the development of educational activity in the area of digital technology in the construction industry.  
At a signing ceremony that took place at Swinburne's Sarawak campus, the MoU was signed by Senior Sales Associate Afreda Aleng on behalf of PCSS, and Deputy Vice-Chancellor and Chief Executive Officer Professor John Wilson on behalf of Swinburne.
Also present at the ceremony were Swinburne's Pro Vice-Chancellor (Academic) Ir. Professor Lau Hieng Ho; Dean of Faculty of Engineering, Computing and Science Professor Su Hieng Tiong; as well as other representatives from the Faculty and PCSS.
The MoU outlines the terms of cooperation in the area of construction which would allow the development of activities and provide students with the awareness and foundation related to advance digital technology. In addition to PCSS sharing experience, knowledge and practical skills on project management and 4D planning tools, both parties shall identify opportunities for joint efforts in research and development (R&D) within a defined set of domain areas. 
Commenting on the memorandum, Professor Wilson remarked that education around the digital economy was a core part of Swinburne's mission to produce graduates that were suitably skilled for the future of work and jobs in the 21st century.
"The university is delighted to be collaborating with PCSS in delivering education focusing on digital technology which further reinforces the industry relevance of the courses taught at Swinburne," added Professor Wilson.
Meanwhile, Afreda said that the collaboration is not just part of PCSS Corporate Social Responsibility (CSR) commitment but also aimed at building strong fundamental in construction development and further developing the industry in Sarawak.
"We believe that with early exposure in digital construction, undergraduates can have better understanding and gain practical skills related to project management, planning and scheduling, especially in advance 4D digital construction. By applying the right methodology and skills, the capabilities of undergraduates can be further enhanced, thus, creating a positive impact in the construction industry particularly in Sarawak," opined Afreda.
PCSS is a project management specialist that offers best practice solutions in Project Management Office (PMO), project management software, training, implementation and integration, planning and scheduling services. Based in Kuching, the company also has branches in Kuala Lumpur, Singapore and Jakarta, Indonesia.
Swinburne is an Australian university based in Melbourne, Australia with an international campus in Kuching. The Kuching campus offers a standard four-year Bachelor of Engineering degrees with integrated honours year, covering disciplines such as civil, chemical, mechanical, electrical and electronic, and robotics and mechatronics. The degrees are recognised by professional engineering bodies such as Board of Engineers Malaysia (BEM), Engineers Australia and The Institution of Engineers Malaysia.
For more information about Swinburne, visit www.swinburne.edu.my, Facebook page (@swinburnesarawak), Instagram (@swinburnesarawak), Twitter page (@Swinburne_Swk) or YouTube channel (Swinburne Sarawak).