Research by Swinburne's academic and student to revolutionise global healthcare
October 18, 2019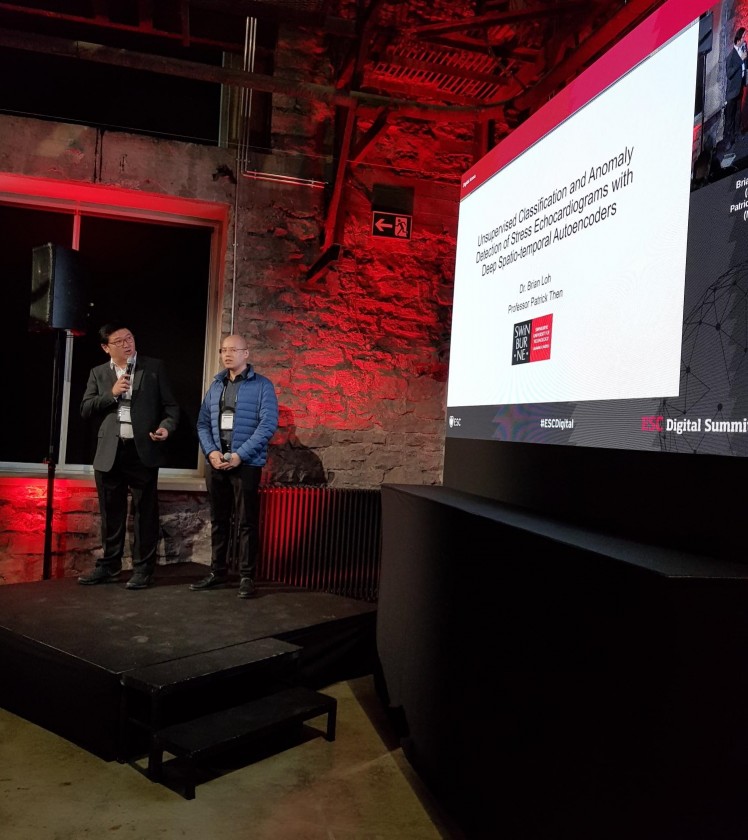 Professor Then (left) and Dr Loh addressing the audience.
KUCHING – An Artificial Intelligence echocardiogram research by two computer scientists Professor Patrick Then and Dr Brian Loh was presented at the European Society for Cardiology (ESC) Digital Summit 2019 held in Tallinn, Estonia earlier this month.
The proud Sarawakians from Swinburne University of Technology Sarawak Campus were the only two speakers from ASEAN and among five from the Asia Pacific region. They presented their landmark research to over 1,000 audiences from more than 30 countries at Kultuurikatel Creative Hub in Tallinn.
The duo innovated unique algorithms utilising Artificial Intelligence and Machine Learning to detect anomalies in stress echocardiograms. Their research leapfrogged cardiology research from traditional regime to digital approach, and demonstrated solid example of translational research from fundamental research to real-life applications.
With the potential to revolutionise care of cardiovascular diseases by increasing accuracy of diagnosis and reducing burden of clinicians, the algorithms have been implemented in software technologies that were highly commended by the summit editorial committee.
Professor Then and Dr Loh were rare representation from the field of computer science in the inaugural summit that was attended by cardiologists and other healthcare professionals; policymakers; academics interested in cardiovascular health and care; patient advocates; entrepreneurs; digital developers; representatives of finance and insurance companies; and experts from the life-sciences industry.

Commenting on their research work, Professor Then who is also the Head of School of Computing and Director of Centre for Digital Futures at Swinburne said with ESC recognition, they have demonstrated that world-class research can be achieved by Sarawakians without leaving their hometown.
"It is also evident that Sarawak-based university such as Swinburne Sarawak is capable of competing at world stage," added Professor Then.
Meanwhile, Dr Loh remarked that the opportunity to attend and present at the summit has widened his limited knowledge and a great accomplishment for all their efforts.
"As a postgraduate student pursuing this area of research, I encountered numerous difficulties along the way. However, with assistance from the university in terms of mentorship, teamwork and monetary support, these challenges became possibilities. Thus, leading from research to development, and finally to the chance of commercialisation," said Dr Loh.
The ESC is the world's largest scientific society of cardiovascular professionals, bringing together more than 100,000 members across 57 National Cardiac Societies. ESC brought the very best technology innovators from around the globe to the event at Tallinn. Professor Then and Dr Loh were also invited to be interviewed by prominent UK-based cardiology publishing firm Radcliffe Group, in relation to their presented research.
Swinburne is a reputable Australian university with campuses across Melbourne and Sarawak. The Sarawak campus offers three-year courses in Information and Communication Technology (ICT), and Computer Science. The ICT course has majors in Software Technology and Network Technology, while Software Development, Cybersecurity and Internet of Things are the three majors that fall under computer science course.
Swinburne's computing courses are externally vetted and accredited at the professional level by the Australian Computer Society, ensuring it meets the highest standard of the profession and the industry. Moreover, the university is a CISCO Academy Partner where it houses a dedicated lab equipped with Cisco equipment for teaching and learning.
For more information about Swinburne, visit its website www.swinburne.edu.my, Facebook page (@swinburnesarawak), Instagram (@swinburnesarawak), Twitter page (@Swinburne_Swk) or YouTube channel (Swinburne Sarawak).