School students role-play as cancer researchers through Swinburne workshop
July 16, 2019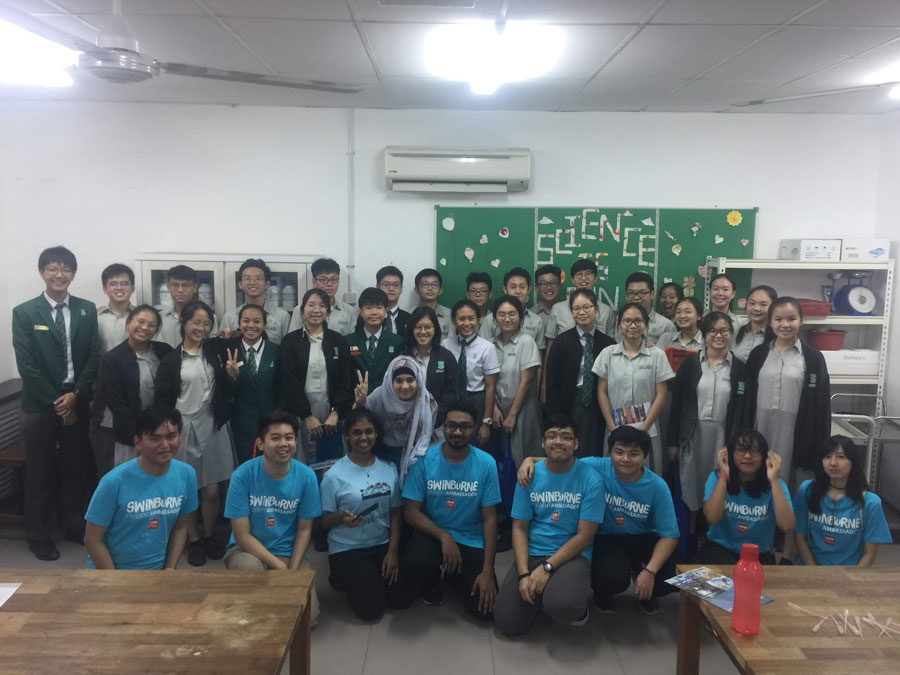 Group photo of the Swinburne Biotechnology Club members and school students.
KUCHING – An anti-cancer drug discovery workshop for secondary school students was organised by Swinburne at St. Joseph Private School recently.
The workshop was organised with the help of eight members of Swinburne's Biotechnology Club under the supervision of the university's Faculty of Engineering, Computing and Science lecturer, Madam Ting Lik Fong.
Despite the workshop being science in nature, the university's students involved in it came from various programmes such as business, design, and engineering. The main objective of carrying out the workshop was to encourage and inspire more youths to be involved in the fields of Science, Technology, Engineering and Mathematics (STEM) education.
Approximately 60 secondary school students from Form 4 and Form 5 took part in the workshop, which was divided into two sessions. The highlight of the workshop was that the students were given the chance to role-play as cancer researchers to understand the process of discovering an anti-cancer drug. Among the activities carried out during the workshop was also a hands-on activity where they had to figure out which solution contained high antioxidants that could be a potential drug.
Overall, the workshop was greeted with enthusiastic response, as the students were thoroughly engaged in the learning workshop and participated actively throughout the activities. They were also passionate about the tasks they were given and demonstrated their understanding by positively answering the short quizzes delivered at the end of the workshop.
Swinburne is ranked within the world's top 200 institutions for science in the 2016 Academic Ranking of World Universities by Broad Subject Fields. The university's School of Chemical Engineering and Science offers a three-year science course majoring in biotechnology.
The biotechnology course is professionally accredited by the Australian Biotechnology Association, The Australian Society for Biochemistry and Molecular Biology, Australian Society for Microbiology, The Royal Australian Chemical Institute, The Malaysia Board of Technologists, and Malaysian Society for Molecular Biology & Biotechnology (MSMBB), ensuring it meets the highest standard of the profession and the industry.
For more information about Swinburne, visit its website www.swinburne.edu.my, Facebook page (@swinburnesarawak), Instagram (@swinburnesarawak), Twitter page (@Swinburne_Swk) or YouTube channel (Swinburne Sarawak).