Start your degree study at Swinburne this 1 March
February 17, 2021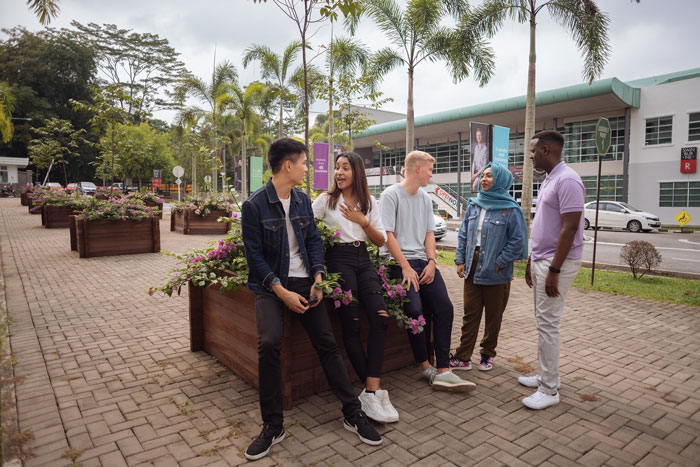 Study with one of the best private universities in Malaysia this March.
KUCHING – Prospective students who are keen to commence their degree study on 1 March 2021 at Swinburne are encouraged to take advantage of the current ongoing application week.
However, those who have yet to decide on their next move are invited to join the Swinburne Virtual Open Week from 22 to 26 February. It is an opportunity not to be missed for prospective students to obtain information from the university's education counsellors about its course offerings, entry requirements, teaching and learning facilities, professional recognitions, transfer or exchange option, and more.
Happening concurrently on the same week is the Swinburne Webinar Series, starting with a webinar on 'Introduction to IR4.0' on 23 February. Although Industrial Revolution 4.0 or IR4.0 is one of the hottest topics around, it is still a subject not many are familiar with. The webinar will provide fundamental insights into the fourth revolution in the manufacturing industry highly dependent on computers and automation, and its connection to the future of work.
Meanwhile, for students who are curious about the availability of financial support such as scholarships, bursaries and study loans to study at Swinburne, there will be a webinar on the said topic on 24 February. Both webinar sessions will take place from 2 to 3pm daily.
As a university of technology, Swinburne is ranked among the world's top 400 universities and among the best universities in the world in 12 subject areas by QS University Rankings 2021. Its experiential learning approach prepares the future workforce for IR4.0 where students have the opportunity to go through industry placements or internship, and be involved in industry-linked projects and other immersive learning experience.
Delivering quality Australian education in Sarawak for the past 20 years, Swinburne is recognised as Malaysia's Top 10 Preferred Private Universities by JobStreet.com based on the university's strong collaboration with industry partners, demand and supply from the job market, employers' recommendation, and the Universities Graduate Employability Review.
Swinburne is the only tuition provider for the CPA Programme conducted by CPA Australia in East Malaysia. Through the Fast Track Pathway, Swinburne students majoring in accounting or accounting and finance can register as an associate member of CPA Australia and sit for three professional papers while pursuing their degree at the same time.
Similarly, second and final-year students majoring in accounting or accounting and finance are also eligible to join the ACCA Accelerate Programme. Swinburne is also the only ACCA Gold Approved Learning Partner for private institution in Sarawak which provides students the advantage to get immediate ACCA recommendation for employment upon completion of their studies.
Additionally, Swinburne's Business School is accredited by The Association to Advance Collegiate Schools of Business (AACSB), an accreditation awarded to only 5% of the world's schools offering business degrees at the bachelor level or higher.
Swinburne is the first university in Australia, the first and only one in Malaysia, and among only 20 worldwide to achieve Adobe Creative Campus status. This enables students to have full access on all devices to the Adobe Creative Cloud – a collection of the world's best applications and services used for graphic design, video editing, web development, and photography. The status augurs well for Swinburne's approach to digital literacy that is deemed essential for participation in the future of work.
Computing programmes at Swinburne are accredited by Australian Computer Society (ACS) and the university is also a recognised CISCO Academy partner. Students who choose the right combinations of units in their course of study are eligible for industry certifications by CISCO, Tecforte, SAS, Keysight Technologies, Huawei, ISTQB, and AWS.
Swinburne's engineering degree courses are recognised under the Washington Accord and professionally accredited by Engineering Accreditation Council (EAC) Malaysia and Engineers Australia (EA). Its graduates are eligible to apply for membership with Board of Engineers Malaysia (BEM) and Engineers Australia.
Swinburne's School of Engineering is home to the best Student Chapters/Student Sections of engineering professional bodies including Institute of Engineers Malaysia (IEM), Engineers Australia (EA) and Institution of Engineering & Technology (IET) UK. This encourages students to build their professional network with practicing engineers and gain industry exposure at the early stage of their university journey.
For programme details, contact Swinburne's Education Counsellor at 082-415 353, email to study@swinburne.edu.my or visit swinburne.edu.my/apply-now/2021-intake/
For more information, visit www.swinburne.edu.my or its Facebook (@swinburnesarawak), Instagram (@swinburnesarawak) and Twitter (@Swinburne_Swk) accounts, or YouTube channel (Swinburne Sarawak).