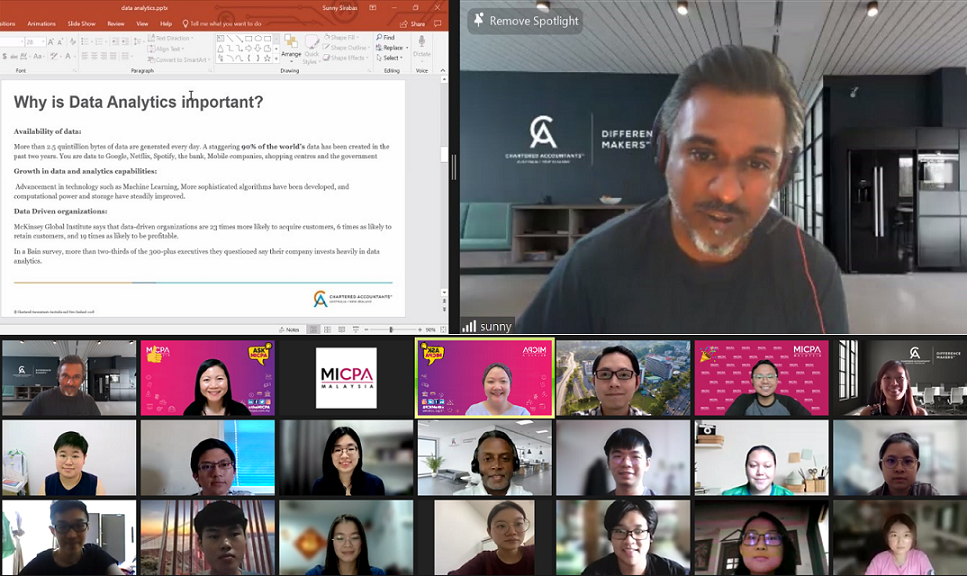 KUCHING – A recent virtual session was held in collaboration between The Malaysian Institute of Certified Public Accountants (MICPA) and Chartered Accountants Australia and New Zealand (CA ANZ) in partnership with Swinburne Sarawak's School of Business to highlight the role of data analytics in accounting.
Carrying the title 'Data Analytics – What Accounting Students Should Know', the webinar covered a topic that is currently buzzing within the accounting profession and wider business world, aimed at helping students of accounting majors to understand what data analytics is and how it is used to support the profession.
Presented by CA ANZ General Manager of Innovation Sunny Sirabas who is based in Australia, Sirabas shared on the increasing importance of data analytics as an enabler for business, its processes as well as commonly used terminologies in the field. Sunny Sirabas, who played a key role in the development of the Data Analytics & Insights elective subject offered in the MICPA programme, noted that there has been a demand for data analytics job roles that were previously relatively unheard of.
Also present during the session was MICPA Head of Marketing Eileen Grace Lee who shared in detail on the MICPA programme. The dual qualification with MICPA and CA ANZ leads to memberships titles of Certified Public Accountant Malaysia (CPA (M)) and Chartered Accountant Australia and New Zealand (CA (ANZ)).
The programme is suited for graduates from Australian universities as it is based on the Chartered Accountant Program offered in Australia and New Zealand by CA ANZ, with the only difference being the Taxation module in the former adapted to Malaysian tax laws to make it more relevant for the Malaysian market. Swinburne graduates can obtain full exemptions from the Professional Stage Examination if prerequisite subjects are taken at the degree level.
During the webinar, Lee shared that the newly revamped programme set to launch in 2022 is future and technology-focused to ensure graduates are prepared to be future-ready professionals.
"There are two newly introduced modules, namely the 'Risk & Technology' core module and the 'Data Analytics and Insights' elective which aim to equip MICPA and CA ANZ professionals with much-needed knowledge and skills relating to technology," she said.
The modules are based on real-life business scenarios with open-book assessments to mimic the real-world as closely as possible and ensure candidates learn to hone their critical thinking and application skills. The programme uniquely embeds the development of soft skills through group work and presentations.
According to Swinburne School of Business' discipline leader of Accounting and Finance Dr Yii Kwang Jing, he emphasised the importance for current business students to understand data analytics for the requirement of a workplace in this digital era.
"Swinburne has incorporated Python software into its business programmes since the beginning of 2021. As a high-end programming language commonly used by financial institutions to work with data in accounting and finance, this would enhance our students' analytical skills in preparation for their future careers," he said.
Swinburne's business courses are carefully monitored for their academic quality, career relevance, and compliance with Malaysian and Australian qualifications standards. They are not only accredited and recognised by CA ANZ, but also Association of Chartered Certified Accountants (ACCA), CPA Australia, and the Chartered Institute of Management Accountants (CIMA).
In line with Swinburne's Horizon 2025 strategic plan of bringing people and technology together to build a better world, Swinburne's aims to step up to a tech-led stage with its 'moon shot' commitment towards being the prototype university of global best practice.
For more information about Swinburne, visit its website www.swinburne.edu.my, Facebook page (@swinburnesarawak), Instagram (@swinburnesarawak), Twitter page (@Swinburne_Swk) or YouTube channel (Swinburne Sarawak).