Swinburne and 9 industry partners present awards to 31 students
April 3, 2019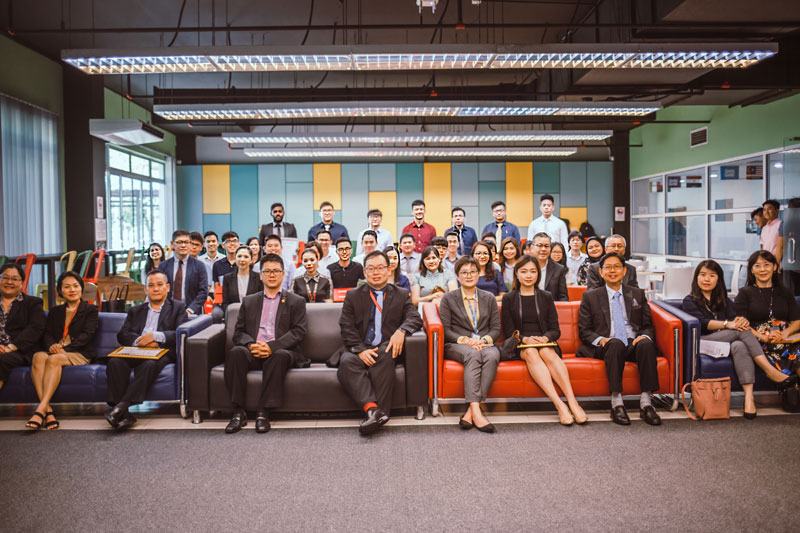 Ir. Professor Lau (seated 5th left) with industry representatives and the award recipients.
KUCHING – 31 deserving students were awarded for their exceptional achievements by Swinburne and the university's nine industry partners at the recent Best Student Awards ceremony held on campus.
Students from the Faculty of Business, Design and Arts, and Faculty of Engineering, Computing and Science, were not only awarded for academic excellence in their respective course years but also for their exemplary non-academic achievements.
The industry partners present to confer the awards to the recipients were ACCA Malaysia, Cahya Mata Sarawak (CMS), EY, Hock Seng Lee Berhad (HSL), KPMG PLT, LSEG Malaysia, Pasti Nyala Sdn Bhd, Sarawak Information Systems Sdn Bhd (SAINS), and Sarawak Oil Palms Berhad.
Apart from the awards from the industry, two students were presented the prestigious Swinburne Emerging Leaders Award (SELA) for their outstanding leadership skills demonstrated during the course of their studies. The SELA programme is formally recognised on their final academic transcript, thus, enhancing their employability in the job market.
The ceremony was attended by Swinburne's Pro Vice-Chancellor (Academic) Ir. Professor Lau Hieng Ho, representatives from the industry as well as student recipients. In his speech, Ir. Professor Lau welcomed all guests and thanked the industry partners for their continued support in helping to develop the talents of the future.
SELA recipient Deshan Anselam Benhur expressed his happiness in seeing his efforts and dedication paid off.
"I'm really happy because Swinburne recognises my hard work over the course of my studies, including all non-academic activities, campus involvements, club participation, and my contributions to the Kuching community," said Deshan, the first SELA winner from the Sarawak campus to attain all eight leadership categories.
Meanwhile, Executive Director of Hock Seng Lee Berhad Simon Lau remarked that he is pleased to meet these young talents who will be the future of the country, adding that presenting students with awards would encourage them to pursue their passions further.
Representing EY, Karen Wei praised Swinburne's Career Development initiative that rewards high achievers and bridging students to its industry partners.
"Ernst & Young awards the best accounting students of the academic year annually. We are delighted with this opportunity to give back to the State by helping to develop students' potentials and to enable them to enter the workforce," praised Wei.
Under the efforts of Swinburne's Career Development unit, the university is committed to assisting students in developing their employability skills and enhancing their career prospects. Swinburne's overall Graduate Employability Rate is approximately 92% where its graduates are employed within six months of completing their studies. As a result, the university is currently ranked in the top 10 list of Preferred Private Universities in Malaysia by JobStreet.com under the 2019 Preferred Programme.
Swinburne's close collaborations with the industry ensure its academic quality and career relevance are carefully monitored. Swinburne students are trained to be job-ready through hands-on learning, projects with organisations, as well as industrial visits and placements.
For more information about Swinburne, visit its website www.swinburne.edu.my, Facebook page (@swinburnesarawak), Instagram (@swinburnesarawak), Twitter page (@Swinburne_Swk) or YouTube channel (Swinburne Sarawak).