Swinburne alumni bags Southeast Asia Best Student Game award
November 19, 2019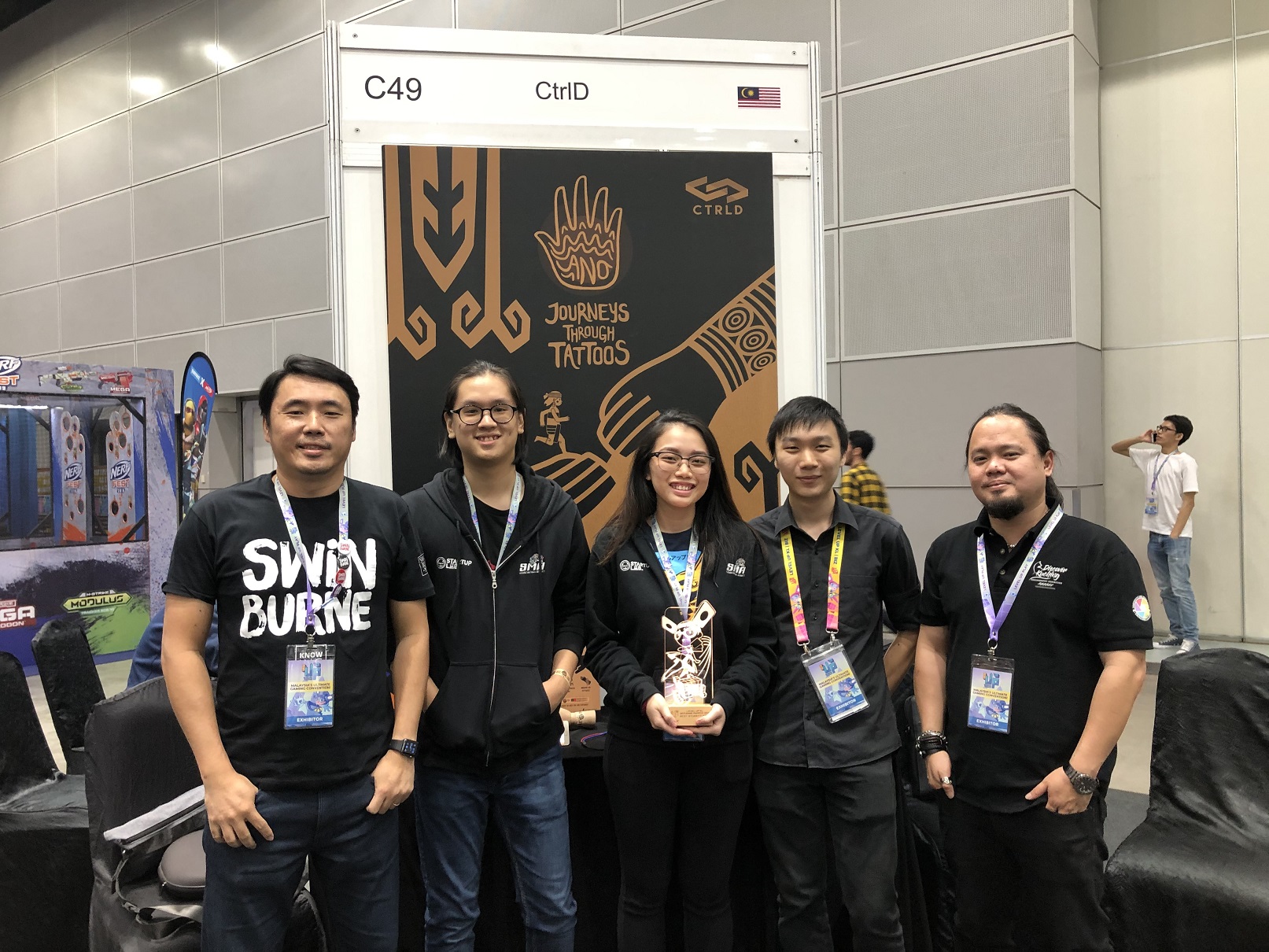 Chung (2nd left) and Goh (middle) posing with their award with Hii (left) and others from Swinburne.
KUCHING – A team's effort to showcase Sarawak's traditional hand-tapped tattoos through mobile game has won them the Best Student Game award at the recently concluded SEA Game Awards organised in conjunction with LEVEL UP KL.
The team CtrlD (pronounced 'Control D') is a startup company comprising Swinburne's multimedia design alumni Goh Suan and Joshua Chung. Equipped with AR (Augmented Reality), 'ANO: Journeys Through Tattoos' is a mobile game that aims to educate players on Sarawak's unique culture where the tattoos can be viewed on the player's arm in AR which further enhances their gaming experience.
The Best Student Game award recognises the overall best game developed by students from the Southeast Asia region. CtrlD was also among four teams to be nominated for the Best Visual Art award. Over 40 finalists from the industry and universities in Malaysia, Singapore, Indonesia, the Philippines, Vietnam and Thailand took part in the event.
According to Goh, she enjoyed building the game prototype during her Final Year Capstone Project but it never crossed her mind that ANO would have such a big impact in the industry.
"Many have commented that it is wonderful to have a game that is culturally inspired because you don't see a lot of these types of games. From all the exhibitions we attended, my team and I now know that there is a hunger for culturally inspired digital media."
"With our newly established company, the main focus is to merge arts and culture with modern technology, and a big part of that comes from understanding the impact that ANO has had on our audience," said Goh.
Goh's team member Chung remarked that this achievement further motivates him to continue creating content in the industry. He added that all the other accomplishments could not have been possible without the constant help and support from Swinburne and its lecturers.
"Through the multimedia design course, it has helped laid a solid foundation to move forward in this industry. I would also like to acknowledge SMA-TEGAS for organising the Pre-Accelerator Bootcamp and TEGAS Startup Lab which launched our brand to where it is today," commented Chung.
Meanwhile, team advisor and lecturer in multimedia design John Hii said Swinburne's Digital Media Design Capstone Project provides students the opportunity to explore new avenues in emerging technologies, and develop a high quality, world class outcome that meets the global and local creative industries' standard and expectation.
"Our design staff believe in engaging our students with real world experience and inspire them to look beyond classroom learning," said Hii who is also an Apple Certified Education Trainer, and Microsoft Influencer and Partner.
Since their establishment, CtrlD has taken part in other events such as the launching of design symposium Good Design Week 2019, Beyond Paradigm Summit 2019, AI in Healthcare Conference 2019, and Southeast Asia's Creative Conference & Content Festival Kre8tif! 2019. In addition, they were also involved in a launching video for Shell E6 first oil delivery.
The SEA Game Awards was organised with the objectives to recognise and celebrate the creativity, artistry and technical genius of the finest developers and games from around Southeast Asia region in addition to upholding creative and technical excellence in the Southeast Asia video game industry. This year's third edition was organised by Malaysia Digital Economy Corporation (MDEC) Sdn Bhd.
As Southeast Asia's premier industry event for game developers, LEVEL UP KL brings together both local and international players to the regional game development scene in Southeast Asia to interact, learn and share knowledge. It is attended by visual artists, game programmers, game designers, businessmen, VR and AR producer, audio professionals and other industry players.
To find out more about Swinburne's award-winning design programmes, visit the Swinburne Open Day event that will be held this 30 November at the Sarawak campus. Event details can be found at www.swinburne.edu.my/openday.
For more information about Swinburne, visit www.swinburne.edu.my, Facebook page (@swinburnesarawak), Instagram (@swinburnesarawak), Twitter page (@Swinburne_Swk) or YouTube channel (Swinburne Sarawak).