Swinburne announced as finalist in two IChemE Malaysia Awards 2019 categories
August 16, 2019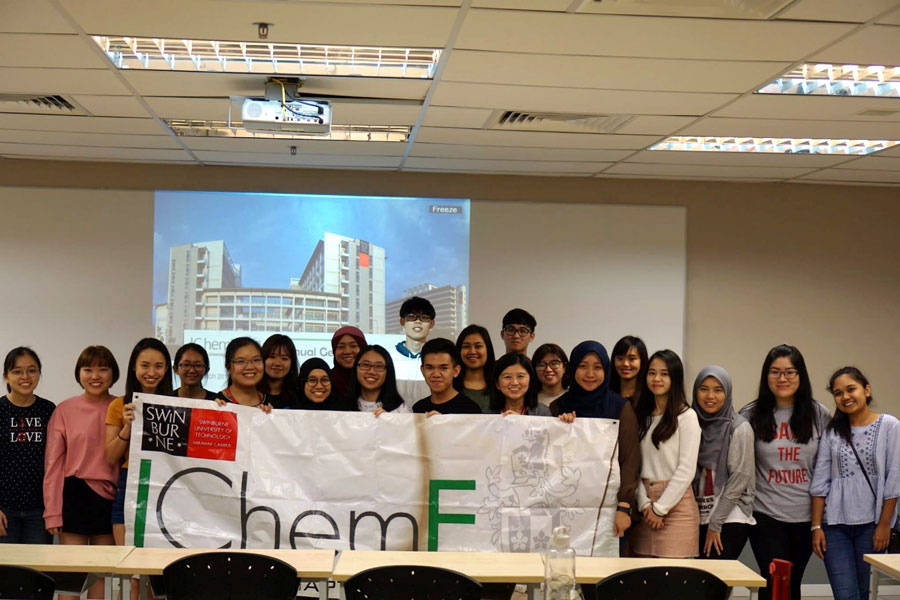 Group photo of Swinburne Sarawak iChemE Student Chapter members and advisors.
KUCHING – Swinburne's excellence in the field of chemical engineering has earned the university two spots in different categories in the prestigious Institution of Chemical Engineers (IChemE) Malaysia Awards 2019.
The IChemE Malaysia Awards celebrates excellence and innovation in various fields of chemical engineering, providing avenue for teams, companies or individuals to have their projects recognised on a national platform.
A total of 86 entries were received this year where 40 entries were shortlisted as finalists across all categories. The finalists are in the running to win a trophy for excellence and innovation in chemical, biochemical and process engineering.
The winners will be announced at the awards ceremony held at the Sheraton Imperial, Kuala Lumpur on 14 October. The winners will automatically be entered into corresponding categories at the IChemE Global Awards which will be held on 7 November in Hull, United Kingdom.
In the Young Researcher Award category, Swinburne's academic Dr Yiin Chung Loong is among five finalists nominated for his research breakthrough in the introduction of eco-sustainable green solvents to counteract against the ample supply of oil palm biomass residues.
Dr Yiin, who is a lecturer from the Faculty of Engineering, Computing and Science, will be competing against researchers from Heriot-Watt University Malaysia, Universiti Teknologi Malaysia, and Universiti Teknologi PETRONAS. His area of specialisation includes microwave hydrothermal extraction, microwave-assisted synthesis, green solvents, biomass pre-treatment, process modelling, and life cycle assessment.
"Presently, the concept of sustainable and green process has received a significant level of attention in the field of energy and environmental science. The challenge of searching green solvents for biomass pre-treatment has since become a foregoing goal in producing renewable biofuels," said Dr Yiin.
Additionally, the Swinburne Sarawak Student Chapter was shortlisted as a finalist to compete against University of Nottingham Malaysia, Heriot-Watt University Malaysia, Monash University Malaysia, and Curtin University Malaysia in the Student Chapter Award category. It is the first time for the university's Student Chapter to be shortlisted for the prestigious award which recognises the accomplishments of IChemE Student Chapters across Malaysia.
The Student Chapter's advisor Dr Elaine Yeu Yee Lee, who is also the Industrial Placements Coordinator with Swinburne's Faculty of Engineering, Computing and Science, believes that there are many positive impacts for students who participate in the Chapter as members of the committee.
"Many companies prefer individuals who have the initiative to develop themselves and are well-rounded with a diverse array of interests. Joining the Swinburne Sarawak IChemE Student Chapter committee helps students demonstrate interpersonal and practical competence, as well as strengthening their overall capabilities which will benefit them in the working society," said Dr Yeu.
The recognition of the university's Student Chapter comes under the leadership of former President Andy Law. During Law's tenure, they successfully organised numerous events that not only engaged the engineering community in Swinburne, but also reached out to the general community through engineering education and awareness.
Law, who is succeeded by Andrea Lee as the newly appointed President, thanked his fellow team members for their hard work and advisors for their guidance that made the Student Chapter's achievements possible.
"One of my many goals as the former president was to promote Swinburne Sarawak IChemE Student Chapter among various communities and provide engagement platforms for engineering students. Being nominated as a finalist for the IChemE Malaysia Awards 2019 is truly a worthwhile accomplishment as this means that our Student Chapter has been recognised for its efforts," said Law.
Swinburne Sarawak IChemE Student Chapter was established in 2015 as a platform for students to share knowledge and communicate all matters relating to chemical engineering. The collaboration with the regional IChemE provides students networking opportunity in the field of chemical engineering. For more updates about the Student Chapter, visit their Facebook Page at http://bit.ly/SUTSicheme.
For more information about Swinburne, visit its website www.swinburne.edu.my, Facebook (@swinburnesarawak), Instagram (@swinburnesarawak), Twitter (@Swinburne_Swk) or YouTube channel (Swinburne Sarawak).