Swinburne celebrates 25th anniversary of university status
December 7, 2017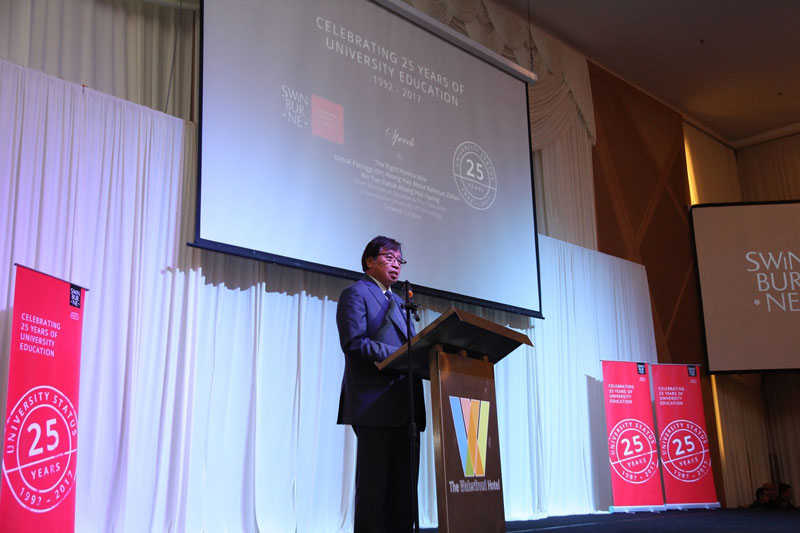 The Chief Minister of Sarawak delivering his speech
KUCHING – Swinburne University of Technology Sarawak Campus celebrated its 25th year as a university on 30th November by hosting a celebration gala at the Waterfront Hotel in Kuching.
Swinburne University of Technology gained university status on 1 July 1992 and earlier this month, the home campus in Hawthorn, Melbourne kicked off its anniversary celebration by hosting a gala dinner for more than 400 staff, alumni and industry partners. This was followed by celebrations across all campuses in Croydon, Wantirna and now the Sarawak campus.
Present to grace the event were the Chief Minister of Sarawak and Swinburne Sarawak's Pro-Chancellor YAB Datuk Patinggi Amar (Dr) Abang Haji Abdul Rahman Zohari bin Tun Datuk Abang Haji Openg and his wife YAB Datin Patinggi Dato Hajjah Juma'ani Tun Tuanku Haji Bujang.
Other dignitaries in attendance were Minister of Works YB Dato' Sri Haji Fadillah bin Haji Yusof; Minister of Education, Science and Technological Research YB Dato Sri Michael Manyin anak Jawong; Minister of Local Government and Housing YB Senator Datuk Professor Dr Sim Kui Hian; Sarawak State Secretary YB Tan Sri Datuk Amar Haji Mohamad Morshidi bin Abdul Ghani; and Swinburne Sarawak's Acting Deputy Vice Chancellor and Chief Executive Officer Professor Ajay Kapoor.
Swinburne's Sarawak campus was established in 2000 as a partnership between Swinburne University of Technology and the Sarawak state government to deliver skilled human capital to the engineering and technical fields and to meet the manpower demands of the state. Formerly known as Swinburne Sarawak Institute of Technology, it was awarded university status as a foreign branch campus university by the Malaysian government in 2004, and thereafter known as Swinburne University of Technology Sarawak Campus.
Its first intake saw drew 130 students in August 2000 and continued to grow significantly in student numbers to over a 1,000 new full-time students each year. In 2008, the 16.5 acre city-campus was expanded with the completion of a RM110 million project comprising eight custom designed buildings to enchance teaching in engineering and science, research collaboration and student accommodation.
To date, Swinburne Sarawak is home to approximately 4,000 students with international students coming from more than 50 countries including Indonesia, South Korea, China, Vietnam, Myanmar, India, Pakistan, Bangladesh, Sri Lanka, Oman, Egypt, Germany, Australia, Sweden, Denmark, Mauritius, Maldives, South Africa, Kazakhstan, Tanzania and Yemen.
Swinburne University of Technology Australia, originally known as Eastern Suburbs Technical College, was founded by George Swinburne in 1908 who aimed to establish a technical college in Melbourne's eastern suburbs to serve those without access to further education. In 1913, the institution was renamed Swinburne Technical College and in 1960, it entered the international education market with its first course catering to international students.
The university has achieved tremendous success despite being a young university. In 2016 – 2017, Times Higher Education World University Rankings ranked Swinburne among the world's top 400 universities for the fourth consecutive year and this year, Swinburne also advanced to number 61 in the Young University Rankings and number 60 in the Asia-Pacific University Rankings.
Swinburne features in the QS rankings for our world-class graduate employability based on graduate employment rates and partnerships between universities and employers. This ranking reinforces Swinburne's reputation as a university that provides practical career outcomes for its graduates and was recognised as having one of the best design schools in the world by the 2016 QS World Rankings of Universities by Subject. The university was one of only three institutions in Melbourne listed in the top 50 for the Art and Design subject area.‌
For more information about Swinburne Sarawak, email Marcella Gider at mgider@swinburne.edu.my  or visit the university's website (www.swinburne.edu.my), Facebook page (@swinburnesarawak), Twitter page (@Swinburne_Swk) or YouTube channel (Swinburne Sarawak).