Swinburne comes second in Ericsson Hack for Good 2.0
June 12, 2019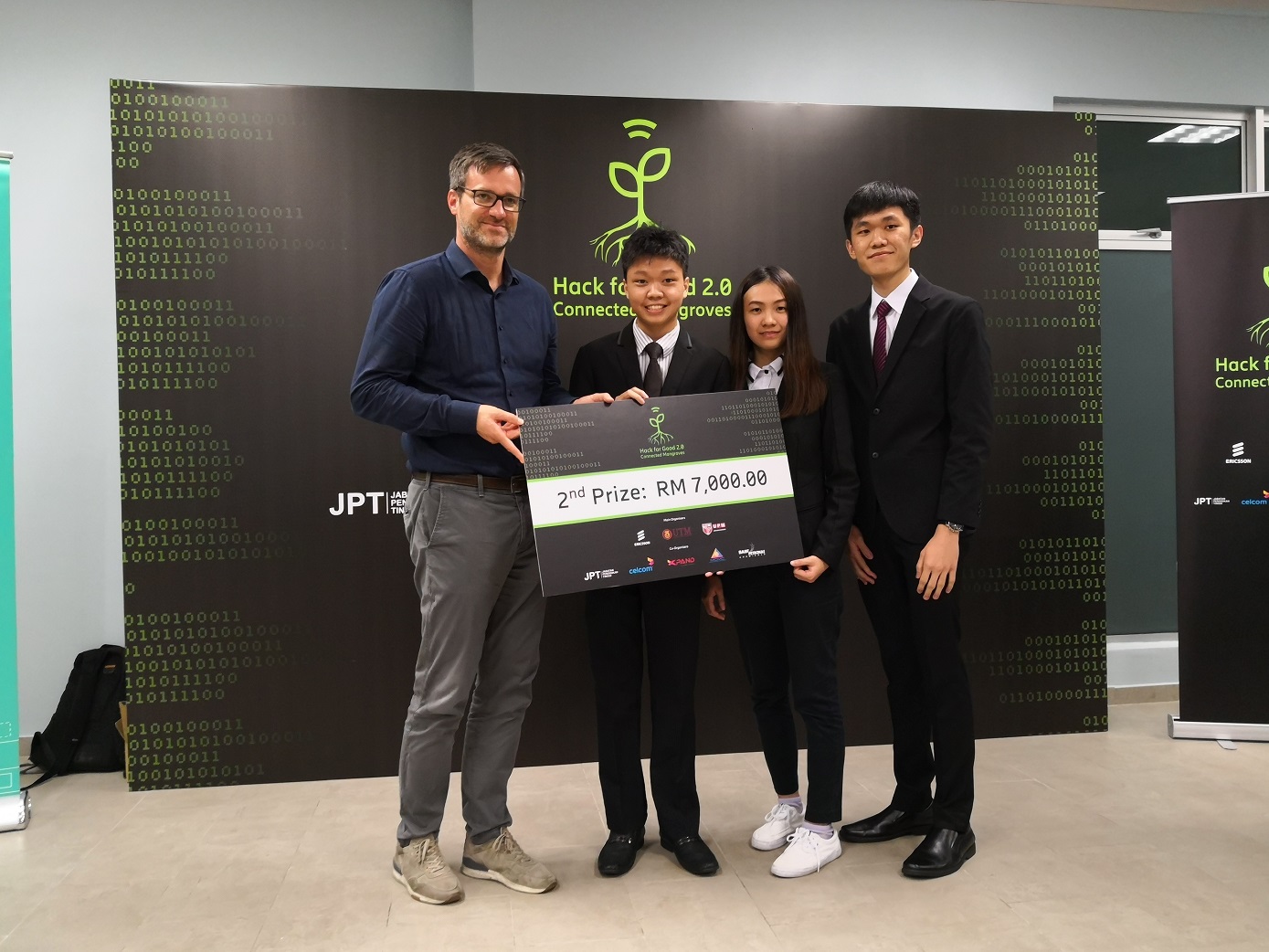 HUMMINGBIRD 4.0 team members receiving their mock cheque from Dr Sven Crone, Managing Director of BASF PETRONAS Chemicals Sdn. Bhd.
SKUDAI – Swinburne students finished second in the recent Ericsson Hack for Good 2.0 hackathon, a competition that provided opportunity to participants to build Internet of Things (IoT)-based solutions.
The competition required participants to upload video pitch and abstract of their proposed idea of their chosen theme which include IoT in Climate Change, IoT in Water Quality Management, IoT in Mangrove Ecology and Diversity, and IoT in Fisheries Production. Only the top 10 best ideas were shortlisted to proceed with real hacking.
At the competition, Swinburne was represented by team HUMMINGBIRD 4.0 comprising electrical and electronic engineering students Peter Ling Ting Rang, Brian Lim Ban Seng and Tsen Xin Hui. The team, supervised by Swinburne's Deputy Head of School of Engineering Dr Chua Hong Siang, competed under the IoT in Climate Change theme.
The trio came up with a low-power, cost effective, and non-invasive solution towards climate change monitoring. It consists of low-power sensing devices with a lifespan of more than 10 years without recharging or battery replacement, a drone equipped with sensors known as Hummingbird that can be used to periodically fly to the monitoring sites for the purpose of data validation, and solar spotlight that can be automatically switched on to shine on plants when light intensity is low and carbon dioxide concentration is high.
Utilising the Narrowband (NB)-IoT technology, the entire development stages took more than a month to complete. With the system in place, it eliminates the need to constantly enter into hard-to-access sites to check on the status and health of the sensing devices. Maintenance is only needed when the system detects a significant deviation between the readings from ground device and the Hummingbird. Additionally, the ground devices can be programmed remotely.
The team members acknowledged that the award is not only a recognition of their efforts towards environmental monitoring but also serves as a motivation for them to work harder.
The Hack for Good 2.0 was opened to university or tertiary education students from all private and public institutions in Malaysia (Category 1) as well as professional developers, programmers, designers, engineers, inspiring technopreneurs in Malaysia (Category 2).
32 student teams and eight professional teams took part in this year's hackathon. Teams from nine institutions of higher learning were selected to the final round namely Swinburne, Multimedia University, Universiti Utara Malaysia, Universiti Putra Malaysia, Universiti Teknologi Malaysia, Universiti Kebangsaan Malaysia, Universiti Teknologi MARA, International Islamic University Malaysia and Kolej Permata Insan-USIM.
EPC Blockchain Sdn Bhd, VC Solution, Mechabotics and Edison TKP were the four professional teams that went through to the finals.
This year's main theme 'Connected Mangroves' focused at monitoring and managing the mangrove ecosystem using the next generation of IoT sensors. The hackathon aimed to attract new ideas and stimulate innovations in the IoT solution for mangrove ecosystem, create local use cases to accelerate cellular IoT adoption by universities and industries, and develop local talents to propel Malaysia as the premier regional IoT development hub.
The judging criteria was based on originality, novelty and wow factor; usefulness and practicality; execution and quality of prototype; business potential; and Ericsson Technology and API adoption.
The event was organised by Ericsson Malaysia, Universiti Teknologi Malaysia and Universiti Putra Malaysia. Other joint organisers were Jabatan Pendidikan Tinggi, Celcom, Axiata XPAND. CEO@Faculty Programme, MCMC and BASF PETRONAS Chemicals.
For more information about Swinburne, visit www.swinburne.edu.my, Facebook page (@swinburnesarawak), Instagram (@swinburnesarawak), Twitter page (@Swinburne_Swk) or YouTube channel (Swinburne Sarawak).