Swinburne conducts talk at SMK St Anthony in conjunction with school's 88th anniversary
April 8, 2019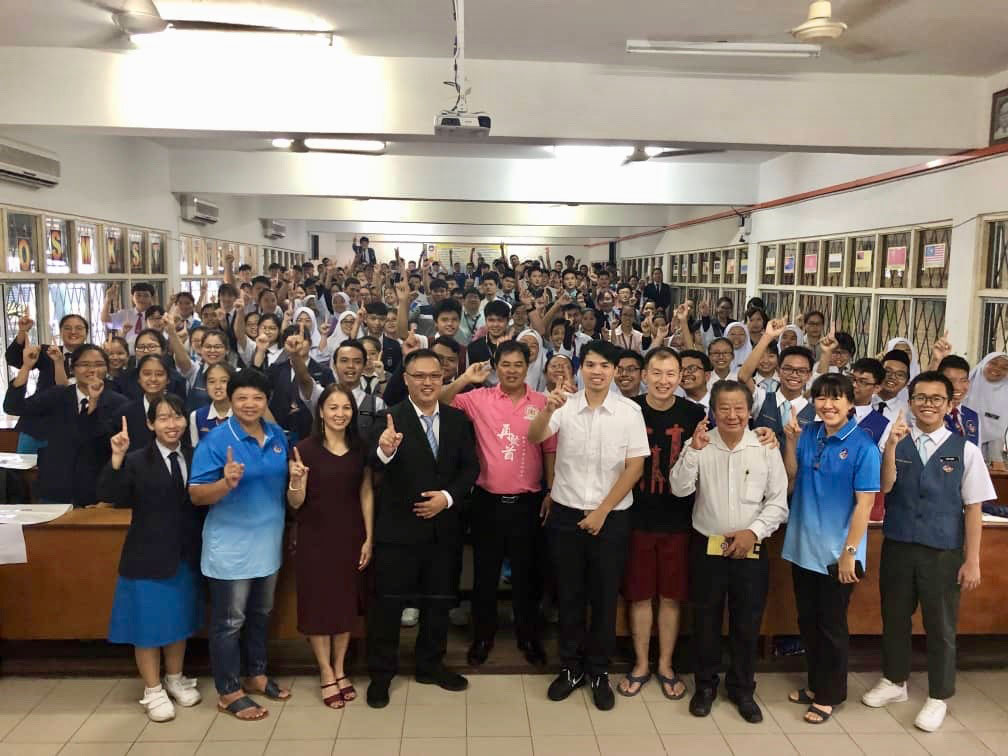 Dr Jee and Liong (front row, fourth and fifth left) with other invited guests and students of SMK St Anthony.
KUCHING – Swinburne was recently invited to conduct a motivational talk at SMK St. Anthony, Sarikei in conjunction with the school's 88th anniversary and First World Anthonian's Day.
Other academic speakers were also invited by SMK St. Anthony's principal Vincent Liong Shou Chuan to talk to students about career prospects and educational pathways as part of the school's activities in celebrating its anniversary.
Representing Swinburne was the university's School of Business marketing lecturer Dr Jeffrey Jee Teck Weng. Dr Jee delivered a talk titled 'From Classroom to Boardroom' where he spoke about turning one's aspirations into future career possibilities.
A total of 64 and 56 Form Five students from science and arts stream respectively, as well as 40 Form Six students from science stream attended the talk held in the school's lecture hall. During Dr Jee's session, the students were introduced to Swinburne's programmes in various disciplines such as engineering, science, computing, business and design.
Additionally, the students gained useful insights into possible professional pathways for graduates armed with Swinburne Australian certification. Dr Jee also emphasised on Swinburne's commitment to producing future-ready learners who will be equipped for employment through industry-linked projects and engagements.
Also in attendance were Co-Chairman of the First World Anthonian's Day and 88th Anniversary 2019 organising committee Temenggong Frederick Wong Kung Kuong, Head of the Parents and Teachers Association (PTA/PIBG) Maureen Chua Geck Liang, Chairman of SMK St. Anthony Alumni Association Eric Ling Hung Leong, and Penolong Kanan Hal Ehwal Murid Madam Lau Ong Nguik.
The talk concluded with a short Q&A session and memento exchange presented by Swinburne to the school.
To mark the occasion of the school's anniversary and First World Anthonian's Day, a range of activities were organised including a five-kilometre night run which saw the participation of over 1,800 runners, official opening of the school's gymnasium and hall, and a reunion dinner attended by close to 2,000 alumni.
For more information about Swinburne, visit its website www.swinburne.edu.my, Facebook page (@swinburnesarawak), Instagram (@swinburnesarawak), Twitter page (@Swinburne_Swk) or YouTube channel (Swinburne Sarawak).