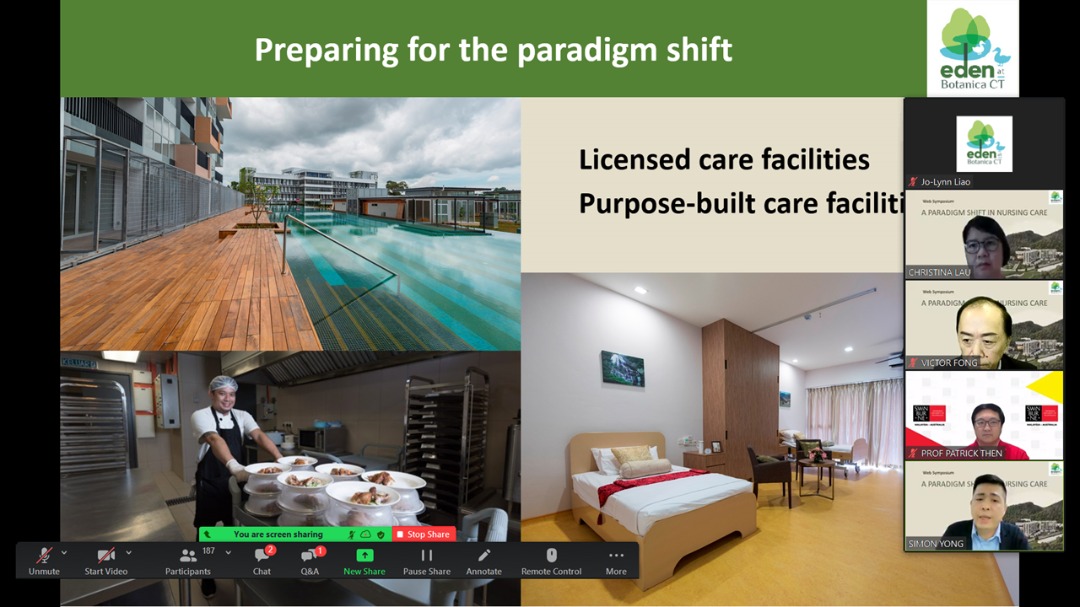 KUCHING – An online webinar was recently hosted between Swinburne Sarawak and Eden at Botanica CT to highlight the emerging paradigm shift in professional elderly healthcare and the role of artificial intelligence (AI) in health monitoring.
The web symposium titled 'Paradigm Shift in Nursing Care' was the second episode of an ongoing series launched by Eden at Botanica CT, the first expansion in Peninsula Malaysia of senior living and aged care services provider Eden-On-The-Park.
The webinar featured Founder and Managing Director of Eden-On-The-Park Victor Fong, Swinburne's Head of School of Information and Communication Technologies Professor Patrick Then, and Chief Executive Officer of Optimum-Eden Healthcare Sdn Bhd (OEH) Simon Yong.
According to Fong, there is a need to improve the standard of aged care in Asia as well as alter the public's current opinion in growing to accept the concept of such aged care services outside the home environment.
"The society in Asia currently faces a fast-ageing population, but there is almost a total lack of professional nursing services to meet the growing need of such healthcare," Fong said.
Meanwhile, Professor Then explained how technology and AI can be used to enhance the standard of care and help eliminate total reliance on human judgment.
"Under our digital health research team, we are continuously innovating, bringing values and solutions to the elder care industry while contributing towards the Sarawak government's Digital Economy Strategy. Furthermore, the efforts from our research is also in line with Swinburne's 2025 moon shot strategy that ensures a tech solution for every Swinburne partner," he said.
During the conversation, Yong shared his experience over the years of his endeavours to change social perception towards aged care and the barriers of acceptance of nursing care homes in Malaysia.
"In fact, a career in this industry can be turned into an opportunity for a dignified, rewarding and emotionally satisfying prospect amongst the younger generation as well," Yong said.
Pursuant to a Memorandum of Understanding signed between Swinburne and Eden in the previous year, the collaboration has seen a significant amount of research work on technologies to cater to elderly care. Leveraging on Swinburne's expertise in AI and data science, the work centres on the use of data generated from wearable electrocardiogram (ECG) devices to monitor the wearer's health and wellbeing on a real-time basis.
Eden at Botanica CT is a joint-venture project between MTT Group of Companies Sdn Bhd and Eden-On-The-Park Sdn Bhd to develop an integrated senior living resort on a 32-acre parcel in Balik Pulau, Penang, Malaysia. The integrated resort, touted to be the first of its kind in the state, will feature a nursing care residence and a low-density active living resort comprising villas and condominiums in two tower blocks.
For more information about Swinburne, visit its website www.swinburne.edu.my, Facebook page (@swinburnesarawak), Instagram (@swinburnesarawak), Twitter page (@Swinburne_Swk) or YouTube channel (Swinburne Sarawak).