Swinburne Green Club celebrates Biological Diversity Day with online event
June 11, 2021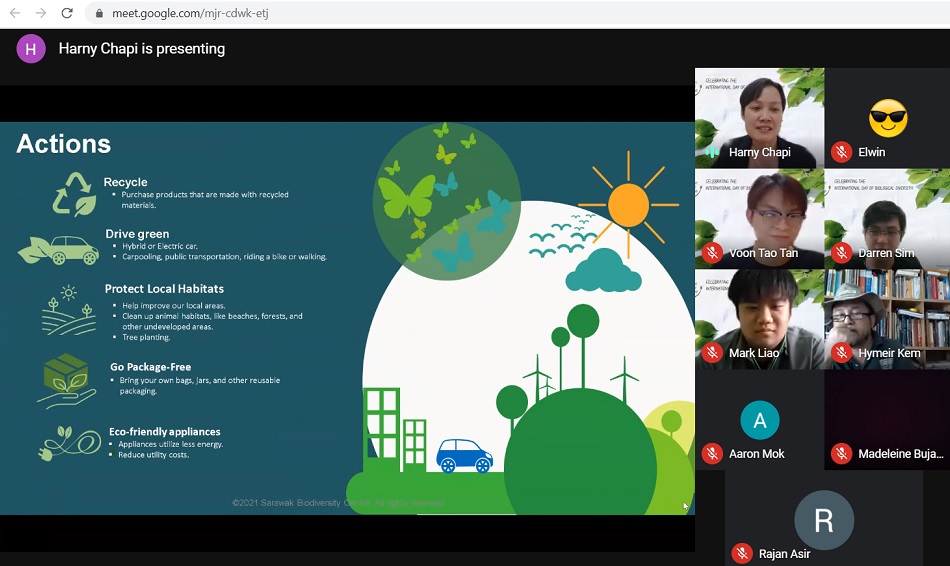 Harny speaking on the importance of biodiversity.
KUCHING – Living eco-friendly lives is the way forward, said three speakers at the recent online celebration of International Day of Biological Diversity organised by Swinburne Sarawak Green Club.
Along with local and international organisations all over the world, the Green Club brought the focus to the importance of conserving the world's vast biodiversity, from obscure plants to marine life and iconic species.
Three speakers from diverse organisations established to promote and conserve Malaysia's biological diversity were invited to the event. The speakers were Harny Chapi, Research Officer from Sarawak Biodiversity Centre; Mark Liao, Founder and Advisor of the Sarawak Eco-Warriors; and Hymeir Kamarudin, Conservationist and Owner of Earth Lodge, Ulu Muda, Kedah.
A total of fifty people attended the online event including students from educational institutions namely SMK Three Rivers, Mukah; St Michael's Institution in Ipoh, Perak; SK Jalan Bintang in Miri; and UNITAR International University, as well as audience from the Sarikei District Office and members of the public.
Harny started with a concise explanation of biodiversity, its value, the threats that endanger biodiversity, and actions that humans can take to help conserve it. She urged the attendees to live as sustainably as possible; to recycle, drive green using hybrids, if possible, avoid packaging when shopping, use eco-friendly appliances, and protect local habitats.
Meanwhile, Liao spoke passionately on conservation and volunteerism. A Swinburne alumnus, Liao shared about how ordinary people can think about their impact on the environment, from the activities they do to what they consume even during the pandemic when one must practise social distancing. Virtual clean-ups could be the answer to those who wish to take action and who miss the beach clean-ups of old.
With thirty years of conservation experience under his belt, Hymeir offered a wealth of information on the little-known area of Ulu Muda in Kedah which is the water catchment for Kedah and several neighbouring states. Hymeir offered a unique perspective as someone who runs an eco-lodge, and who would prefer few visitors in order to sustain the wildness in the area for long-term eco-tourism.
The event ended with a lively Q&A session where the participants were keen to find out how they could take action in a meaningful way.
Despite the pandemic, the Green Club runs regular online activities and events to continuously encourage students to maintain an eco-friendly lifestyle. For more information about the club, visit its Facebook page @swinburnesarawakgreenclub.
For more information about Swinburne Sarawak, visit its website www.swinburne.edu.my, Facebook page (@swinburnesarawak), Instagram (@swinburnesarawak), Twitter page (@Swinburne_Swk) or YouTube channel (Swinburne Sarawak).