Swinburne The Highest Ranking International University in Borneo
July 7, 2017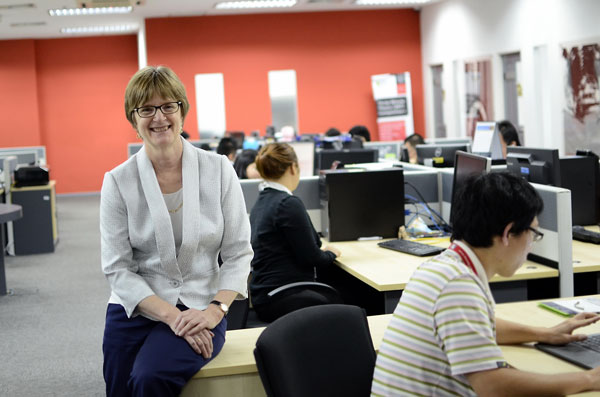 To be featured in the top 25% of THE's inaugural Asia-Pacific University Ranking is timely -Professor Janet Gregory, Deputy Vice-Chancellor and CEO
KUCHING – Swinburne University of Technology has emerged as the highest ranking international university in Borneo based on the inaugural Asia-Pacific University Ranking 2017 by Times Higher Education (THE) released on 4 July 2017.
Link: https://www.timeshighereducation.com/student/best-universities/best-universities-asia-pacific-region-2017
The Asia-Pacific University Rankings have been introduced this year and assess world-class universities across research, research training, knowledge transfer and international research collaboration. They are based on the same rigorous criteria as the Times Higher Education World University Rankings, but with special modifications to better reflect the characteristics of universities in the region.
Swinburne features in the top 25% of the list with a rank of 60 of 243 in this inaugural ranking by THE and is placed ahead of several other universities with branch campuses in Malaysia. According to THE, this ranking analysed universities across 38 nations in East Asia, Southeast Asia and Oceania and uses the same performance indicators as their World University Rankings 2016-17, however weightings were adjusted to reflect the younger profile of some of the universities in the region.
In 2016, for the fourth consecutive year, Swinburne was ranked among the world's top 400 universities by the Times Higher Education World University Rankings. In 2017, the university advanced to number 61 in the Times Higher Education Young University Rankings.
"We're very pleased to feature in the top 25% with a ranking of 60 in THE's inaugural Asia-Pacific University Ranking. We're also celebrating our 25th anniversary as a university this year so this is certainly well timed!", said Professor Janet Gregory, Deputy Vice-Chancellor and CEO of Swinburne University of Technology Sarawak Campus.
 "This ranking adds on to our strong emphasis on teaching and learning with a focus on graduate and employability outcomes to ensure that our graduates are equipped with the knowledge and skills as we move into industry 4.0", she adds.

Swinburne places a strong emphasis on graduate employability and in the last graduate employability tracer study conducted by the university's Career office, graduates surveyed reported up to 100% employment rates within 6 months of graduating for selected business and engineering courses and an overall employment rate of 93%.
A recent study on the Interbrand Top 100 Global Brands 2016/17 and LinkedIn has also revealed that Swinburne graduates are employed by many of the Top 100 Global Brands in locations all over the world. These brands are leaders in their own fields across technology, financial services, healthcare, automotive, engineering and more. As a university of technology with programs in engineering, business, computing, design, science and more, Swinburne has an international alumnus of 150,000 since it was formed over a century ago.
"Students and parents here have a lot of choice when it comes to higher education because Malaysia is a regional hub. Besides local private and public universities, we have universities from the U.K., Australia, China etc. setting up branch campuses and learning centers. Based on our conversations with parents and students, one way they shortlist higher education providers is by referring to rankings provided by reputable research companies.
I believe this new ranking focused on Asia-Pacific will help them in their decision making and it is a good step by THE to focus on universities in this region as we're catering to the needs of the market here" said Jagdish Singh, Director, Marketing & Communications for Swinburne University of Technology Sarawak.
About Swinburne University of Technology
Swinburne is a world-ranked university leading the way in innovation, industry engagement and social inclusion. Our education, high-quality research and industry partnerships create positive change for students, staff and the community. In 2017, we're celebrating 25 years since Swinburne gained university status. We are celebrating this milestone through our people – visionaries, trailblazers, connectors and challengers. Swinburne has campuses across Melbourne and a campus in Kuching, Sarawak.
About Times Higher Education
Based on THE website, it is behind the world's most influential university ranking with over five decades of experience and unparalleled expertise on the trends underpinning university performance globally.
Link: https://www.timeshighereducation.com/about-us