Swinburne to host event in conjunction with World AIDS Day
November 19, 2019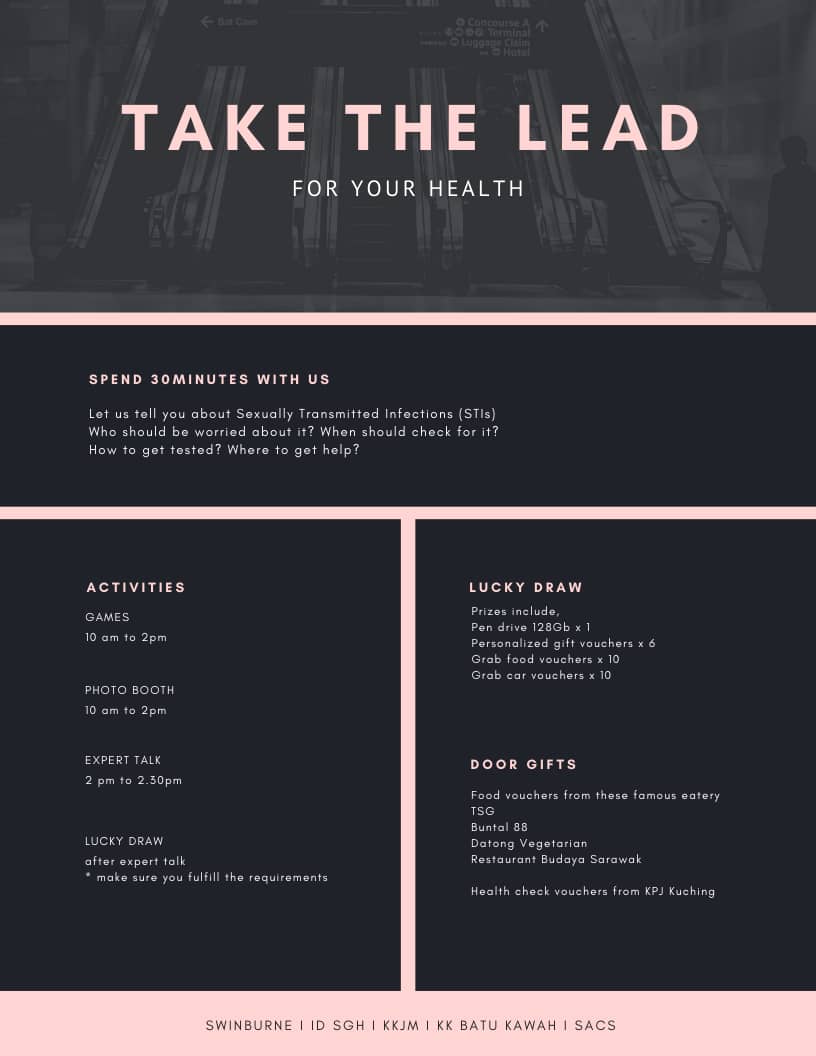 Take part in various activities and win lucky draw prizes at the Take the Lead event.
KUCHING – Members of the public, and staff and students of Swinburne Sarawak are invited to attend the 'Take the Lead' event on 20 November held in conjunction with World AIDS Day.
Hosted by Swinburne, the event will be held at B006 Lecture Hall, Swinburne's Sarawak campus from 10am to 3pm. The event will feature sessions with interactive games from 10am to 2pm, followed by a talk on HIV from 2pm to 3pm. The talk will be presented by Dr Chua Hock Hin, Infectious Diseases Consultant of Sarawak General Hospital.
Four educational booths focusing on prevention and screening of HIV will be set up and manned by nurses from Klinik Kesihatan Jalan Masjid and Batu Kawah. Participants can also find out more about sexually transmitted infections (STI), how to get tested, where to get help and other related information, as well as treatment of HIV that is available.
External food vendors have also been invited to be part of the event such as Café Café, Chun Yang Tea, TSG, Datong Vegetarian and Buntal 88. Participants will receive door gifts comprising food vouchers and blood test screening vouchers and stand a chance to win lucky draw prizes.
The event is jointly organised by Swinburne, Sarawak General Hospital, Kementerian Kesihatan Malaysia and Sarawak AIDS Concern Society.
For event details, email to Dr Tonnii Sia at tonnii_sia@yahoo.com or call 082-240 931, or email to Associate Professor Dr Hwang Siaw San at shwang@swinburne.edu.my or call 082-260 825.
For more information about Swinburne, visit www.swinburne.edu.my, Facebook page (@swinburnesarawak), Instagram (@swinburnesarawak), Twitter page (@Swinburne_Swk) or YouTube channel (Swinburne Sarawak).