Swinburne hosts conference for national and international partners
August 7, 2019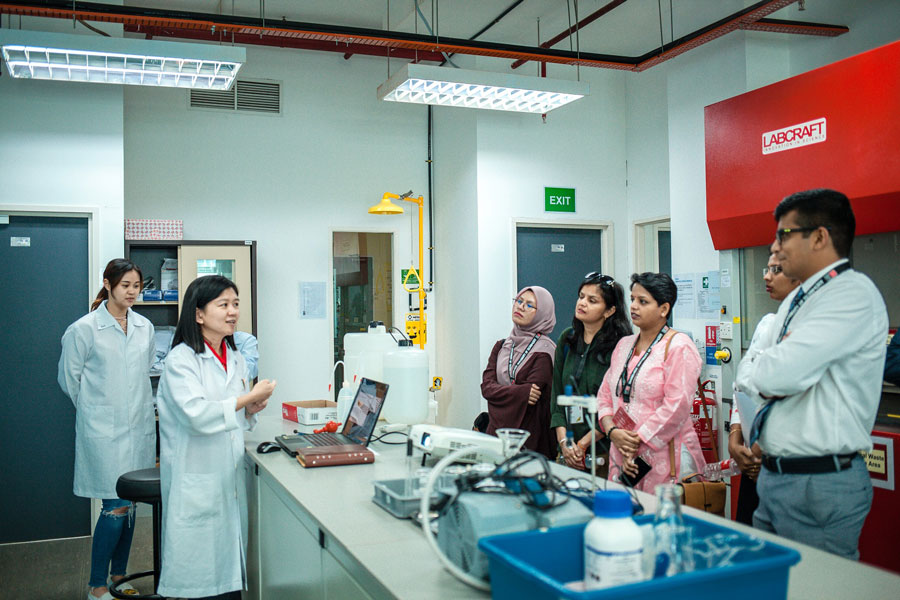 An academic from the chemical engineering department briefing the partners during campus tour.
KUCHING – 32 national and international partners attended the Partners Conference organised by Swinburne at its Kuching campus recently.
The participating partners were representatives from all around Malaysia including Kuching, Kota Kinabalu, Kuala Lumpur, Subang, Johor Bahru, and Penang, as well as representatives from Indonesia, Saudi Arabia, United Arab Emirates, China (Chengdu, Nanjing and Shanghai), India (Mumbai-Andheri, Bangalore, Chennai and Ahmedabad), Bangladesh, South Korea, and Kuwait.
The Partners Conference served as a platform for Swinburne's Marketing and Student Recruitment department to provide opportunity for their partner institutions to learn more about Swinburne including its course offerings, faculties, facilities and services.
The event also aimed to strengthen the ongoing working relationships between Swinburne and the partner institutions, as well as showcase Kuching as the preferred study destination for prospective students who are keen to pursue an Australian education at an affordable cost.
Throughout the three-day conference, the partners were treated to welcoming dinner upon arrival; attended a product briefing session with the Faculty of Business, Design and Arts, Faculty of Engineering, Computing and Science, and School of Foundation; and visited the laboratories, student accommodation, gym and library.
The partners also participated in the 'Amazing Meow Hunt' where they had the chance to explore Kuching city as part of the requirements to complete the race. After lunch, they had the option to go on a trip to Semenggoh Wildlife Rehabilitation Centre or rest and relax with foot massage at Tribal Remedy. The day concluded with a gala dinner at Hilton Kuching with the theme 'Night of the Mystical Sarawak'.  
Swinburne is an Australian university based in Melbourne, Australia with an international campus in Kuching. The Kuching campus offers excellent choices for students to earn an international degree at an affordable cost in business, design, engineering, computing and science disciplines. Courses taught and examination papers are identical to those offered at the Melbourne campus.
Applications for its August (Foundation and Diploma) and September (Degree) 2019 intakes are now open. Those who are keen to find out more about the university's course offerings can visit the Swinburne's Open Day to be held at the Sarawak campus at Jalan Simpang Tiga, 3 August, from 10am to 5pm. It is open to the public and admission is free. For more information, visit www.swinburne.edu.my/openday or email to study@swinburne.edu.my.
For more information about Swinburne, visit www.swinburne.edu.my, Facebook page (@swinburnesarawak), Instagram (@swinburnesarawak), Twitter page (@Swinburne_Swk) or YouTube channel (Swinburne Sarawak).