Swinburne hosts state level Robotics and Coding Competition 2019
September 6, 2019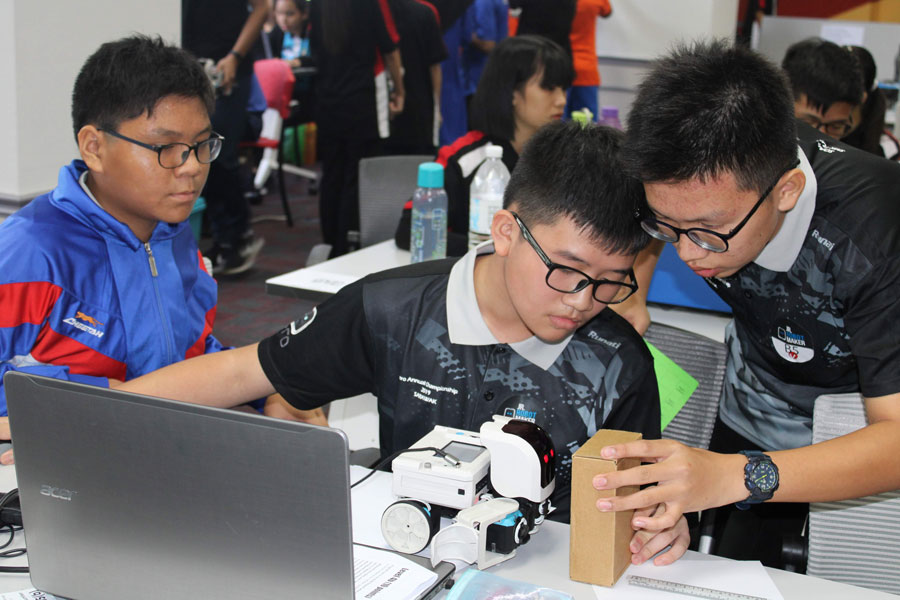 Students assembling and testing their robot.
KUCHING – 94 teams from primary and secondary schools in the state participated in the recent 2nd Sarawak State Level Robotics and Coding Competition 2019 held at Swinburne's Sarawak campus.
The two-day annual event, jointly organised by Swinburne's Faculty of Engineering, Computing and Science, and Cytron Technologies Sdn. Bhd., was held with the objective to enhance interest in STEM education by introducing robotics and coding to students in line with Swinburne's STEM outreach effort.
The first day of the event saw 13 primary schools taking part in the event namely SK Petra Jaya, SK Long Aton, SJK (C) Sungai Menyan, SK Pajar Sejingkat, SJK Chung Hua No. 1, SJK Chung Hua No. 6, and SJK Chung Hua No. 5 Kuching.
Also participating were SJK Chung Hua Sungai Tapang MJC, SJK Chung Hua Sungai Moyan, SJK Chung Hua Batu 4.5, SJK (C) Ek Hua, SJK (C) Chong Boon Mukah, and SJK (C) Kwang Chien.
On the second day, 21 teams from various secondary schools participated in the event including teams from SMK DPHA Gapor, SMK Bako, Sekolah Menengah Sains Kuching Utara, SMS Kuching, SMK Lanang, SMK Mukah, SMK Bandar Bintangor, SMK Bandar Kuching No. 1, SMK Tun Abdul Razak, SMK Bandar Sarikei and SMK Tarat.
Other participating schools were SMK Pending, SMK Siburan, SMK Datuk Patinggi Kedit, SMK Tinggi Kuching, SMK St Teresa Kuching, SMK Tung Hua, SMK St Patrick Mukah, SMK Tinggi Sarikei, SMK St Anthony, and SMK Agama Tun Ahmad Zaidi.
Earlier this year, teachers from the various schools attended a training workshop conducted by rero EDUteam, the education arm of Cytron Technologies. At the end of the training, teachers were provided with resources and modules to guide their students to build and programme their own rero (reconfigurable robot).
On the day of the competition, students had to sit for a theory test and required to complete coding tasks to build and programme their robots live on the spot. The students competed in five different categories namely Live Coding Challenge with rero Jr (primary and secondary categories), Live Coding Challenge with rero:micro (primary and secondary categories) and Build Your Own Robot Challenge (secondary category).
The teams were judged based on a standard assessment method where 30% is allocated for theory test and 70% for team coding challenge. A total of 52 teams won the gold award (scoring 80% and above), five won the silver award (scoring 70% and above), and 13 grabbed the bronze award (scoring 60% and above).
The gold and silver award winners will move on to represent Sarawak at the RERO Annual Championship 2019 (RAC19) National Level Robotics and Coding Competition which will be held at Nilai University, Negeri Sembilan.
According to Organising Chairperson and Associate Dean (Academic Practice) of Swinburne's Faculty of Engineering, Computing and Science Ir. Dr Adeline Ng, she's glad that the second edition of the competition received overwhelming response, attracting a wide range of students from as young as Primary 4 to Secondary 6 students from all over Sarawak.
"We hope that through this event, we will be able to reach out to more students both in the urban areas and all the way to the interiors to further cultivate their interest in STEM education," said Ir. Dr Ng.
Meanwhile, Head of rero EDUteam of Cytron Technologies Cheryl Ng commented that they are extremely grateful to Swinburne for hosting the event.
"Last year, we only had over 20 teams but this year, the number grew by fourfold to 94 teams with some travelling from as far as Long Aton, Sarikei and Mukah. We are elated to see the students having the opportunity to learn robotics and coding. The Sarawak teams did very well," remarked Ng.
Swinburne is an Australian university based in Melbourne, Australia with an international campus in Kuching. The Kuching campus offers a range of industry-applicable courses such as business, computing, design, engineering and science at pre-university (foundation), diploma, degree, masters and PhD levels. The curriculum taught and assessments conducted are equivalent and aligned to identical learning outcomes at the Melbourne campus.
For more information about Swinburne, visit www.swinburne.edu.my, Facebook page (@swinburnesarawak), Instagram (@swinburnesarawak), Twitter page (@Swinburne_Swk) or YouTube channel (Swinburne Sarawak).