Swinburne, IEM Sarawak hold first joint Online Evening Talk Series
April 27, 2020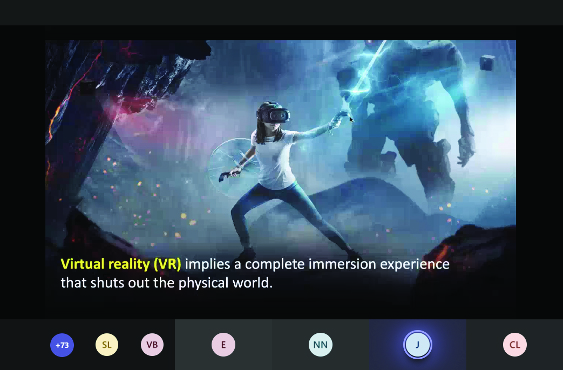 A screengrab taken from the sessions on the Future of Communications with AR, VR and MR via Microsoft Team.
Swinburne University of Technology Sarawak Campus and the Institution of Engineers, Malaysia (IEM) Sarawak Branch jointly organized the first online live edition of their Evening Talk series recently.
The talk featured facilitator Dr Tay Fey Siang, Swinburne Academic and Research Leader in an intelligent control system and invited speaker Mr Jimsley Lim – a Civil Engineering alumnus and winner of Sarawak's Most Innovative Young Entrepreneur Award 2018 for pioneering the use of Virtual Reality (VR) and Augmented Reality (AR) in the planning and design of city development.
During the session, speakers and participants discussed the advancement of VR, AR and Mixed Reality (MR) technologies and its trajectory in future communications. It is apparent from the session that the world has progressed from the introduction of VR to create simulated computer environment in the 90s to use AR to superimpose simulated digital layer on the real environment in the 2010s. The world is now moving into Mixed Reality, which enables real-time interaction with virtual objects overlaid on the real world environment.
"The technologies are thriving in numerous sectors, most noticeably in the entertainment, tourism and surveillance and monitoring sectors. Currently, the AR, VR and MR are making huge inroad into the engineering sector as well," explained Lim.
Meanwhile, IEM Sarawak Committee Member and Swinburne's External Engagement Coordinator Dr Angelia Liew said the session received an overwhelming response from 85 industry professionals, engineers and academicians, which is more than the usual Evening Talk crowd.
"We were excited to go online and reach out to engineering colleagues outside of Kuching, and the topic is well suited for online delivery," she added.
The Evening Talk series was hosted by the Faculty of Engineering, Computing and Science (FECS) of the University.
Faculty Dean Prof Su Hieng Tiong said learning should not stop just because of the Movement Control Order (MCO).
"We have embraced digital delivery in all our foundation and degree programs during this MCO period. I would like to congratulate our students who are keeping up with online learning with much fortitude. We will ensure that no students are left behind," he said.
The Swinburne-IEM Evening Talk series is free and a few more online engineering workshops have been planned for the MCO period.