Swinburne launches inaugural SDGs Virtual Chat series
April 23, 2021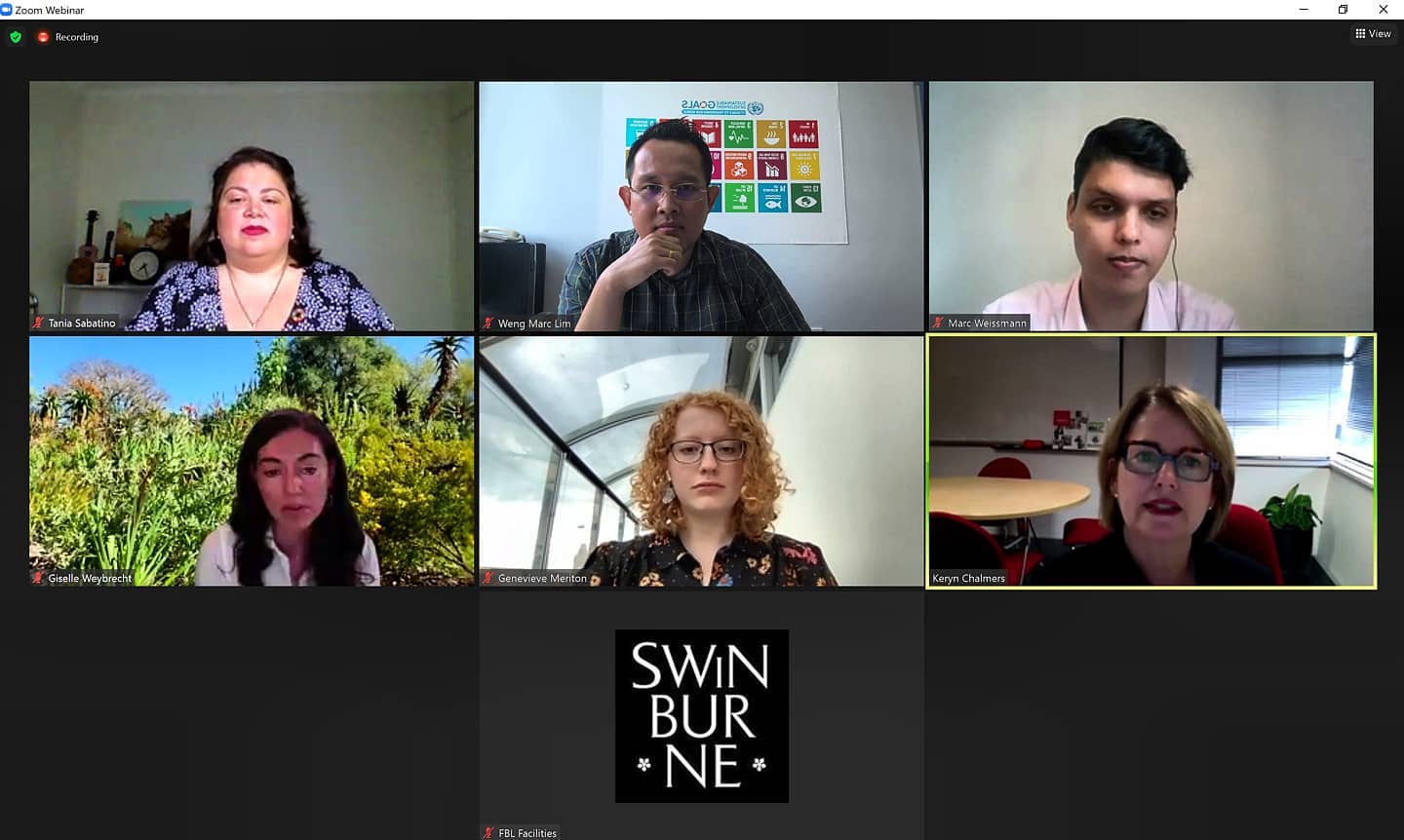 (Clockwise, from top left) Sabatino, Professor Lim, Dr Weissmann, Professor Chalmers, Meriton and Weybrecht.
KUCHING – The Swinburne Actions for Sustainable Impact (SA4SI) recently launched its inaugural Virtual Chat series aimed at bringing Swinburne students, academics, guest speakers, as well as professional staff into a conversation to discuss practical ways to engage with the Sustainable Development Goals (SDGs) developed by the United Nations in their daily lives.
The event was a collaborative event between the Swinburne Business School in Hawthorn, Melbourne, and the Faculty of Business, Design and Arts, Swinburne Sarawak.
The conversation series aimed to provide key insights into how university campuses may incorporate greater levels of sustainability into their operations. Themed 'Shining the Light on the Sustainable Development Goals', episode 1 of the series featured special guest and thought leader Giselle Weybrecht, and representatives from Swinburne Melbourne including Dean of Swinburne Business School Professor Keryn Chalmers, Executive Assistant Tania Sabatino, and student Genevieve Meriton.
Swinburne Sarawak was represented by Head of School of Business Professor Lim Weng Marc and Discipline Leader (Bachelor of Business – Non-Accounting/Finance) Dr Marc Weissmann.
Weybrecht is the author of 'The Sustainable MBA', and adviser to leading organisations on sustainability including the UN Global Compact, the Principles of Responsible Management Education (PRME), UNESCO and also business school accrediting bodies such as Association to Advance Collegiate Schools of Business (AACSB International) and EFMD.
In episode 1, the panellists engaged in conversations surrounding major themes such as waste management, energy consumption and new sustainability initiatives on campus.  Dr Weissmann spoke on the various ways to consume sustainably, noting the 5Rs campaign launched by Swinburne Sarawak in 2019.
"We can Refuse, Reduce, Reuse, Repurpose, and Recycle. However, we should try to consider the former four before resorting to the latter. As educators, we have some responsibility of stewardship in the way that we become sustainable in our own lives, and we have a role to play in determining the extent to which we may want to make a positive impact on the world around us and lead this in our classrooms," he said. 
Meanwhile, Sabatino opined that higher learning institutions have an important role to play in curating authentic learning and impact through sustainability initiatives. She gave an example of turning rooftops into a garden for beekeeping where students and staff could collaboratively explore sustainable business model opportunities, use virtual reality to promote STEM careers, and work with local breweries and have proceeds channelled back to bee pollination.
"Bees do play a critical role in achieving the SDGs. There's been a study showing that bees can impact 15 of the 17 SDGs, which is really interesting, and which means that we should try to save them and cultivate a world where they can exist," Sabatino said.
Summarising the conversation series, Professor Lim said 'One action a day' is a very pragmatic suggestion, and when multiplied by 365 days a year, it yields 365 actions on sustainability based on the impact of only one individual.
Launched in Semester 2, 2020, SA4SI enables members of the Swinburne community to be informed of and engage with sustainability actions via various learning activities, whether at home or through online platforms such as Canvas – Learning Management System SA4SI site. The series endeavours to deliver Swinburne's commitment as a signatory to the PRME, in realising how mission-driven responsible management education can be achieved through Swinburne's SA4SI initiative.
Future episodes for the SA4SI Virtual Chat series will include important aspects of sustainability such as water conservation, digitising sustainability, and keeping sustainable initiative sustainable. For more information about SA4SI, visit www.facebook.com/SA4SI/ or email to SA4SI@swin.edu.au.
For more information about Swinburne Sarawak, visit its website www.swinburne.edu.my, Facebook page (@swinburnesarawak), Instagram (@swinburnesarawak), Twitter page (@Swinburne_Swk) or YouTube channel (Swinburne Sarawak).