Swinburne and MEF Academy to collaborate on corporate sustainability project
March 13, 2018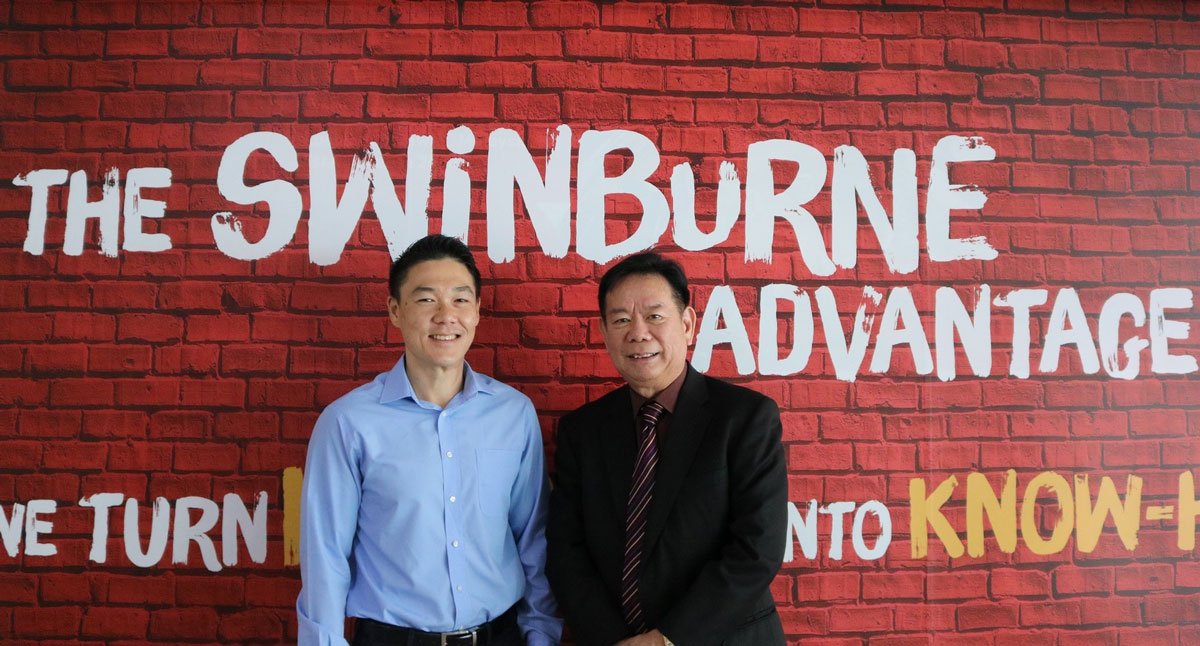 Dr Ngui Kwang Sing (left) and Dr Michael Chiam.
KUCHING – Swinburne University of Technology, Sarawak Campus (Swinburne Sarawak) will embark on a collaborative research project with the Malaysian Employers Federation (MEF) Academy focusing on the sustainability practices of Malaysian businesses.
Swinburne Sarawak is the only international branch campus of Swinburne University of Technology based in Melbourne, Australia. It is the highest ranking international university in Borneo based on the inaugural Asia-Pacific University Ranking 2017 by Times Higher Education (THE). MEF Academy is a fully owned subsidiary of the Malaysian Employers Federation.
The research project 'Sustainability Assessment of Business Organisations in Malaysia' aims to investigate the sustainability practices adopted by Malaysia businesses, and seek to develop a framework and an understanding of how sustainability issues are incorporated into decision-making processes and in business activities of their organisations.
The project, to be carried out for a period of 12 months, will involve engagement and interview with senior executives of MEF-member companies in Malaysia on their sustainability practices. It will cover themes such as the procedures and mechanisms adopted by the companies for identifying, managing and monitoring development issues, as well as the impact of regulatory frameworks and sustainability standards on business decision-making.  
The research collaboration will be led by Dr Michael Chiam, Vice President of MEF and Director of MEF Academy; and Dr Ngui Kwang Sing, Associate Dean of Research and Development of Swinburne Sarawak. Also part of the research team is Dr Jerome Donovan, Senior Lecturer in Entrepreneurship and Innovation at Swinburne Melbourne; and Agnes Pranugrahaning, PhD candidate from the Faculty of Business, Design and Arts of Swinburne Sarawak.
According to Dr Chiam, who is also an Adjunct Associate Professor at Swinburne, the private sector is increasingly expected to subscribe and comply with the global sustainable development agenda through proactive measures to mitigate the negative impacts of their activities, as well as adopting sustainability practices as a central component of business decision-making.
"Consistent with the global trend, Malaysia has joined a growing number of countries worldwide for public-listed companies to comply with the requirement on disclosures by way of a narrative statement and / or a Sustainability Report of their management on material economic, environmental and social risks and opportunities, in their annual reporting. The Bursa Malaysia Sustainability Framework requirement will take full effect by end of 2018," said Dr Chiam.
Meanwhile, leading international scholar on corporate sustainability Dr Donovan noted that although the Sustainability Framework represents a positive step forward for Malaysia, compliance will be a challenge, as executives would need to demonstrate active and systematic processes for stakeholder engagement, including how this is linked with material sustainability issues that they address.
He highlighted that there is significant guidance in reporting methods and mechanisms. Developing management processes that effectively allow this, however, remains a global challenge.
"This research provides an opportunity for Malaysian companies to demonstrate and promote their practices, while also contributing to the growing knowledge around procedural approaches to engaging with sustainability through business activities," remarked Dr Donovan.
Dr Donovan has most recently been working on projects with the Global Reporting Initiative Organisation which look into integrating sustainability reporting into global value chains, and with Fairtrade ANZ looking at sustainable and ethical supply chains in the Indo-Pacific. He has also completed a major project with six national governments across ASEAN on developing a best practice model for corporate sustainability assessments.
For more information about Swinburne Sarawak, visit the university's website (www.swinburne.edu.my), Facebook page (@swinburnesarawak), Instagram (@swinburnesarawak), Twitter page (@Swinburne_Swk) or YouTube channel (Swinburne Sarawak).