Swinburne Mini Science Expo kindles curiosity in STEM among high school students
October 16, 2019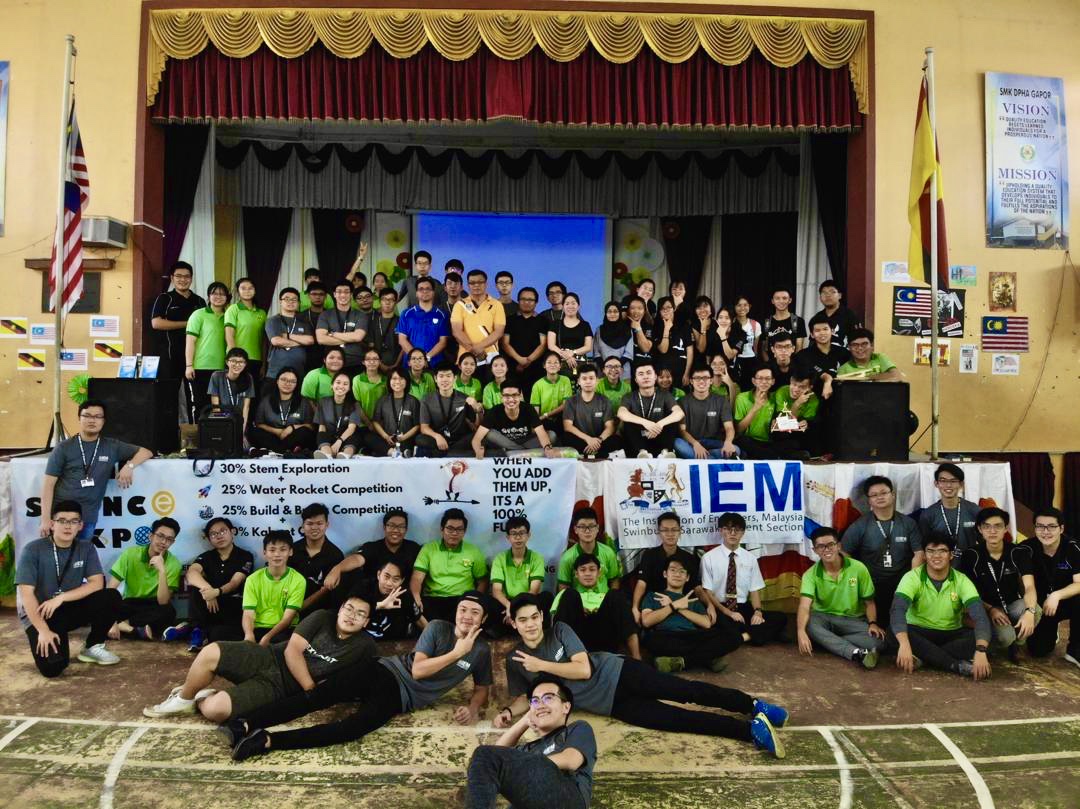 Group photo of the expo organisers with its participants.
KUCHING – Students of SMK DPHA Gapor Stampin gained hands-on learning experience at the Mini Science Expo recently organised by the students of Institution of Engineers Malaysia Swinburne Sarawak Student Section (IEM-SSSS) at the school.
The expo was led by 30 engineering students from the university, and supported by Minister of Education, Science and Technological Research Dato Sri Michael Manyin Jawong, IEM-SSSS advisor Ir. Dr Kelvin Kuok King Kuok, and Sehati Research Institute.
Over 100 secondary school students took part in 20 different activities constructed for practical learning in different aspects of science, technology, and engineering. The inaugural expo also featured 14 booths coordinated by IEM-SSSS with the support of Swinburne Sarawak IChemE Student Chapter.
Among the experiments conducted were those designed to incorporate the current Sijil Pelajaran Malaysia (SPM) syllabus, such as the double-slit diffraction experiment to observe interference and diffraction patterns.
Other activities were developed to highlight the fun exploration of Science, Technology, Engineering, and Mathematics (STEM). This included a demonstration of a potato gun by the crew members which sent potatoes flying across the school field to illustrate the effects of air pressure. Meanwhile, a water rocket competition challenged participants to build their own water rockets where they competed on various criteria such as height, distance, and design of their models.
The event was made possible through collaborative partners Wildlife Conservation Society (WCS) and Proteus 3D printers, and sponsors FoldScope and Laksa House who provided foldable, paper microscopes, and refreshments for the participants.
Swinburne is a reputable Australian university with campuses across Melbourne and Sarawak. It offers accredited courses at pre-university (foundation), undergraduate and postgraduate levels in business, design, engineering, computing and science.
The course curriculum taught and assessments conducted are equivalent and aligned to identical learning outcomes offered at the Melbourne campus. As a result, graduates are awarded the same Australian qualification that allows for broader recognition and better employment opportunities around the world.
For more information about Swinburne, visit its website www.swinburne.edu.my, Facebook page (@swinburnesarawak), Instagram (@swinburnesarawak), Twitter page (@Swinburne_Swk) or YouTube channel (Swinburne Sarawak).